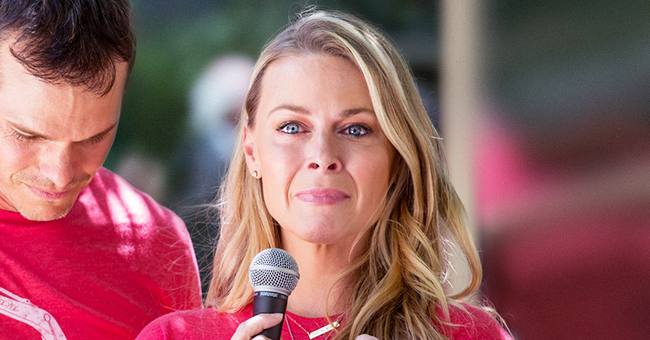 Getty Images
Amber Smith Shares Photo of Her Kids Going Back to School after Son River's Tragic Death
It was a bittersweet moment for Amber Smith as her children return to school months after their brother died. She shared a sweet pic on Instagram.
Amber Smith is still trying to get used to the loss of her last child, River Kelly. Her children, London and Lincoln return's to school, relieved the great sense of loss she felt.
In a touching Instagram post, Amber, the wife of country music star, Granger Smith, shared on Instagram, photos of her children dressed and ready for school. In the accompanying lengthy caption, she began with the words, "Back to school."
The bereaved mother wrote that having London in second grade, and Lincoln attend the same school as his sister, made her sad and happy at the time.
Happy, because it's a milestone, and sad because River is not there to share in the excitement. Amber noted:
"Sometimes, the plans we make for ourselves don't come to pass. Sometimes, God has another path for you, your family, and heart."
The mum-of-two vowed to make the best use of the hand she got dealt, adding, "I'm choosing to smile through the tears, get excited for Linc and London," and "Focusing on living a life of meaning for River's honour."
The Texas resident then advised her followers going through tough times to "Fight what you can, and get on your knees when you can't." She ended the write up by thanking everyone for their love and support.
The comment section got flooded with similar messages, with one follower, writing, "Your faith is so inspiring," and another, "Such an inspiration. Thanks; needed to hear this today."
Since River died about two months ago from accidental drowning, his mother has shared several posts letting people know how she felt.
In one, Amber acknowledged that she had a long way to recovering from the tragedy, and plans to share her story even if it only helps one person.
In July, she revealed that she felt broken and her heart would never be the same again. Sharing her fragility, the country music star's wife said there are moments when she screams, cries, asks God questions, and then get up and fight again.
Amber is determined to smile through her pain, and when the grief appears to be winning, she looks on the smile on London and Lincoln's faces, and see "Some of the brightest lights in the dark."
Please fill in your e-mail so we can share with you our top stories!