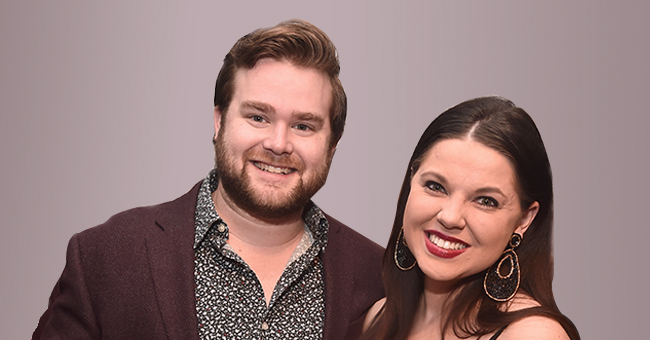 Getty images
Amy Duggar's Husband Dillon King Says He 'Can't Wait to See' Her in a Two-Piece Swimsuit
For the love of babymoon! Amy Duggar's husband, Dillon King, took her on a "Babymoon" to Florida. But not before he told her on social media that he can't wait to see her in a two-piece swimsuit.
The idea of Amy Duggar in a public Florida beach wearing a two-piece swimsuit would come as a surprise to most fans of the conservative family.
But the cousin of the Duggars' has always been different, and her husband, Dillon King, wrote in an Instagram post that she would indeed be wearing one.
In the selfie photo where the two smiled happily for the camera with mother nature as their backdrop, King noted that as a millennial, "Babymoon" is a trend he plans to follow. To this end, he wrote,
"So here we go. Florida here we come, Babe. Can't wait to see you rock a [swimsuit]."
The babymoon is in celebration of their first child together since their marriage in 2015. In April, Amy and King revealed they were expecting with rose gold balloons that spelt the word, "Baby," while standing in a field covered with colourful Easter eggs.
In June, the couple told their followers that they were expecting a boy, and to honour the tradition in King's family where the male children's name begins with the letter, "D," the soon-to-be-parents named their baby, Daxton "Dax" Ryan King.
As excited as Amy and her husband are, the pregnancy has not been without difficulties. During an appearance on PEOPLE Now, the TV star said she could not hold anything down for the first 17 weeks. She said she could only eat Hot Pockets and mash potatoes and commended King for always going to the store to get them for her.
Amy rose to prominence while starring on Jill Bob and Michelle Duggar's "19 Kids, and Counting On." She is the daughter of the Duggars' patriarch's sister, Deanna, and regularly butted heads with her uncle's family for not sticking by their strict rules.
The reality star eventually left the show, and by 2014, TLC gave her another one, "A Duggar Leaves Home." The show ended almost at the same time as "19 Kids, and Counting On," and her next return to reality TV was in "Marriage Boot Camp: Reality Series."
These days, the expecting mother works as a youth mentor, and she can't wait to be a mum. Amy and King's baby is due in November and will be among other Duggar babies coming into the world this fall.
Please fill in your e-mail so we can share with you our top stories!