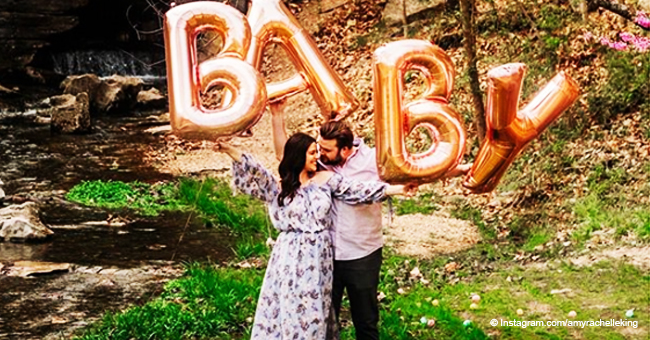 Amy Duggar Shares Happy News About Expecting Her First Child
Easter Sunday came with good news for the Duggar family. Amy Duggar and her husband Dillon King took to Instagram to share the news that they were expecting.
This would be the first child for the couple who has been married for almost four years.
Amy Duggar, 32, and Dillon King uploaded the similar photos of balloons that spelled out the word "BABY" on social media to announce the news that Duggar was pregnant. In the images, the mother-to-be was pictured wearing a long-sleeve dress with a flowers pattern on it.
King wore a light shirt and olive-colored pants. Duggar captioned her post: "BABY KING IS ON THE WAY!!! Happy Easter from our growing family to yours!!"
For his Instagram upload, King wrote: "We are completely speechless, overly excited and ready for the next chapter as new parents!" Duggar also added the milestone to her Instagram biography.
She wrote: "A first time [sic] momma to be!!!" The couple opened up in a recent interview about how they felt as they waited to be parents for the first time.
King said: "The learning curve of being a new father is kind of terrifying, but at the same time equally astonishing." Duggar shared that she couldn't eat certain foods because of the baby.
She confessed, "I miss Chick-fil-A. Baby King isn't a fan of chicken." However, that didn't stop her from celebrating the auspicious event saying: "I'm over the moon about becoming a momma! I just can't hardly wait!"
The couple has been married for close to four years. They tied the not on September 6, 2015, near Bentonville, Arkansas in front of about 400 people.
The pair were engaged in July, the same year. Duggar revealed from the start that she wasn't going to follow the same rules as her cousins when it comes to courting and dating.
In 2015 she said:
"I'm not going to change who I am to have a certain image. I'm the free spirit of the family. I'm not being rebellious; I love my family. I just have to be true to myself."
She is the niece of Michelle Duggar and Jim Bob Duggar from "19 Kids and Counting," and "Counting On."
In the past, the couple had revealed that they bonded over their love for being adrenaline junkies. For their two-year anniversary, the pair chose to have some excitement.
Duggar shared: "So first up, we are going to zip line through the trees of Mexico. … We're very much adrenaline junkies." Her husband added: "I love adrenaline. Anything that's fast, anything that can get the heart going … If I can die, I'm going to do it."
Please fill in your e-mail so we can share with you our top stories!