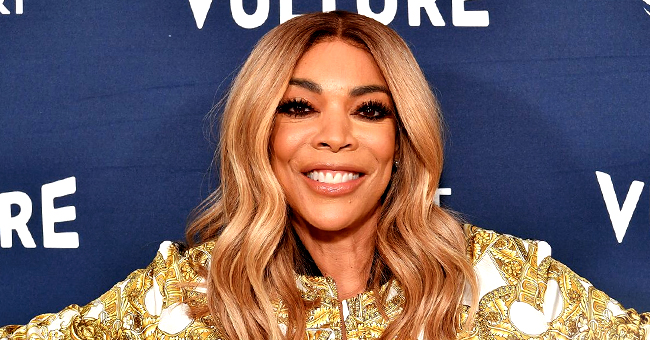 Getty Images
Wendy Williams Snuggles up to Mystery Man in New Photo Amid Kevin Hunter Divorce

Wendy Williams shared a photo of her beaming self with a new mystery man in anticipation of her return to her show in September. She previously shut down rumors concerning another mystery man.
Wendy Williams is enjoying her break from her show and in the company of a new mystery man it seems. The 55-year-old shared a photo of the two of them but didn't elaborate on the identity of her date.
COZYING UP WITH A NEW MYSTERY MAN
"Summer is FUN," according to the talk show host who months ago split from her husband of 22 years, Kevin Hunter. The photo she shared showed her beaming next to a bald and bearded man but her caption had nothing to do with him. Instead, it was a reminder to her fans to stay tuned for her return on television.
"I'm ready for US to get BACK together, September 16th. I love you for watching!," she wrote.
SLAMMING RUMORS LINKING HER TO OTHER MEN
Wendy has been seen with different men lately, thanks to her single life and the break she took from her show. However, she has made it clear on several occasions that these men are not romantic prospects.
One of them was rapper Meek Mill who was photographed with her during a party for Rick Ross' new album. "I am not feeling for Meek Mill," and vice versa she told Andy Cohen on his radio show.
She also slammed rumors linking her to Marco Glorious who she clarified on her Instagram was her audience producer. "I've got some explaining to do," she told her followers and alerted them to the date of her return to her show.
CLARIFYING MATTERS CONCERNING HER ESTRANGED HUSBAND
But among the many men being linked to her lately, it's her estranged husband who she's talked about the most. Williams set the record straight on a lot of issues concerning Hunter including their divorce and why she never left him when she knew all along about his indiscretions.
According to the mother-of-one, though she wasn't blind to Hunter's mistress, she stayed in her marriage for their son, Kevin Hunter, Jr.
"My son was at home, and it wasn't fair to him. I [wasn't] going to grab his hand and flee the scene and move zip codes, [then] he has to move high schools, and stuff like that," she explained to Cohen.
And as for her ongoing divorce which will now be entering settlement talks, Williams said she wanted it "yesterday." But according to recent reports, there are unresolved issues concerning alimony and the division of assets which are prolonging the case.
Please fill in your e-mail so we can share with you our top stories!