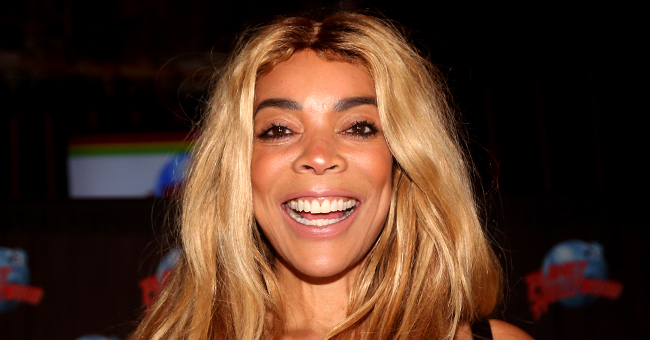 Getty Images
Wendy Williams Addresses Meek Mill Romance Rumors after Photo of Her Kissing Him on Cheek

Wendy Williams explained the alleged kiss she shared with Meek Mill during a recent night out. She also spilled on what's really going on between them.
Anything Wendy Williams does these days is news fodder and she's been making an effort to address all of them. Such is the case with a rumor that stemmed from her recent night out with Meek Mill.
THE CONTROVERSIAL KISSING PIC
On August 8, photos of the two partying at a nightspot, Villain where Rick Ross celebrated his album, "Port of Miami 2," seemed to suggest Wendy was kissing Meek.
The 55-year-old has been vocal about enjoying her single life since filing for divorce from Kevin Hunter so naturally, the public suspected there may be something brewing between her and the "Ima Boss" rapper.
THE TRUTH ACCORDING TO WENDY
Wendy didn't waste any time shutting down the rumors during a recent interview on Andy Cohen's "Radio Andy." Denying there was anything romantic between them or that they were making out, Wendy insisted what photos captured was a mere whisper and a goodbye kiss.
"I was not making out with Meek Mill, I was just whispering in his ear and kissed him goodbye because he performed at my son's black mitzvah and also autographed a picture for my son," the outspoken talk show host explained. She added,
"I am not feeling for Meek Mill and he is not feeling for me, you know what I mean? But all over the internet right now it is saying we have a thing for each other."
It was clear from the photos Wendy shared from that night that she was merely having fun with friends and even family. In fact, one photo featured her brother who many mistook for her estranged husband.
WENDY'S STRICT RULES ON DATING
Wendy has been very clear about how she chooses to lead her single life – by rediscovering men and just enjoying it. Speaking on "Sway's Universe," she even laid out her strict rules about the men she intends to date including her preference for the bossy ones who would still open doors for her.
She also revealed her deal breakers – men who were uncircumcised and with children below 21.
We're certain there will be more men who'll be linked to the talk show host and we'll be hearing more about her future dates. In the meantime, she has made it clear that Meek Mill is not one of them.
Please fill in your e-mail so we can share with you our top stories!