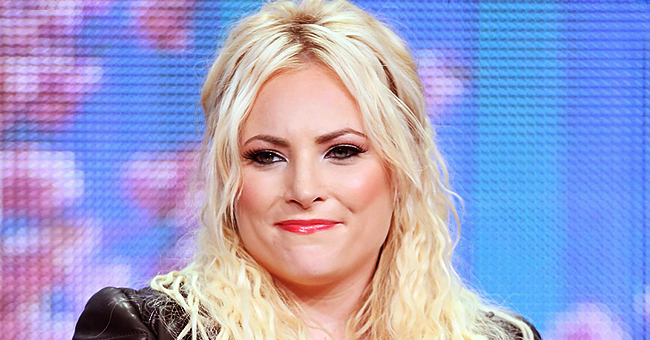 Getty Images
Meghan McCain's Fans Compliment Makeup-Free Look in New Photo with Her Best Friend's Son

Following a recent post on social media, featuring "The View" co-host, Meghan McCain, holding her best friend's son in a colorful playpen, fans of the talk show star took to social media to relay how beautiful she looked without makeup.
MEGHAN POSES WITH NOAH
Speaking of celebrities with the longest friendships ever, "The View" co-host, Meghan McCain fits into that train, as she joked about sustaining a "134" years-long relationship with her best friend, Sarah.
The 34-year-old shared a picture of herself, kneeling in a playpen as she held on to Sarah's son, Noah while posing for the camera. The toddler looked on with a grumpy but cute expression, while the television star was all smiles as she showed off her makeup-free face.
FANS ARE THRILLED AS MEGHAN SPORTS A NATURAL LOOK
Her caption suggested it was a throwback picture, and it read:
"Getting down in the playpen with little Noah. My oldest friend (since we were in Kindergarten) Sarah has 4 beautiful children. Lord, have we been through hell and high water together. @Sarahscarborough… Love you so much and so grateful for you! Here's to another 134 years of friendship. (Also, I never wear makeup unless I have to)."
Despite the absence of makeup during her playdate with Noah, the show star still looked stunning as ever.
"You look great W/O the makeup. Beautiful skin," a fan commented.
"Meghan, you rock with and without makeup! Gorgeous!" Another comment read.
Another fan was of the opinion that the show host never needed to wear makeup ever again as she was extremely pretty.
"Flawless skin," wrote another fan.

Comments on Meghan McCain's post | Photo: Instagram/meghanmccain
While most fans kept pouring in their compliments on the 34-year old's beauty, others commended her for being a natural with the kid. One fan joked about having her over as a babysitter because of her apparent fondness for kids.
A particular post reflected on the ABC News contributor's family succession and resemblance while likening her to her daughter as she played the "mom" role to little Noah.

Comments on Meghan McCain's post.| Photo: Instagram/meghanmccain
MEGHAN OPENED UP ABOUT MISCARRIAGE
This comes barely a month after the TV star suffered a miscarriage that led to the loss of her unborn daughter. Last month, "The View" co-host revealed to the New York Times that she was pregnant with a daughter, but lost the baby.

Comments on Meghan McCain's post.| Photo: Instagram/meghanmccain
Shortly after, she posted a lengthy writeup on Instagram to express her feelings since losing her baby girl. She also acknowledged her husband of two years, Ben Domenech as her daily source of strength to move on after the disheartening loss.
The star, however, stated that her consolation was the knowledge that her baby girl was now resting safely in the arms of her father, whom she lost late last year, to cancer.
Meghan's year has been a disheartening one, but with the help of her best friend, her husband, and her newfound shooting range enthusiasm, she is determined to overcome this hurdle set before her.
Please fill in your e-mail so we can share with you our top stories!