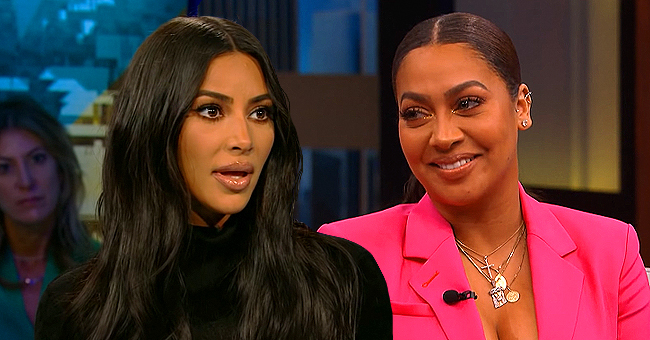 Youtube/Steve TV Show Youtube/CNN
Kim K. Shrieks Loudly in Video as La La Anthony Kisses 'BH90210' Co-Star Amid Carmelo Drama

La La Anthony filmed steamy scene for "Beverly Hills: 90210" and Kim Kardashian loved it.
The Blast shared a video on YouTube that shows La La Anthony's friend Kim Kardashian watching one of her friend's scenes on "Beverly Hills: 90210."
Kim was watching Wednesday's episode air and she couldn't help shrieking with delight as La La heated up the screen with a steamy kiss.
KIM KARDASHIAN WAS WATCHING THE SHOW WITH LA LA'S SON
The reality star was watching the episode with Kiyan, La La's 12-year-old son. And as the mood between the actress and her on-screen husband heated up, Kim sternly told the boy:
"Kiyan! Look away."
Then, as La La and her on-screen husband Brian Austin Gree locked lips, she whooped with joy.
This is not the first split between the celebrity couple who first went their separate ways in 2017
ON-SCREEN ROMANCE SIZZLES, AS REAL LIFE LOVE FALTERS
While La La's character in the "BH90210" reboot is living her best life with her on-screen husband in a supportive and passion-filled relationship, the same can't be said for the actress' real-life marriage to basketball player Carmelo Anthony.
IS DIVORCE IN SIGHT FOR THE ANTHONYS?
The trouble began when photos of Carmelo with a woman on a yacht in Europe hit the headlines on La La's birthday.
Though the basketball player said she was the wife of a friend, the lady was later identified as Sara Smiri, a model he had apparently met in Paris during Fashion Week.
THIS TIME IT LOOKS LIKE IT'S FOR GOOD
This is not the first split between the celebrity couple who first went their separate ways in 2017, when it was revealed that Carmelo had supposedly fathered a child on another woman.
The couple had just reconciled after two years apart when the yacht scandal broke.
Since then, La La has been spotted without her wedding ring and is said to be consulting lawyers.
Let's hope that she finds love again and that her real-life romance equals her on-screen one.
LA LA ANTHONY ON "BH90210"
La La Anthony was the only new major character added to the reboot of hit 90s teen drama "Beverly Hills 90210" as the wife of Brian Austin Green.
The Fox series reboot reunited the original cast from the 90s, with the sad exception of the recently deceased Luke Perry who had played the iconic Dylan.
La La is the only newby, and she plays Shay, the wife of David Silver, played by Brian Austin Green.
La La's character is a superstar hip-hop/pop artist who brings home the bacon while her husband stays home and raises their three children.
Anthony is now working with the original cast: Jason Priestley, Shannen Doherty, Jennie Garth, Ian Ziering, Gabrielle Carteris, Brian Austin Green and Tori Spelling who are working together again after 19 years.
Please fill in your e-mail so we can share with you our top stories!