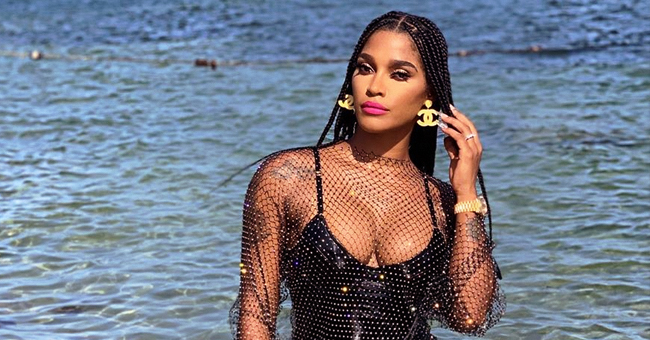 Instagram/joseline
Joseline Hernandez Shares New Photos of Daughter Bonnie Bella after Her Time with Dad Stevie J

Joseline Hernandez celebrated her reunion with her daughter Bonnie Bella by posting a series of adorable photos on Instagram.
Those who are up to speed with the bitter conflict over Bonnie Bella's custody between Joseline Hernandez and Stevie J will know that the 2-year-old spent two weeks in her father's custody.
It was the first time that mother and daughter had ever been apart and the reality star celebrated their reunion with a series of adorable snaps.
A DIFFICULT TIME FOR JOSELINE HERNANDEZ
The judge in charge of the custody case awarded temporary custody of Bonnie Bella to her father after Joseline ignored a court order which granted Stevie J visitation rights.
Stevie told the courts that Joseline took the 2-year-old to Los Angeles and then back to Florida to prevent him from spending quality time with his child.
After the judge issued a decree, Joseline Hernandez had no choice but to hand her daughter Bonnie Bell over to her father
JUDGE RULED FOR STEVIE J
Joseline claimed that a scheduling conflict had prevented the visitations, but the judge was not sympathetic. However, he granted Stevie J a two-week visit with his daughter, not permanent custody.
PHOTOS SHOW HAPPY MOMMY-AND-ME TIME
In the photos, a smiling Bonny Bella poses for her mom in a lovely summery dress and flashes a victory sign. It is easy to see that mother and daughter are delighted to be together again.
A SWEET FAMILY PORTRAIT
The cutest photo Joseline shared shows herself, her boyfriend DJ Ballistic and little Bonnie posing together for a family portrait.
Joseline captioned the photo with a cryptic statement:
"Deeper than Rap???"
Is she alluding to the connection between rapper Stevie J and her daughter? Or to her bond to the man she has often referred to as Bonnie Bella's "daddy," DJ Ballistic?
We hope Joseline and Stevie J sort things out between them, and think about what is best for Bonni Bella above all else.
BONNIE BELLA SPENT TIME WITH STEVIE J
After the judge issued a decree, Joseline Hernandez had no choice but to hand her daughter Bonnie Bell over to her father, Stevie J.
The reality star spent two weeks away from her daughter and was seen to be noticeably downcast, but her fans rallied around her.
"Im rooting 4 u always @joseline ?❤️ all set backs is over come by get backs…stay strong the child just need both parents."
"Be strong … You are a awsome Mom.. Soon everything goes back to normal…????."
"Bonnie will be back b4 you know it! ? U a ?? strong woman I know u miss yo other."
Bonnie Bella is now back in her mother's arms, but the battle is far from over as Stevie J, the father of 5 other children, is asking for full custody of the two-year-old.
Please fill in your e-mail so we can share with you our top stories!