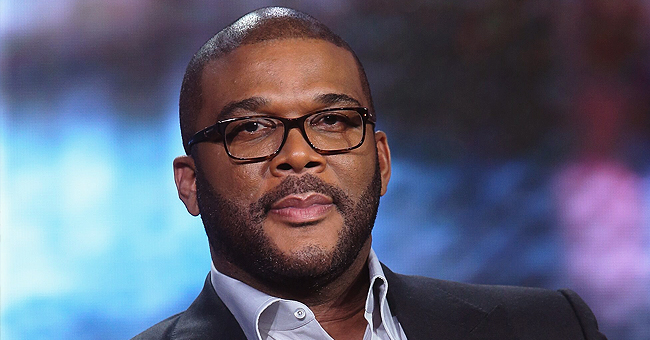 Getty Images
Actress Who Bought Billboards Asking Tyler Perry for Job Lands Role on His New BET Show 'Sistas'

Racquel Bailey took a crazy chance and won a role on Tyler Perry's series, "Sistas."
Can you imagine how many talented and hopeful actresses are out there at any given time, hoping for a chance at that brass ring?
Racquel Bailey was determined to catch the eye of director Tyler Perry and she set her plan in motion.
"I had to make a trip down to Atlanta to see this #LeapOfFaith in person. It's one thing to see renderings of it on my computer or seeing other people posting it. But #WOW I can't believe I really did this." Racquel Bailey
RACQUEL BAILEY LARGER THAN LIFE
Racquel wanted to make it as an actress, but standing in endless lines at auditions wasn't getting her what she wanted, so she hired a billboard close to Perry's office for thousands of dollars.
She had her face and contacts printed on the huge outdoor display along with the message:
"ATTENTION MR PERRY RACQUEL BAILEY IS YOUR NEXT LEADING LADY"
Racquel has some more interesting projects in the works, including some major auditions
TYLER PERRY RESPONDED TO THE BILLBOARD
Perry responded to the billboard on a post in his Instagram, scolding Racquel for her crazy stunt, and telling her that the way to get a part in his projects was to audition like everyone else.
THE GAMBLE PAID OFF
Despite Perry's scolding, Racquel was invited to audition for a part in his series "Sistas," and landed the role of a policewoman. Racquel's character will appear in the finale of season 1, and possibly in season 2.
RACQUEL BAILEY'S CAREER TAKES OFF
But Tyler Perry wasn't the only one to take notice. Racquel was contacted by several casting directors and has landed two more roles, in addition to the "Sistas" part.
Racquel has some more interesting projects in the works, including some major auditions, so watch out for her in the next major movies.
Good luck, Racquel, you deserve it.
TYLER PERRY - A MAN WITH A BIG HEART
Tyler Perry is known for his excellent work in the movie industry, as a producer, a director, and actor.
What many may not know is that Perry is also an extremely generous man. He recently surprised the mother of a former employee with a very special gift: a new home.
Perry brought the $350,000 home in Georgia as a gift to the ailing mother of his former employee, La Shun Pace.
The Paces are old friends of Perry, a family of Gospel singers whose song was used by his movie "Tyler Perry's Madea's Family Reunion."
Please fill in your e-mail so we can share with you our top stories!