Isabel Rock Wears a Floral Dress in Bridal Shower Pics with the Roloffs
Amy Roloff host's a bridal shower for her daughter-in-law, Isabel Rock. The bride-to-be beams in a floral dress.
Isabel Rock is just weeks away from tying the knot with fiancé, Jacob Roloff. He is the youngest son of "Little People, Big World," stars, Amy and Matt Roloff. 
Sharing these pre-wedding pictures may be all fans get of the big day because Jacob and Isabel have announced that the will not be filming their wedding for the show.
Roloff proposed to Rock during a trip to Iceland, in December 2017. The bride shares on Instagram that the proposal happened on Tjörnin, a frozen pond. A few months later, they confirmed their wedding date. In a heartfelt post she explains:
"Planning a wedding, going back to school, finding a place to live that fits us and gives us a sense of community, always fixing our beloved van, while also trying to manage an art business has felt a wee bit overwhelming for me at times."
She ends by confirming the date of their wedding as September 7, 2019, she writes:
"ONE YEAR FROM TODAY—we will finally be married and it will be the best day of our lives. #rockandroloffwedding"
Taking away some of the stress of planning a wedding, Rock's mother-in-law hosted her bridal shower at Roloff Farms. Surrounded by family and friends, she expresses her gratitude saying:
"I am a lucky human. ?Yesterday was my bridal shower and it was so beautiful. Every one of these people has been important in my life and this journey. And yes, Jackson was the only boy allowed;) Love you all!! Only 20 days left to go! #rockandroloffwedding."
The bride-to-be glowed in a long floral dress, surrounded by her family and friends. Making a special appearance was her nephew, Jackson Roloff. Tori captions the moment:
"We loved showering our aunt @isabelsofiarock today!"
The sisters-to-be pose with their honorary guest, Jackson, in his mother arms, while Tori cradled her pregnant belly.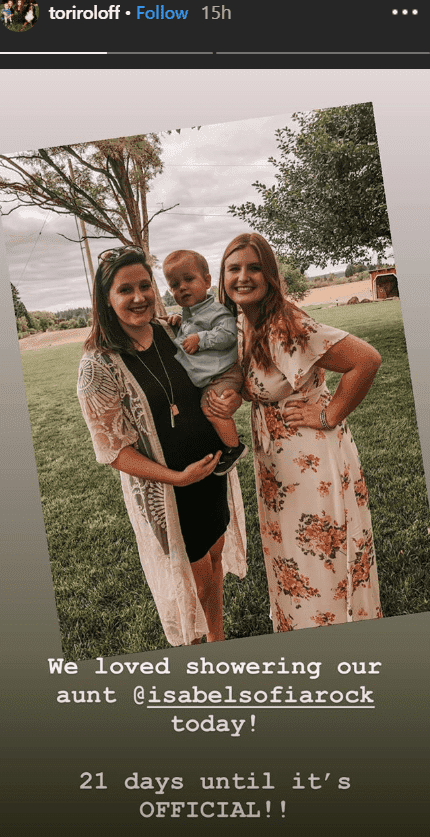 Playing many roles for the occasion, Amy, was the host, cook and doting mother-in-law. She writes:
"To say I have a blast in the kitchen is probably an understatement...most of the time. it's my happy place.  And I had a blast hosting and making the food for Isabel's bridal shower on Saturday w/ the help from my 'sous chef' Lisa. "
Creating these precious moments on the farm could be what Amy needs during her last few months on the property. The reality star has agreed to sell her share of Roloff farms to her ex-husband, Matt. It is reported, she sold her portion for a sizeable $667 000. She has agreed to move out by November 1.
Considering that all of the Roloff children have wed on the farm, their youngest, Jacob's wedding could be the best send-off for their blended family to come together.