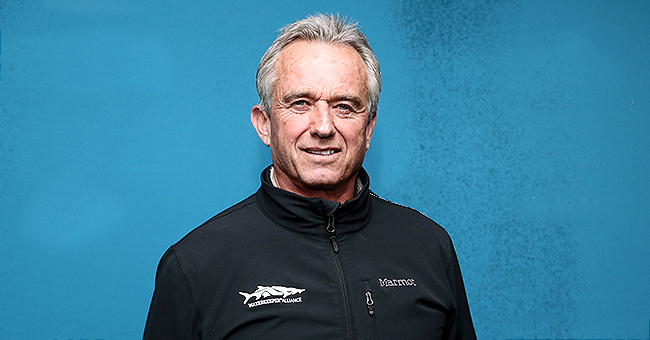 GettyImages
Robert F Kennedy Jr's Granddaughter Bobby Waves 'Hi' in a Recent Home Video

Bobby Kennedy is 7-month-old! Robert F Kennedy Jr. shared an adorable home video of the little girl waving "Hi," and it's bound to make the iciest heart melt.
Baby Bobby Kennedy is all shades of adorable. In a recent Instagram photo shared by her grandfather, Robert F Kennedy Jr., she waved "Hi."
In the post, the 6-month-old baby who dressed in a colourful outfit sat on Connor Kennedy's legs. A woman's voice, most likely her mother's is heard in the background saying, "Look this way Connor," and little Bobby reacted by lifting her hand, and waving in a classy way.
RFK Jr. captioned the video,
"Bobcat waves' Hi.' Seven-month birthday."
His followers gushed on how cute his granddaughter looked. One commented,
"She is very adorable and smart," while another wrote, "A bright, smart, shining star right there."
Bobby joined the famous Kennedy family in January 2019. She is the daughter of RFK Jr.'s son, Robert F Kennedy, the third, and his former CIA operative wife, Amaryllis Fox. The little girl is the apple of her grandfather's eyes, and a source of comfort to him after losing his niece, Saoirse Kennedy Hill.
Saoirse Hill died in her sleep in July, and in early August, RFK Jr. penned a touching tribute in her honour. The tribute contained the same words he used for the deceased's eulogy and chronicled her exemplary life and battle with mental illness.
In the tribute, the 64-year-old grandfather described his late niece as charismatic, kind, and adventurous. He recounted fond memories of family vacations and going with Saoirse to her dorm when she got into Boston University.
According to RFK Jr., the late 22-year-old was a
"Sister, daughter, to a hundred Kennedys', Shrivers', and Lawfords'." He added, "We all considered her our won," and praised her kindred spirit, acceptance, and love for everyone."
While Saoirse might have passed, there remains a significant number of "Kennedy grandchildren," alive and making their mark in the world. Although most of them have branched out into other fields outside of politics, some of them, like Joe Kennedy III, have contested for public office, and won.
Others like Michaela Kennedy Cuomo and Tatiana Schlossberg are human rights advocates. RFK Jr. maintains a close relationship with the extended Kennedy clan, and shares on his Instagram details of their exploits and family gatherings.
For a family that has had a lot of tragedies, it's great that they also have lots of reasons to laugh.
Please fill in your e-mail so we can share with you our top stories!