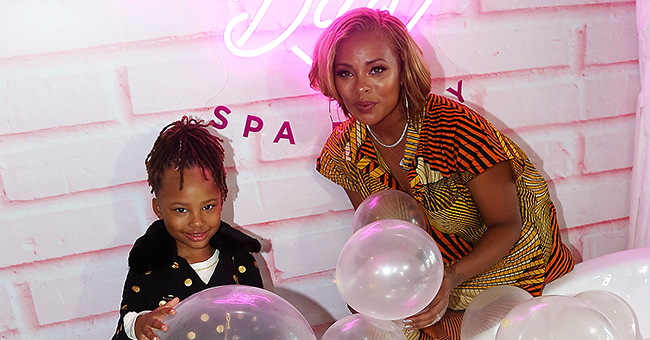 Getty Images
Eva Marcille Reveals She Changed the Last Name of Her Daughter with Kevin McCall

Eva Marcille decided to change her first daughter Marley Rae's last name from McCall to Sterling, saying it feels "amazing" to have her daughter share the same last name as everyone else in their family.
The 34-year-old revealed during a recent episode of the "Rickey Smiley Morning Show" that she decided to change Marley Rae's last name.
To her, this was something she wanted to do because Sterling has been the only father figure in her daughter's life, after being a single mom since her birth in 2014.
A Change of Surname
Sharing more about what happened, she said:
"I just went through a name change for my first born, Marley Rae," she said. "Marley was born in 2014 and I gave her her biological father's name. After two months we became estranged and I raised her as a single mom. The good Lord saw fit for me to meet an amazing man, Michael Sterling, who has become my husband and the father of my later children. And so long story short, we all have the name Sterling and Marley's the only one with her biological father's name."
Being One Family
Now that she and Michael are expecting their second child together, she said it was necessary for her daughter to feel as much part of their family as their other two kids, and it's been an overwhelming process for all of them.
"I saw it necessary and Mike saw it necessary to change her name, so we've been going through the process, which I must say is not an easy process. It's not for the faint at heart, but we've been working through it and yesterday, I can say thank you for the honorable Judge Manning here in Fulton County court, [she] granted me a name change for Marley. She is now officially and legally, Marley Rae Sterling. She asked for all vital records to be changed, her birth certificate, her social security card, her health board, everything. For my family it's amazing."
Escaping Abuse
Before being in a stable relationship with Michael Sterling, Eva was in a relationship with Kevin McCall, who allegedly abused her while she was pregnant with their child.
During an episode of "The Real Housewives of Atlanta," Marcille opened up about the abuse years after it happened because it was traumatizing for her to talk about.
She recalled that the abuse started happening when she was pregnant until she gave birth to their child. When she was no longer pregnant, the abuse got worse, and it once happened when their own daughter was in her arms.
This was when she decided that enough was enough.
A New Beginning
Now, Marcille appreciates the fact that her daughter can grow up in a normal family environment, and that although her biological father wants nothing to do with her, she found a father figure in Sterling.
With all of them carrying the same last name now, there is nothing else that could stop them from being one big happy family.
Please fill in your e-mail so we can share with you our top stories!