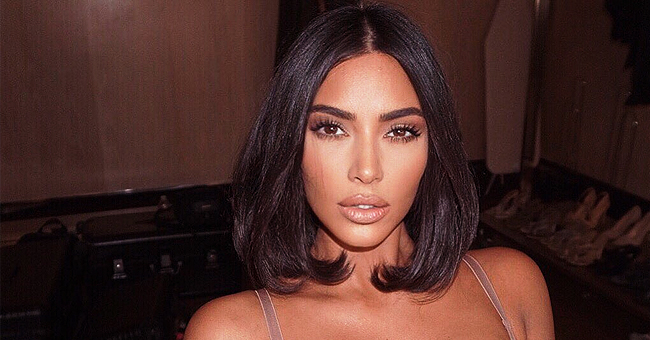 Instagram/kimkardashian
Kim Kardashian Revealed Struggles of Taking a Photo with All 4 Children While in the Bahamas
Kim Kardashian managed to take a photo with all of her children together, but it wasn't easy.
As a mother of 4, Kim Kardashian faces several challenges, like getting ALL the kids to sit still at the same time for just two seconds.
Impossible? Maybe, but Kim managed and share the adorable snaps on Instagram, to her fans' delight.
GETTING A PHOTO OF THE WHOLE BROOD
Kim was on vacation in the Bahamas with her family, and she decided to take a photo of the entire brook happily playing on the beach. Sounds like a snap? Think again...
Four kids ranging from 3 months to 6 years old are as restless and wriggly as a bucket of worms and Kim almost despaired.
"Bahamas ?? Pics Coming Up! I thought taking a pic with three kids was hard OMG this is almost impossible!" Kim wrote.
Kim also shared a vid that showed little Chicago handling a snake
AN ADORABLE FAMILY PORTRAIT
Somehow, Kim did manage to get her kids to sit still and got her photo with all four children - Psalm, 3 months, Chicago, 19 months, Saint, 3, and North, 6.
Chicago and North wore metallic swimsuits just like moms, while Saint and Psalm looked manly in their shorts.
FANS WORRY OVER NORTH'S POSSIBLE INJURY
In one of the snaps, North can be seen with a huge white bandage on her leg, which raised concern among fans that the 6-year.old had been injured. Kim allayed their fears:
"Nothing lol. She wanted to wear that," Kim explained that the bandage had been North's accessory of choice.
CHICAGO PROVES HERSELF FEARLESS
Kim shared several touching photos, including one in which North is lovingly holding baby Psalm in her arms.
Kim also shared a vid that showed little Chicago handling a snake and looking it with curiosity, displaying absolutely no fear.
It looks like the Kardashian Wests had a great time in the Bahamas!
KIM KARDASHIAN'S PHOTO WITH JUST THREE
Just a year ago, Kim Kardashian struggled to take a similar photo - but then she had only three children.
The photo shows Kim in bed with North and Saint by her side, and tiny 4-month-old Chicago in her arms.
That photo obtained an astonishing 3 million 'likes' in one day, while the snap with all four children has already reached an unbelievable 5,7 million likes.
Please fill in your e-mail so we can share with you our top stories!