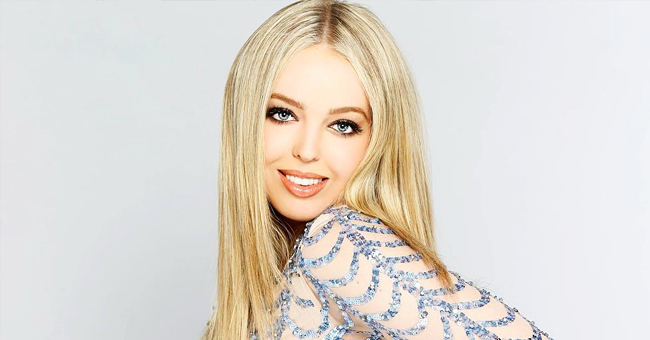 instagram.com/tiffanytrump
Tiffany Trump Poses in Front of Portrait Made from Swarovski Crystals by Colombian Artist Mr Bling
The less-famous child of Donald Trump expressed her gratitude via social media after the renowned artist immortalized her in a portrait.
25-year-old Tiffany Trump stood proudly before a portrait of herself, created by the Colombian artist, Mr. Bling, using Swarovski crystals.
The artist, who is famous for creating portraits of popular celebrities using the expensive crystals, also posed alongside Trump with the portrait hanging behind them in a wall.
In the crystal portrait, Trump gives away a radiant smile as she sports a black leather jacket. Her blond hair falls loosely across her face.
She expressed her gratitude toward the artist by writing, "Thank you [Mr. Bling] for including me in one of your incredible pieces of art!"
SHINE LIKE A DIAMOND
The post has received over 47,000 likes just within three days of being uploaded. Trump has also received hundreds of comments with several fans congratulating her for the portrait.
One of the commenters on the post was Trump's own mother, Marla Maples, who was the second wife of the President of the United States, Donald Trump.

Marla Maples' comment on Tiffany Trump's photo. | Source: Instagram/tiffanytrump
She complimented her daughter by writing, "Shining bright," and added a few diamond emojis.
Later, Mr. Bling himself shared another snapshot of himself posing alongside Trump in front of her crystal portrait.
In the photo, Trump is seated on a couch with the artist carrying a certificate of authenticity in her hand. The artist captioned the post:
"It's a pleasure meeting you and that important and special persons, as you have my art [Tiffany Trump]. Welcome to the shinny world."
A DISTANT TRUMP?
Unlike her sister, Ivanka, Trump has kept herself away from her father's politics and political limelight.
However, she did make an appearance at the US President's re-election campaign rally to support her father. Almost all of her siblings accompanied her during the event.
Earlier this month, she also made headlines after being spotted with her mother, Maples, during a vacation in Spain.
The mother-daughter duo was found soaking up the sun in Mallorca, a Spanish island.
Please fill in your e-mail so we can share with you our top stories!