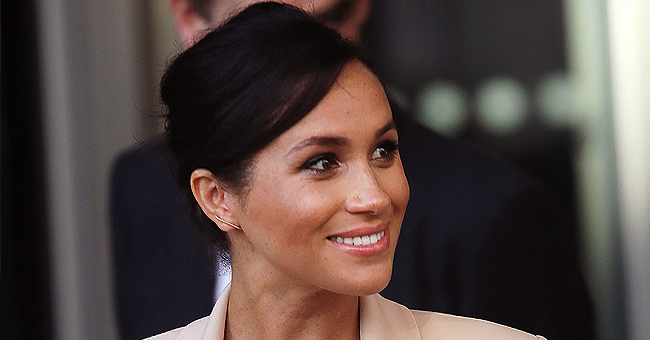 GettyImages
Meghan Markle Shares Photo of Cupcakes with Inspirational Messages Amid Private Jet Backlash

The Duchess of Sussex is paying no mind to critics as she shares a photo of cupcakes with inspirational messages.
Recently, the royal couple, Prince Harry and Meghan Markle have not been on the good side of the internet.
The new parents, especially Meghan have been facing massive backlash after it was reported that they went on an extravagant vacation.
Many internet users labeled the Duke and Duchess of Sussex as hypocrites for leaving carbon trails while preaching about climate change.
However, it seems all that bad energy has nothing on the new mother.
Yesterday, the duchess took to the Sussexes' official Instagram to share photos of cupcakes with inspirational messages, as revealed by The Sun.
Alongside the cupcake were photos of the women of Luminary Bakery.
As revealed in the caption of the post, the Luminary Bakery was featured in the September Issue of Vogue which Meghan guest-edited.
She explained that she visited the bakery earlier and was moved by how baking was used as a form of therapy. Meghan wrote:
"When I visited earlier this year I was struck by how the baking, itself, is a means of therapy for these women - which in many ways makes complete sense - feeling they had no control over their lives based on their previous (and often harrowing) circumstances, they found comfort in the measured nature of baking."
She praised them for giving job opportunities and opening its arms to vulnerable women.
At the end of the lengthy post, the duchess recommended the bakery and urged their followers to stop by and support the women of Luminary Bakery.
The post has garnered over 292,000 likes and praises for Meghan's words of affirmation.
@mrslaradunn wrote:
"Your Royal Highness. This is so fantastic, and I would like to say I hugely admire what you have done and are doing since becoming a member of the Royal Family. Please ignore the negative press."
This user @nanaaaaaa021506 praised:
"Meghan if you're reading this I just wanted to say that you are the most inspirational and amazing person in this whole wide world."
Despite all the hate surrounding Meghan, it seems she is bent on only spreading love!
Please fill in your e-mail so we can share with you our top stories!