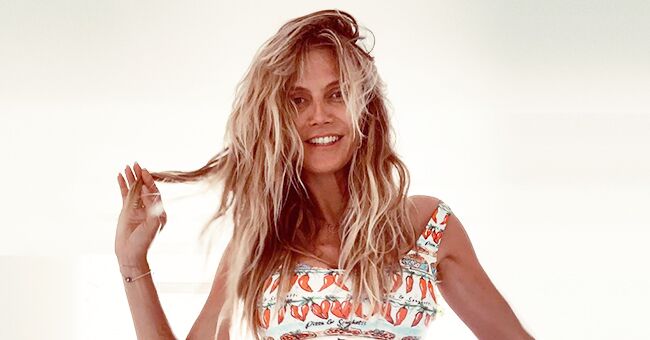 instagram.com/heidiklum
Heidi Klum, 46, Faces Bodyshaming Backlash after Sharing Honeymoon Photos Taken in a Swimsuit
German model and television personality, Heidi Klum, is currently the hot target over internet backlash as she posted a duo of bikini photos, with one being topless, on social media.
The 46-year-old celebrity took it to Instagram to show off some skin, posting two photos of her bikini body facing the sunset while sailing on a boat – one being topless.
She captioned the post: "All I see is ??WATER." Her photo showed a black and white photo of her, seemingly covered by a towel, and dabbed with a colorful rainbow.
Klum's intentions to share her happiness during her honeymoon in Italy is met with negative comments from netizens. One, in fact, wrote:
"ALL I SEE IS MIDLIFE CRISIS," while another added stating, "You need to hit the gym grandma."
Nevertheless, people were as quick to come into Klum's defense, praising the supermodel mom of her confidence, and even calling out those against her. One comment read:
"You know what... at 46 she looks great! Stop judging."
While not everyone was a fan of the posts, there are those who saw the beauty and confidence that Klum had flaunted. She, on the other hand, did not mind the harsh comments.
Klum recently made headlines after she reportedly married her boyfriend in secret. She remains to be happily married to a famed musician, Tom Kaulitz. The couple has, in fact, maintained their marriage to be low-key, after initially tying the knot in February.
The couple's love story began in March 2018 after they were caught in an intimate moment. Their relationship was confirmed, later on in the same year, after a performance done together.
Come December of the same year, Klum finally shared her engagement on Instagram, captioned as "I SAID YES."
While others may have opposing views of Klum's beauty, what remains true is that her love story continues to flourish, as seen in her constant share of captured memories with Tom.
Perhaps her happy life can be given credit for her ageless beauty.
Please fill in your e-mail so we can share with you our top stories!