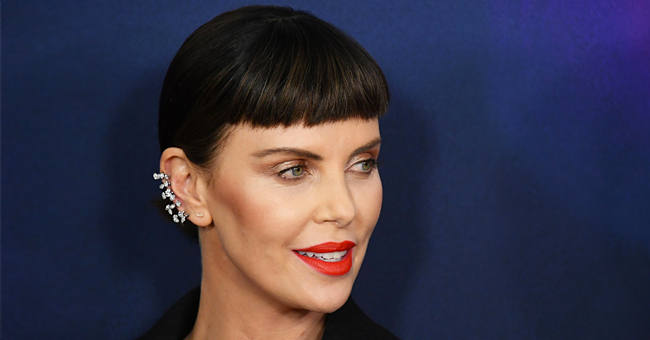 Getty images
Charlize Theron Posts Rare Photo of Her 3-Year-Old Daughter during Family Vacation

Three years after she shared the last photo of her children, Charlize Theron shared a beautiful but rare photo of her 3-year-old daughter, from their recent vacation.
Charlize Theron shared a rare photo of her daughter, August, on Instagram, from a recent vacation, and she looked all grown and adorable.
The little girl looked pretty in a pink dress, and sandals. She stood close to a tree, which shielded her face, and she appeared to be plucking the fruit on it.
Theron captioned the photo, "We don't wanna leaves," attaching a leaf emoji. She also shared a second photo of a scenic view with a concrete wall overlooking an ocean and a beach.
The photo is the first from the actress in about three years, and her fans were ecstatic to get to see her little girl finally. One fan commented,
"You are a great mum," while another wrote, "What a beautiful little girl." A third follower wrote, "Wow! She has grown a lot."
Theron also has a daughter, 7-year-old, Jackson, who was not in the post. Jackson identified as a boy until she turned three.
According to the "Neon Flux" actress, at that age, her daughter said to her, "I am not a boy," and she chose to raise her female.
Explaining the decision to USA Today, the actress said she wants her children to thrive and make their own decisions.
The Oscars winner said her job is to protect them, and whatever they choose to be in life, is not for her to decide. Theron added,
"My job as a parent is to celebrate them, love them, and ensure that they have everything they need in order to be what they want to be."
The "Long Shot" actress is a single mother, who got both her children through adoption. She adopted Jackson in 2012, and August in 2015. Theron explained in an interview that adoption was always her first and only choice.
The "Atomic Blonde" star said,
"Even when I was in relationships, I was always honest with my partners that adoption was how my family would look one day. This is not a second option to me; it was always my first."
Theron loves being a mum, even if she's doing it alone, and her life revolves around her career and her two beautiful daughters.
Please fill in your e-mail so we can share with you our top stories!