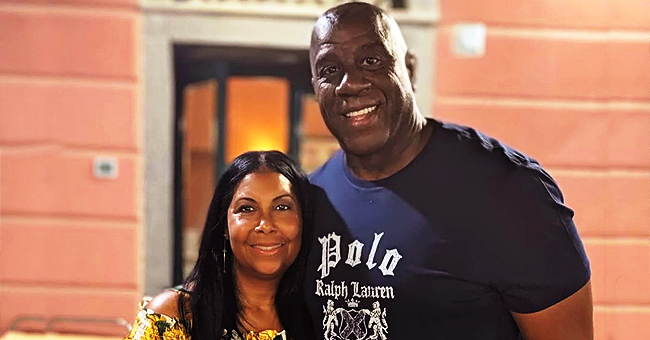 Instagram/thecookiej
Magic Johnson's Wife Cookie Poses on Yacht in Yellow Summer Dress during Italy Vacation

Earlitha "Cookie" Kelly rocks social media with a gorgeous update from leisure trip with hubby, Magic Johnson.
Love is in the air as the retired professional basketball player, Magic Johnson's wife, Cookie shares an update of their Italy trip on her Instagram page.
The photo featured the couple looking contented with broad smiles on their faces as they posed on a yacht deck. Cookie looked stunning in a yellow print dress with large brown-tinted shades while Magic Johnson looked great in a simple orange t-shirt with an Adidas logo printed across it. He had on matching orange shorts.
"Today's theme: just relax #Blessed #Naples ??," she captioned the post.
The post attracted a lot of positive comments from fans of the couple:
"I have enjoyed your vacation wardrobe just as much as your vacay sceneries!" a fan exclaimed.
"Blessings my favorite couple," another declared.
Cookie and Johnson got married in September 1991 and have remained together since then. They have two children, Earvin III (EJ), and Elisa Johnson, who got adopted in 1995.
Magic also has another son who he fathered in 1981 before his marriage to Cookie, 35-year old Andre. The wedding came just two months before Johnson's announcement that he was infected with HIV.
In a book authored by Cookie titled "Believing in Magic," she describes how she felt when Johnson told her he'd been diagnosed with HIV.
"In just one moment our world, this perfect union we'd fought so hard and so long to have was obliterated," she wrote.
She had reportedly been pregnant when she received the news from Johnson; however, both she and her son tested negative.
Cookie is the proud owner of a clothing line named "CJ by Cookie Johnson" which feature mostly jeans. She graduated from Michigan State University with a degree in retailing of clothing and textiles.
Following Johnson's revelation, he and Cookie have taken steps to broaden awareness of the disease. After his retirement from the NBA, Johnson became a spokesperson for the prevention of HIV/AIDS.
The couple founded the Magic Johnson Foundation in the interest of developing and funding programs which actively play a role in preventing HIV/AIDS.
Magic Johnson and his wife have been married for 28 years. When asked what makes their marriage so successful, they say communication, patience, and faith.
However, in an interview, Cookie revealed that they'd had their fair share of tough times:
"There was a point where I was home all the time; he was working. Sometimes you start growing apart a little because he's seeing new adventurous stuff. He's out in the world. He's growing. [But] I'm stagnant."
Johnson is friends with famous movie star Samuel L Jackson. In August 2017, the pair embarked on a shopping spree in Tuscany.
After the spree, they were pictured on a bench flanked by a bunch of shopping bags. Johnson shared the picture via his twitter handle.
The image quickly made rounds on the internet and went on to spark outrage among Italians who mistook the basketballer and movie star for migrants who had a shopping spree at the expense of the state.
Please fill in your e-mail so we can share with you our top stories!