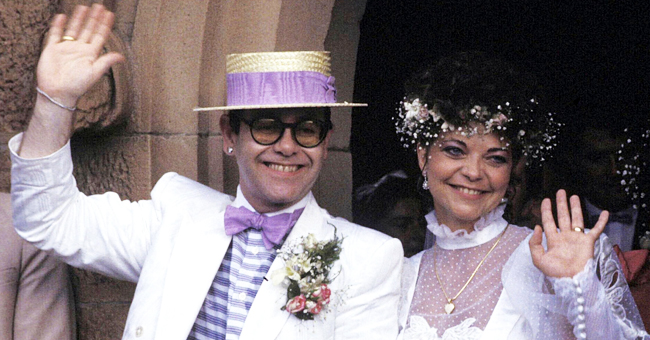 Getty Images
Elton John's Ex-Wife Renate Blauel: Inside Their Brief Marriage
The members of the public that watched the recent Elton John biopic "Rocketman" might have been shocked to learn that the openly gay singer was once briefly married to a woman. Here's a little more about this episode.
While it appears to be a lesser-known fact that was revealed without much detail in the 2019 film starring Taron Egerton, Elton John's 1984 marriage to German-born Renate Blauel was a subject of much controversy back in the day.
It is not surprising that the four-year marriage has been almost forgotten, since it is a subject that has rarely been touched again by the "Tiny Dancer" singer, who has nevertheless admitted that it was an unfair move that hurt Blauel in the end.
MUSIC BROUGHT THEM TOGETHER
John and Blauel married merely 18 months after meeting for the first time during the recording sessions of the musician's "Too Low for Zero" album. Then-28, Blauel served as a sound engineer in the production.
John, then 36 and openly bisexual since 1976, first felt drawn to Blauel when he noticed she was as obsessed with music as he was, and the bond between the two soon developed to a point that the two became intimate.
So when John had to visit Australia to promote his recently finished album, Blauel went along as part of his entourage, and to her surprise, the singer proposed her at an Indian restaurant in Sydney.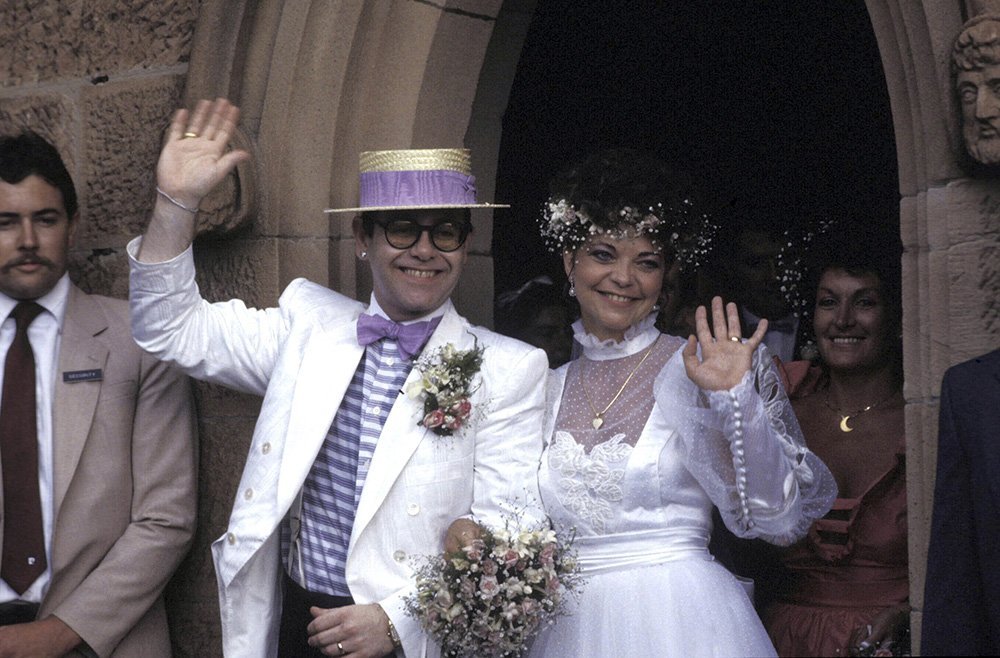 Elton John and Renate Blauel on their wedding day. I Image: Getty Images.
THE WEDDING
On February 11, 1984, the engagement was announced to the press, and the ceremony took place on Valentine's Day, shocking everybody that assumed that John's bisexuality was just a cover-up.
"I simply want to be a family man. And I'm not getting any younger," John explained about his motives to marry.
Given the legal framework in England at the time regarding same-sex couples, he didn't stand much chance of forming his own family if he didn't marry a woman.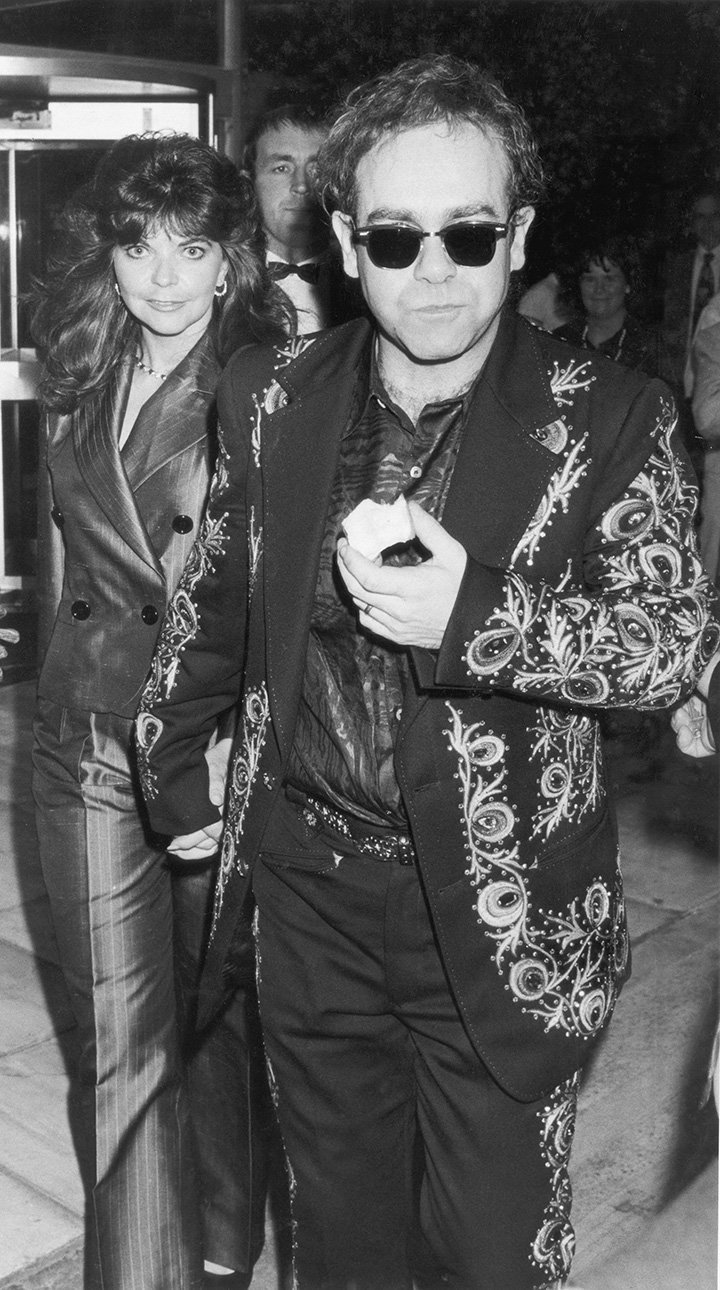 Renate Blauel and Elton John in one of their rare public outings. I Image: Getty Images.
However improvised, the couple managed to organize quite a party to celebrate their nuptials, thanks to the help of John's then-tour promoter Harley Medcalf. "Oysters were flown in from New Zealand", Medcalf later shared.
The menu also included lobster, prawns, scallops, salmon, lamb, crab, venison, beef, veal, quail, chicken, pork, turkey, ham and trout, apart from very expensive wines such as a 1978 Le Montrachet Chateau des Hebeaux Jacques Prieur.
Both John and Blauel wore white, with the bride donning a heart-shaped pendant featuring 63 diamonds. Famous actress Olivia Newton-John and Tennis star John McEnroe were among the celebrities in attendance.
A CONTROVERSIAL MARRIAGE
Obsessed with John's sexual orientation, it wasn't long before the press started to spread insisting rumors about him and Blauel's union never been "consummated" and that they only married as a publicity stunt to protect John's image.
But beyond the public scrutiny and speculation, the couple soon became distant both emotionally and geographically, with their jobs keeping them in separate continents for months at a time.
It was also a critical moment for John, who was at one of his worst stages regarding his drugs and alcohol addictions, something that the singer later acknowledged as one of the factors involved in his ill-advised decision to marry Blauel in the first place.
After important episodes for John on which Blauel was nowhere to be seen, such as his 40th birthday celebration and his throat surgery, it was evident that the marriage was falling apart, and by November 1988 they had divorced.
ELTON TOOK THE BLAME
Even when Blauel publicly claimed that she and her former husband intended "to remain best of friends," John eventually admitted that his selfish reasons to take her as a wife had ultimately harmed her and they had lost contact.
"I hope one day that we can meet and be friends. We haven't been in touch, we've had no contact at all which is very sad, but she wants it that way. I don't have any negative things to say about her at all," John shared in the 1997 TV documentary "Tantrums and Tiaras," directed by John's husband.
"A drug addict thinks like this: 'I've had enough boyfriends, and that's not made me happy, so I'll have a wife — that will change everything.' And I loved Renate. She's a great girl. I really, really loved her. But, you know… it is one of the things I regret most in my life, hurting her," John told The Australian in 2008.
AFTERMATH
Blauel received a considerable sum as a divorce settlement, apart from a country house in Surrey that John purchased for her.
She stayed in England completely away from the spotlight until the 2000s when she reportedly moved back to Germany to be close to her aging parents.
As of John, soon after his divorce, he admitted being gay, not bisexual. He managed to rebuild his life after rehabilitating from drugs and alcohol and moved back to England, where he finally met the love of his life, Canadian filmmaker David Furnish.
John, now 72, and Furnish, 56, have been married since 2014, as soon as same-sex marriage was legalized in the UK. The two had lived in a civil partnership since 2005, waiting for the moment to formalize their union of more than 25 years now.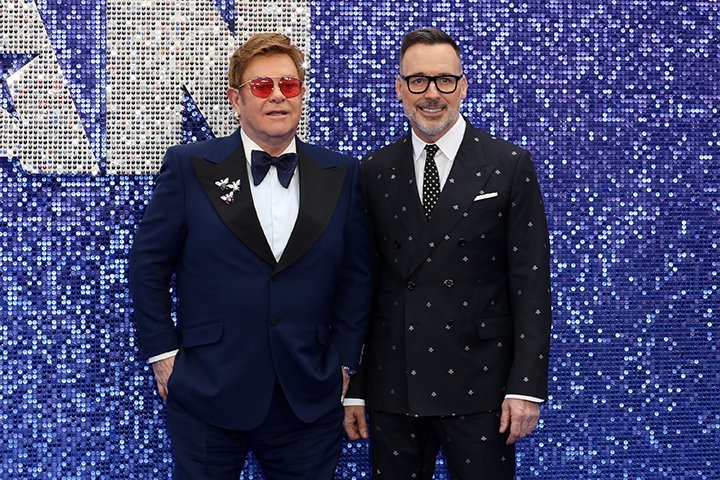 Elton John and husband David Furnish. I Image: Getty Images.
DIFFERENT TIMES
In September, 2017, John's visit to Australia for a series of performances coincided with the legalization of same-sex marriage in that country, and he took a moment to congratulate the country for allowing men and women to live their lives fully instead of living a lie.
"Many years ago, I chose Australia for my wedding to a wonderful woman for whom I have so much love and admiration," John captioned a throwback picture from his wedding to Furnish, acknowledging his past relationship with Blauel.
"I wanted more than anything to be a good husband, but I denied who I really was, which caused my wife sadness, and caused me huge guilt and regret," he went on.
"For David and I, being able to openly love and commit to one another, and for that to be recognised and celebrated is what makes life truly worth living," he also wrote.
"That acceptance and support makes us want to be as kind, responsible and productive members of society, as well as the best parents, that we can be," John added.
Nowadays, John and Furnish share sons Joseph, 6, and Zachary, 8, thanks to surrogacy. The two are part of one of the most notorious same-sex marriages in the world.
Recently, the couple was photographed as they enjoyed a summer day at a yacht alongside David and Victoria Bergman. "Gorgeous day with friends @davidfurnish @eltonjohn," the soccer star captioned one of the snapshots.
Please fill in your e-mail so we can share with you our top stories!