Marie Osmond Celebrates Her Husband's Birthday Whom She Married Twice in Adorable Post
Beautiful legendary singer and talk show host, Marie Osmond was in a celebratory mood for her husband, Steve Craig's birthday.
The 59-year-old shared a cheerful video of her husband, surrounded by his grandchildren, as they sang him a birthday song. The relationship between Marie Osmond and her husband, Steve Craig is very special.
The couple seems to be made for one another, as they have been married twice, the second marriage was in 2011 after the first one ended in divorce in 1985.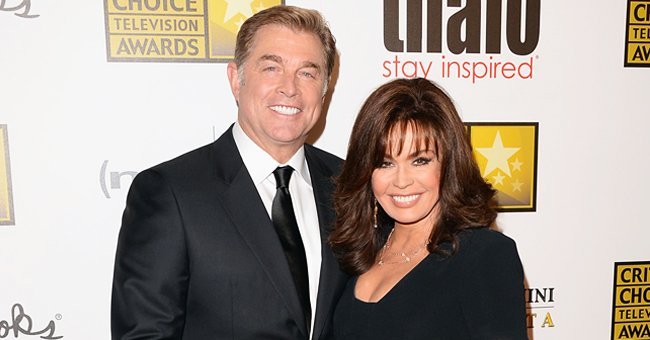 On the occasion of Steve's birthday, his wife and grandchildren teamed up to pay him a glowing tribute. 
MARIE'S SPECIAL INSTAGRAM POST FOR STEVE
Marie Osmond shared a short video clip which featured Steve Craig moving his body happily as his grandchildren, gathered around him, to sing him a lovely "Happy Birthday" song. In her caption, Marie wrote:
"#HappyBirthday to the greatest grandpa, dad, and husband on the planet!!! I love you my sweetheart ❤? #singingfamily #harmonies."
Her followers, who made comments to the post, sent well wishes to Steve. The celebrant would sure have been left honored and proud of his family's rendition and well wishes from fans. 
FACTS ABOUT STEVE CRAIG
Not a lot is known about Steve Craig, as he is more known as Marie Osmond's husband, due to her fame. Steve is a former basketball player but has now become a motivational speaker.
Before going into speaking, Steve also worked as a producer. He was born in Utah and grew up in the Mormon way of life, which he still practices today.
During his NBA career, Steve played for the Philadelphia Sixers as a point guard. However, he is mostly remembered for his attention-grabbing marriage with Marie Osmond in 1982.
The couple soon had their first child with the birth of their son, Stephen James Craig in 1983. However, they went their separate ways in 1985 for reasons publicly unknown.
The lovebirds found their way back to one another in 2009 and remarried in 2011, 26 years after their divorce. After her initial divorce with Steve, Marie married Brian Blosil in 1986 and had two children with him.
She also adopted five other children, bringing her total number of children to eight. Marie and Blosil divorced in 2007.
Steve, however, makes all of Marie's children as his own, and that was evident with the sweet rendition given to him by his grandchildren.