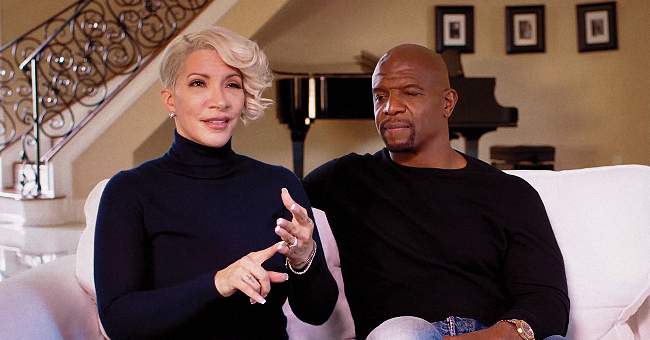 Youtube/OWN
Terry Crews' Wife Opens up about His Addictive Behaviors, Says He Was like a 'Dry Drunk'
Rebecca Crews reveals what it has been like to be married to her husband, who has addictive tendencies.
In a clip from the next episode of "Black Love," the couple who got married in 1989, had a whole lot to say about the challenges they've surmounted in their 30 years of marriage.
Terry said his first mistake was his wrong disposition towards conflict. According to the AGT frontman,
"When we got married, I had this grand thing of 'it's all going to work out. This is how love is.'"
He also spoke about his nature of compulsive buying, stating that he would buy something anytime he felt sad, due to an argument with his wife. And even when he could not afford it, he'll still purchase it with high hopes of paying for it later.
In his words,
"As long as I can get rid of the pain now, we'll just pay later."
In response to this, Rebecca admitted she should have paid more attention to her husband's background and how it would affect him and his actions in their marriage.
"I realize I should have done more homework on addiction and children of addiction because I joke now that my husband was like a dry drunk. He was addicted to everything else. To exercise, to spending activity. He always had to be doing something like an adrenaline junkie," she said.
But they have managed to stay in love and face all odds together, and the couple recently celebrated 30 years of love. Terry Crews posted a throwback picture of him and his wife, and added,
"Time flies when you are having fun…! #30thanniversary," as the caption.
That was not all, the funny actor pulled off a surprise wedding anniversary party for Rebecca, with a special appearance by Stevie Wonder.
Stevie Wonder sang "A Ribbon In The Sky," while the couple danced, he then played "Superstition," for the guests, using the harmonica. The iconic musician gave an outstanding performance.
The couple got married on July 29, 1989, and they have been honest about their challenges. Terry has been open about his wife's support through the toughest periods; this includes his addiction to pornography in the past and his claims of sexual assault by Adam Venit at a party.
"Through all of this, these obstacles have actually made us stronger...owning the realization that our feelings followed our decisions and not the other way round," the couple explained.
"Choosing to love each other year after year has proven to be the best decision we've ever made," says Terry
The Crews share a beautiful story, despite the ups and downs. In his book "Manhood: How to Be a Better Man or Just Live With One," he explains how his addiction to pornography almost cost him his marriage until he got help.
Rebecca even admitted that it took her a while to trust him again, but they came out stronger and better even. The lovely couple has five children together; Azriel, Isaiah, Naomi, Tera and Wynfrey.
Please fill in your e-mail so we can share with you our top stories!