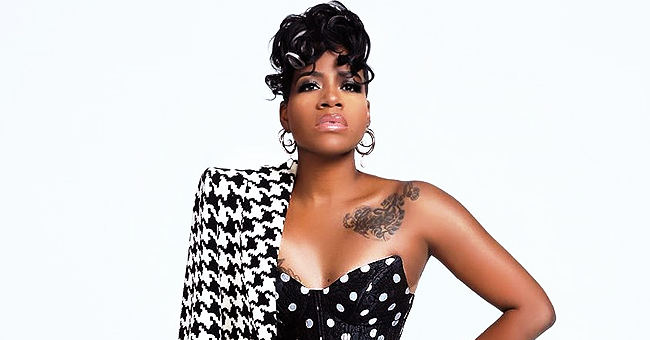 Instagram/tasiasword
Fantasia Barrino Flaunts Some Skin & Tattoos in Black Minidress Paired with Long Coat & Boots

African American singer, Fantasia Barrino shows off her body in a black and white outfit. The single mom stopped at nothing to show how sexy she looks in her recent Instagram upload.
The singer donned a pair of white heels, a high slit sleeveless polka dot dress and she had a long coat drape from one of her shoulders to the ground.
Giving a dominating look, the "American Idol Season 3" winner owned her space, as her revealing attire did little to conceal her tattoos.
The caption that accompanied the upload strongly asserts that she will never think of compromising her happiness, and will critically assess whoever she's letting in her life.
"One thing I won't do is be with anyone, cause I'm not for everyone."
After the message, she hashtagged "PTSD" — and this might be what influenced her cryptic post.
The superstar has had her fair share of losses in the past. In 2013, she lost her million-dollar mansion due to money problems.
Comments like "LOVING THE NEW U," "GOT DAMMIT," "You better let them know," were fixed to her post.
The talented musician, after embarking on a weight loss journey lost 20lbs in 2016 and has been looking great eversince. After subscribing to a medical weight loss program known as the "Urban Skin Solutions," she was able to attain her desired weight.
She revealed in an interview with People, how her career challenges her to look good, and the steps she took. In her words:
"In the industry, I am in, you have the pressure of perfection, and I definitely gained a few pounds. Urban Skin Solutions helped me look better and feel better without taking shortcuts or going under the knife."
The American Idol star also told a show host after the BET Awards in 2019, how she came to have such great shape — "eating right and exercising," she said.
When the show's host implied that it's much easier for someone with access to chefs and personal trainers, Barrino set the record straight. She stated that she cooks her meals herself, having acquired the necessary skills from her mother and grandmother.
Fantasia further stated that after her loss, she decided to pick herself up and rebuild.
"I'm just now building myself back up. I lost everything twice," Fantasia said
The songstress also commended Tyler Perry's recent speech which he gave at the recently concluded BET Awards.
After he received his "Ultimate Icon" award, the film producer and actor talked about rendering help to others and losing everything in the process.
"Everything he said last night is true. You look around and you could be working for 10 years, you've got all these people on your team, you're paying this person, that person, and you look up, and you don't have no money in the bank because you've given it to everybody else. That's what I said about prostituting your gift. You have a gift, and you're allowing everybody else to profit off of the gift. So I love what he said."
"Tyler Perry's actually a good friend of mine. He would call and check up on me. He was one of the ones when I lost everything, he came and blessed me. And I thank him for that," Fantasia said.
In 2018, her delivery of Aretha Franklin's "Precious Lord, Take My Hand/You've Got a Friend," during the legendary Queen of soul music's funeral was epic!
Fans couldn't stop applauding her performance even on twitter. Mrs. Barrino sang with so much passion and with her shoes off, to honour the veteran songstress.
Such incredible talent with such beautiful looks!
Welldone Fantasia!!
Please fill in your e-mail so we can share with you our top stories!