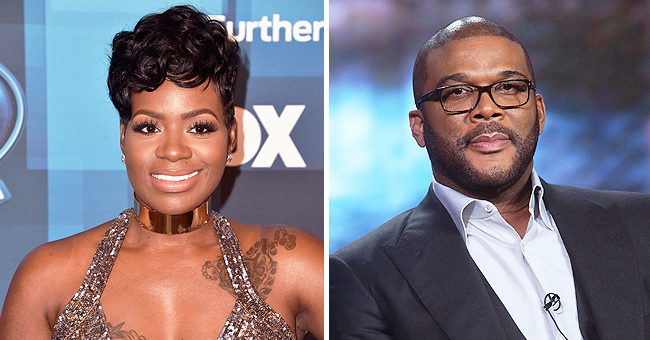 Getty images
Fantasia Says Tyler Perry 'Came and Blessed' Her When She 'Lost Everything'
Fantasia Barrino revealed that Tyler Perry supported and her and encouraged her when she hit rock bottom.
When we are on top of the world, we all have lots of friends - or rather, friendly acquaintances. R&B singer Fantasia Barino learned who her true friends were when her life fell apart and she hit rock-bottom.
Now she has paid tribute to a man who revealed himself to be a true friend - director Tyler Perry.
FANTASIA BARRINO'S DIFFICULT JOURNEY
Fantasia won "American Idol" and it seemed as if she was set for life, with her career as a singer launched and a record contract under her belt.
Fantasia recorded a platinum debut album and won a Grammy award, but then her life hit a speed bump, and the whole house of cards came crashing down.
Fantasia Barrino is the proud mom of a daughter Zion whom she had when she was just 16
THE FAIRY TALE FELL APART
Fantasia ran into several financial problems, even losing her home, which was auctioned off for paying taxes and outstanding loans. The singer hit rock-bottom in 2010 and was hospitalized after she attempted suicide.
"TYLER PERRY BLESSED ME"
Faced with the loss of all she had worked for, and with her marriage in shambles, Fantasia had one friend who checked up on her, and in her own words, "blessed" her: Tyler Perry, who received the Ultimate Icon award at the BET Awards.
"Tyler Perry's actually a good friend of mine. He would call and check up on me. He was one of the ones, when I lost everything, he came and blessed me. And I thank him for that Everything he said last night is true," she said.
FANTASIA BARRINO IS BACK ON TOP
After a lot of hard work and heartache, Fantasia's life is back on track.
In 2015 she remarried to businessman Kendall Taylor, and has taken control of her musical career by launching her albums independently.
Fantasia Barrino is the proud mom of a daughter Zion whom she had when she was just 16, and in 2012, she gave birth to her second child, 7-year-old Dallas Xavier Barrino.
We wish this strong, talented lady all the best for the future and many true and loyal friends like Tyler Perry.
FANTASIA BARRINO IS A HANDS-ON MOTHER AND WIFE
Unlike most celebrities who have butlers, chauffeurs, and chefs at their beck and call Fantasia Barrino does all her chores and errands herself.
Fantasia revealed that she knows what it's like to hit rock bottom, and she has learned to value the abilities God gave her to do what is needful for herself and her family.
Fantasia points out that it's easy to fall into the celebrity trap and be surrounded by a bevy of people on the payroll doing what she should be doing for herself.
The singer is a hands-on mom, who is proud to have learned to cook for her family with her grandmother and her mother - and she's proud to continue their legacy.
Please fill in your e-mail so we can share with you our top stories!