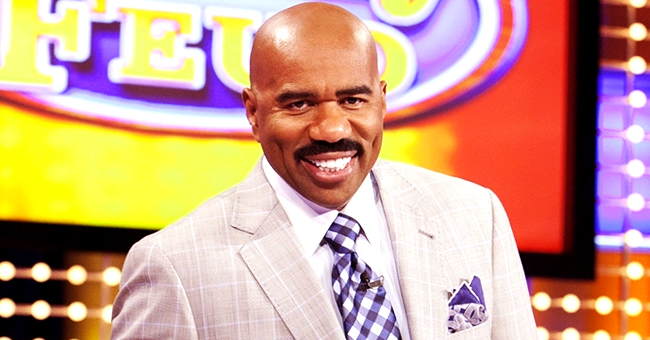 Twitter/BWRPR
Steve Harvey to Launch and Host 'Family Feud' in South Africa and Ghana
Steve Harvey is not one to forget his roots, that is why when he was given the go signal to bring "Family Feud" to South Africa, he was delighted.
The well-known TV personality currently hosts the popular American game show, and he is now bringing it to South Africa for them to enjoy. According to Steve, bringing the game show to South Africa was his idea, and he's glad it's actually happening.
The Big Idea
Explaining how he wanted to come home and do something for his homeland, bringing "Family Feud" to his hometown sprung from his visit to Botswana.
"This was all my idea. I have great partners with Freemantle, who is the production company of 'Family Feud' that's gone digital, globally. I was in Botswana last November and Africa has been on my vision board for eight to nine years now. I wanted to come home and do something in my homeland," he shared.
Giving Back to His Hometown
While Harvey acknowledges that America is his home, he also acknowledges that it is not his homeland.
"Yes, America is my home and I have a great family there, great friends and great relationships. That's home but it's not my homeland. Africa is my homeland. I've always wanted to come here and own land. Do something meaningful. And since 'Family Feud' was so popular, I thought, you know what would be great: 'If African families played against African families and I hosted that'," he explained.
Making "Family Feud" a Huge Hit
Ultimately, his goal for "Family Feud" in Africa is to have different areas going against one another, somewhat like a big soccer league.
"Eventually my goal is to have South Africa play against Ghana, Joburg against Durban... My goal is to have it that way. And to have it so massive, almost like a soccer game."
Focusing on "Family Feud"
Steve Harvey's television career has been diminished after the cancellation of his seven-year show, "Steve." Now, he relies on "Family Feud" as his main source of income, explaining his eagerness to make it grow as a show, not just in America, but across the globe.
His show, "Steve," aired until June, but eventually had to give way to a new show hosted by Kelly Clarkson.
Please fill in your e-mail so we can share with you our top stories!