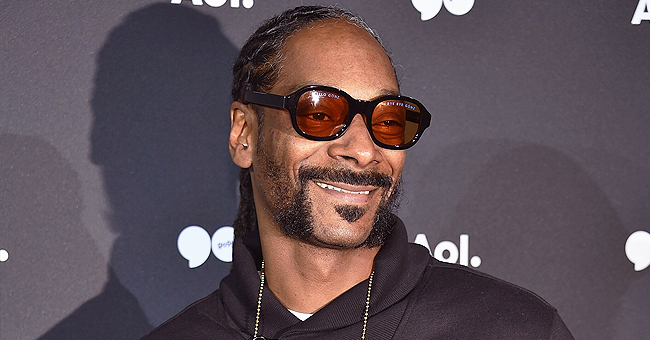 Getty Images
Snoop Dogg Glows with Pride in New Photo with His Only Daughter Who Has His Smile

Snoop Dogg is a proud father as his daughter, Cori "Choc" Broadus, follows in his footsteps and releases a new single with Kamaiyah.
Snoop Dogg is beaming with pride as he celebrates his youngest daughter's new success through an Instagram photo where he called her: "My reason." Cori "Choc" Broadus is showing comfort in the studio as she unleashed her musical talents, just like her father.
The rising star dropped a new single featuring Bay Area's Kamaiyah, called, "New phone, who dis?" -- a catchphrase that is known to millennials when they are caught talking to someone they don't want to entertain.
Choc lives up to the song's title as the three and a half minute song features the singer acting clueless every time a guy calls acting breezy. According to Kamaiyah, Choc's goal is to "bring back the old school R&B vibes with a positive message for women across world."
Her father has been nothing but proud of the successes his daughter makes and isn't shy to go full-on dad mode on social media to show the world his pride. Similarly, Snoop Dogg shared another proud moment during his daughter's graduation, which he shared on Instagram.
The rapper first posted a selfie of his daughter, with the caption: "Proud papa," and another of their whole family, including his wife Shante Broadus, supporting their youngest girl with matching head cutouts of Choc.
"Broadus family baby girl completes the trifecta," he captioned the picture.
Snoop Dogg and his wife have been married for 22 years, being one of the long-lasting couples in the industry. Although they remain strong and in love, their relationship was not always a smooth one.
The two were high school sweethearts, long before the rapper rose to stardom. Broadus stuck by her partner despite the difficulty that came with the famous life and the challenges they faced.
However, in 2004, the global artist filed for divorce -- a decision that he regretted soon after. He succumbed to temptations that came along with the fame and fortune, which only destroyed his wife's trust.
"I fell back in love with my wife and kids," he said. "A lot of times, you get cloudy. This music industry is a mother, man, and it'll take your vision and blur it. But I need my wife and my kids in my life. So, if you hear about divorce, it'll be my wife divorcing me."
The couple reconciled after their youngest daughter was diagnosed with lupus as the family was all they had at that time, yet the trust between husband and wife was still missing. In 2008, the singer made a grand gesture to show his wife his sincerity.
With the help of a friend and mentor, Charlie Wilson, Snoop Dogg surprised Broadus with a vow renewal ceremony that simply took her breath away. Everything has been a good ride for the couple since.
Please fill in your e-mail so we can share with you our top stories!