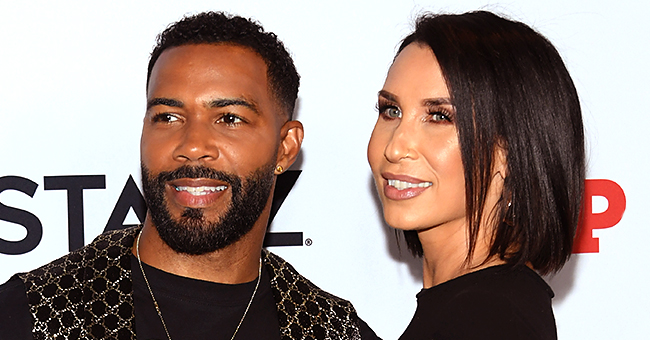 Getty Images
Omari Hardwick Poses with Wife Jennifer at 'Power' Premiere & Professes His Love
Omari Hardwick is grateful to his wife for paving the way for him to accept his role in "Power" in spite of his initial hesitation.
"She prayed that this man accept his star & UNAPOLOGETICALLY," he wrote in a special post during the series premiere of his hit show.
Omari Hardwick attended the premiere of his hit show "Power" which is now on the brink of its sixth season. And while his notable performance as "Ghost" in the series is entirely his work, he credits his wife, Jennifer "Jae" Pfautch for encouraging him to take on the role in the first place.
THE POWER OF JAE'S PRAYER
In a recent post featuring the seven-years-married couple posing at the red carpet of the Starz series, Omari credited his success to the power of his wife's prayer and inspiration.
"She prayed that this man accept his star & UNAPOLOGETICALLY," he wrote in his lengthy caption. "After hearing a sermon from Rev. John Gray on dominion....This woman (you...Jaebird) asked that God allow this man (me) to embrace my dominion over my walk within this industry."
Omari further wrote,
"You prayed that I'd embrace the power that you believed awaited, but that you knew i was apologetically born with already. You & The Big Man up top must have a cool shorthand between one another because those prayers of yours were answered very shortly after."
The actor recognizes too that along with the power he possesses, it also comes with greater responsibility. "The more duty, the more "clock in" is required. Mine came in the form of a job with that title. #Power," he explained.
"Then eventually God brought it in the form of my abnormally high octane quantity of spiritual, mental, physical & emotional gifts...being shared with legions of people. Including the most significant of these gifts shared....YOU."
Towards the end of his message, Omari thanked Oprah Winfrey's magazine for its recent feature about his wife.
"…hats off to you @oprahmagazine for recognizing that which her fans all do....the power of Jae & the journey she has shared with so many even when received with push back," he said.
THE WOMAN BEHIND THE SUCCESSFUL ACTOR
The magazine article that centered on Jae and her role in Omari's life gave a clearer picture of the woman who many only know as his plus one in events and the mother of their two children, Nova and Brave.
An avid fan of her husband and the owner of a website featuring motivational blogs, Jae would constantly motivate him to push further, much like she did when he hesitated in taking on a role in "Power." Though Omari has more than once credited her for his acceptance of the role, Jae was humble about it during an interview with Ebony.
"I wouldn't say I convinced him to take the role [in Power], per se. His soul knew it was time to embrace what God had for him career wise, and in order to do that, the role of Ghost was the next step in that process. I honestly said very little; just enough to remind him of his call and his purpose."
THE PROTECTION JAE GETS FROM OMARI
With the kind of support he receives from his wife, it is no surprise that Omari would be protective of her too. In an interview on The Breakfast Club, he recalled an incident when he refused a fan who wanted a picture with him because he felt his wife was disrespected. He said the fan didn't even acknowledge his wife's presence.
Omari also defended his decision of refusing the fan because like any human being, he had a right to say no especially when spending quality time with his family as he was then.
Omari and Jae have been married since 2012 and have been strong advocates for interracial marriage since. In fact, Jae celebrated the 1967 ruling that lifted the ban on interracial marriage on its 51st anniversary last year.
Omari and Jae are proof that love wins no matter the circumstances. Their respect for one another is something many couples can look up to.
Please fill in your e-mail so we can share with you our top stories!