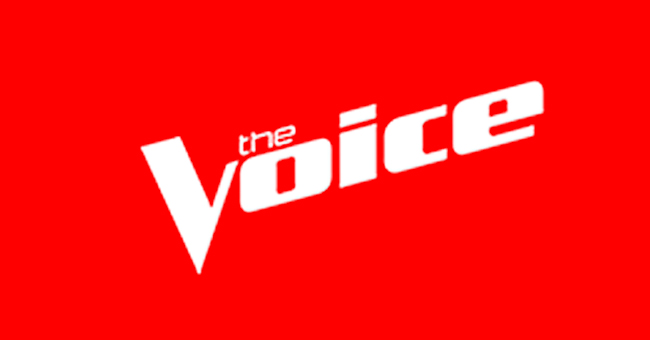 Facebook/NBCTheVoice
'The Voice' Coaches as Doting Parents: Meet Beloved Musicians' Offsprings

The coaches on "The Voice" are all stars in their own right, but at home, they are doting parents who want their children to feel loved, cared for, and grow up to become the best version of themselves.
CHRISTINA AQUILERA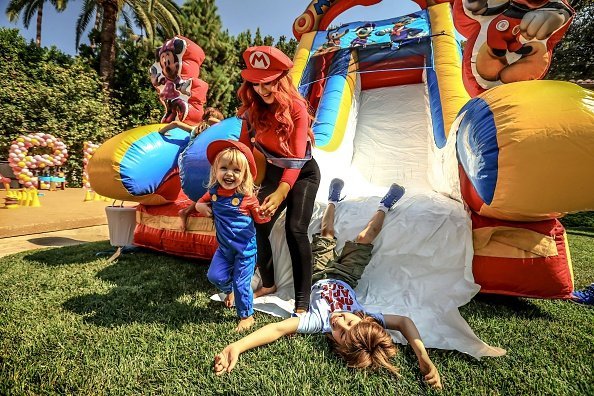 Christina Aguilera (C), her daughter Summer Rain Rutler (L) and son Max Liron Bratman smile and laugh as they slide down the play slide during the second birthday party for Christina Aguilera's daughter Summer Rain Rutler at a private residence on August 20, 2016, in Beverly Hills, California. | Source: Getty Images.
Christina Aquilera hasn't toured in ten years and with good reason. As the mother of two children, 11-year-old Max Liron with ex-husband Jordan Bratman and 4-year-old Summer Rain with her fiance Matt Rutler, the singer took time to put her children's needs first.
"It's definitely not easy. I will openly say that," Christina told PEOPLE in 2019. "The key is truly making sure that they always feel safe and always feel connected."
As Christina prepares for her new Las Vegas residency, The Xperience at Planet Hollywood, she noted that with Max in his teens he's "got his own thing going on," while little Summer is a star in the making who loves the energy of her mother's shows.
"She loves performance energy, and everybody's in costume, so it's allowing her to be herself," Christina added. "I would let her wear her PAW Patrol costume every single night. Now she's super into Spider-Man."
Meanwhile, Christina feels happy exploring her creativity but only if it doesn't interfere with the needs of her children. "I always want to make sure they feel their own vibes and interests are being met first. Then I can relax and be creative!" she said.
ADAM LEVINE
Adam and his supermodel wife, Behati Prinsloo are the proud parents of two girls, Dusty Rose born in September 2016, and Gio Grace born almost two years later in February 2018.
Shortly before Behati gave birth to Dusty, Adam spoke to ET about his view on parenting. "I'm ready to be a dad. You're born to be a parent, that's what we're here for, really. All the other stuff is great, but it's not what we're here for," Adam said.
Two months after the couple welcomed their second daughter Gio Grace, Adam told the publication that he always knew that he would have daughters.
"Girls are better than boys. I didn't think I was going to [love fathering daughters,] but I love it," Adam said. "I always knew it was going to be the way — I knew I was having girls."
While Behati calls Adam "an incredible dad," she also revealed to Ellen DeGeneres in May 2019 that he would like to have five children, even though she doesn't quite agree.
"I thought I wanted five, but now I think three or four will be good," Behati said. "Just by one, Adam can't have everything. I'm carrying them."
BLAKE SHELTON & GWEN STEFANI
As the mother to three boys, Apollo, Zuma, and Kingston with her ex-husband Gavin Rossdale, Gwen Stefani realized that routines and boundaries are essential to the healthy development of her children, even though it's hard at times.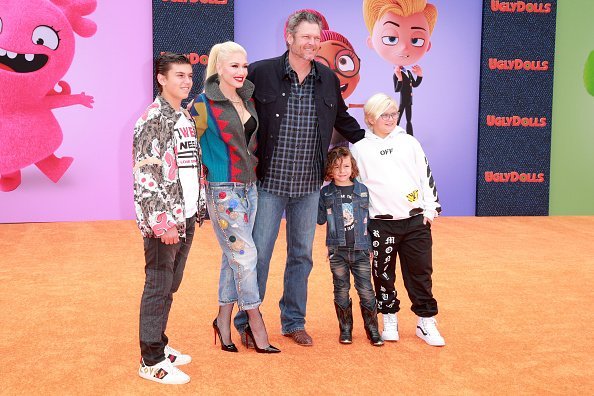 Kingston Rossdale, Gwen Stefani, Blake Shelton, Apollo Bowie Flynn Rossdale, and Zuma Nesta Rock Rossdale attend STX Films World Premiere of "UglyDolls" at Regal Cinemas L.A. Live on April 27, 2019, in Los Angeles, California. | Source: Getty Images.
"The hardest thing to do is having a discipline chart and follow up on all those things. It's work, you know? But that's where you get the results," Gwen told PEOPLE. "I see a constant fear of 'How am I gonna make sure these kids are good people?' I feel like naturally, it's so easy for them to be naughty, and you get more and more worried about it the older they get."
Since Gwen and Blake Shelton got together in 2015, the country singer stepped in as a doting stepfather to Gwen's three children.
"They respect and love him and are very appreciative of him being there for them. This in no way takes the kids away from Gavin and how he is as a father because Gavin is a wonderful father, but Gwen and the kids are happy that everyone gets the best of both worlds," a source told HollywoodLife in April 2019.
When Blake celebrated his 43rd birthday in June 2019, Gwen's children made sure they spent a family fun day at the Shedd Aquarium and surprised him with big blue heart-shaped balloons with various love-filled messages written on them from the boys.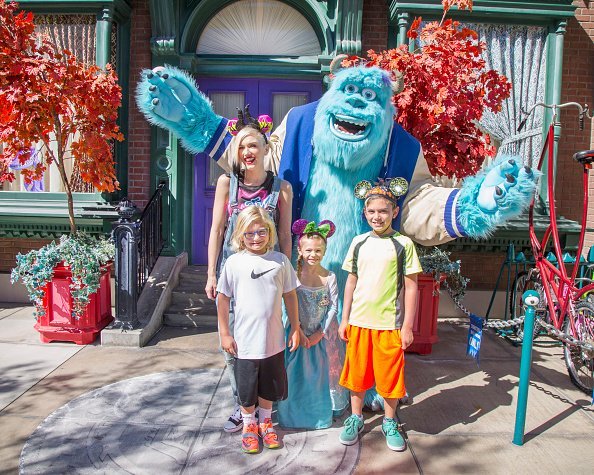 Gwen Stefani and her sons, Kingston Rossdale (right) and Zuma Rossdale, and niece, Stella, meet Sulley from the Disney-Pixar films 'Monsters, Inc.' and 'Monsters University' at Disney California Adventure park October 6, 2014, in Anaheim, California. | Source: Getty Images.
Having children changed Gwen's perspective on life and her career. "What I learned about having kids and having a career is [it's] not all about us," Gwen said. "You realize that they only want you to care about them. It's just that automatic, like, 'You're my mom!'"
SHAKIRA
The hip-swinging Columbian singer has two sons, 4-year old Sasha, and 6-year-old Milan with the professional soccer player, Gerard Piqué.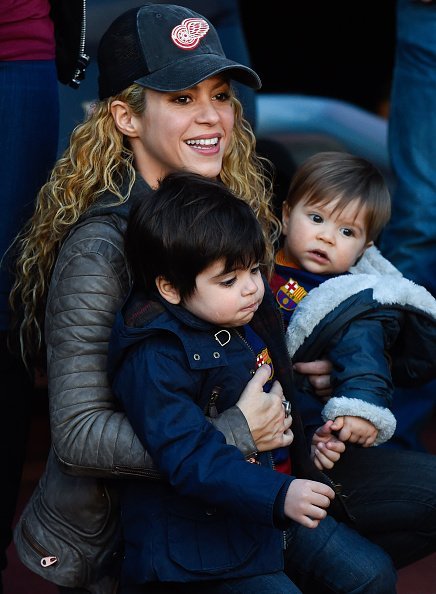 Shakira carries her children Milan and Sasha ahead of the La Liga match between FC Barcelona and Real Sociedad de Futbol at Camp Nou on November 28, 2015, in Barcelona, Spain. | Source: Getty Images.
While both Gerard and Shakira are hands-on parents, motherhood changed Shakira's outlook on life and what is important.
"It's shifted the axis of my universe. Everything is centered around them now. It's a new dimension of love, at least for me, that's indescribable," Shakira said. "It's also helped me be more disciplined overall about sticking to a schedule now because you're forced to prioritize. Before I was my own boss, but I have two tiny bosses to answer to now."
Being a mother also has Shakira questioning her parenting skills. She's had to deal with many challenging situations in her career but admits that it pales in comparison to being a parent.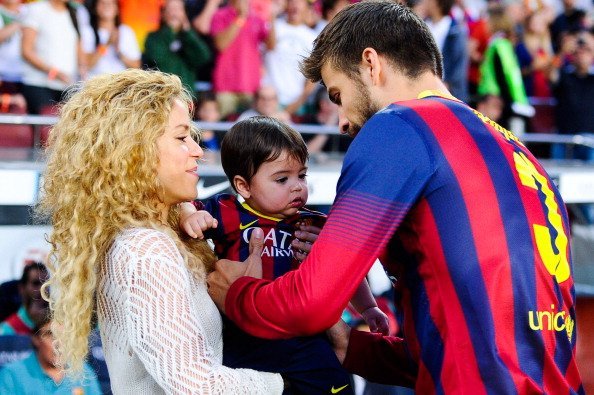 Shakira and Gerard Pique of FC Barcelona are seen with their son Milan prior to the La Liga match between FC Barcelona and Sevilla FC at Camp Nou on September 14, 2013, in Barcelona, Spain. | Source: Getty Images.
"I've been on the most challenging stages performing in front of really demanding audiences, and I've been meeting with world leaders who sometimes make you a little bit apprehensive, but nothing has made me so self-conscious as being a mom. Every day I wonder if I'm doing the right thing. I just want to improve in the job, the hardest job on earth," Shakira added.
USHER
The R&B superstar has two sons, Usher Raymond V and Naviyd, with Tameka Foster, who he divorced in 2009. After their split, an unsavory custody battle ensued which ended with Usher getting primary custody.
Despite Usher keeping his private life out of the media, the singer spoke out about allegations Tameka made during their bitter custody battle.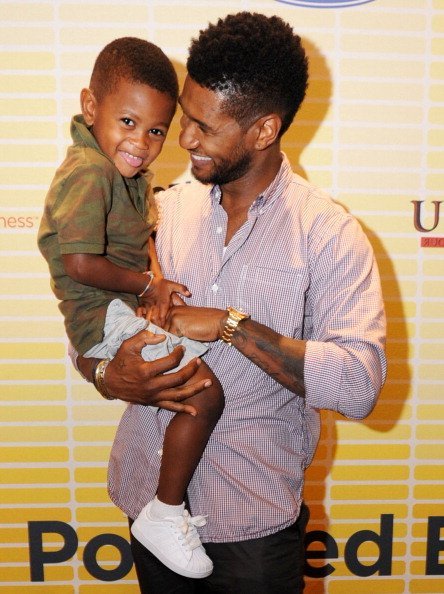 Usher (R) and his son, Usher Raymond V, attend Usher's New Look Foundation - World Leadership Conference & Awards 2011 - Day 2 at Cobb Galleria on July 21, 2011, in Atlanta, Georgia. | Source: Getty Images.
"Absentee from the aspect of having to go and work, that probably would be her version or idea of what absentee would be. But no, I'm not an absentee father at all. I was born to do what I'm doing as a dad. I realized that once I had a child. When I had them, that was when they became a priority," Usher told Oprah.
PHARRELL WILLIAMS
Pharrell has not only 2-year-old triplets with his wife, Helen Lasichanh but also a nine-year-old son, Rocket Ayer, who takes more after his father every day.
While Rocket looks just like his father, he also adopted his father's eclectic clothing style. The youngster accompanied his father to the Chanel Cruise 2018/19 Replica Show in Bangkok and donned a camo inspired outfit with a bomber jacket.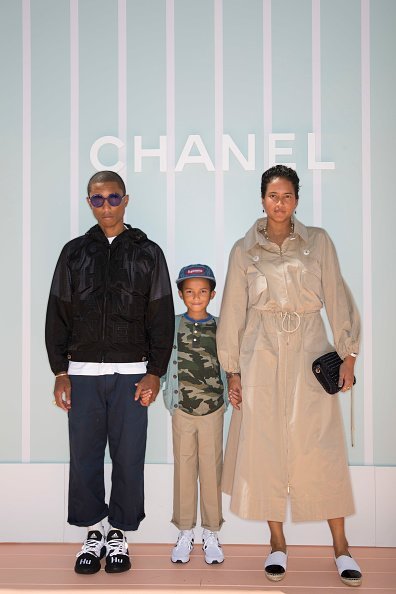 Pharrell Williams, left, Rocket Williams and Helen Williams attend the Chanel Cruise 2018/19 Replica Show at Sermsuk Warehouse Pepsi Pier on October 31, 2018, in Bangkok, Thailand. | Source: Getty Images.
During an interview with Oprah, Pharrell elaborated on the reason for his son's unusual name. "In the same way that the Indians name their children behind a force or an animal, or an element, we named him after a manmade machine that was meant to go up, meant to ascend," he said. "And metaphorically it was because of Stevie Wonder's 'Rocket Love,' Elton John's 'Rocket Man,' and Herbie Hancock's 'Rocket.' All of my favorite musicians,"
ALICIA KEYS
Married to the producer and DJ Swizz Beatz (Kasseem Dean) since 2010, the talented Alicia Keys and her husband have two sons, Egypt Daoud born in October 2010, followed by the birth of Genesis Ali Dean in December 2014.
But Alicia also co-parents Swizz Beatz's three children for his previous relationships and spoke to Wendy Williams about the positive side to a blended family shortly before Genesis' birth in 2014.
"It's about the kids. So when everybody is able to be an adult, which we are all able to be, and we are able to recognize that actually, there is a beautiful value about the way we can all influence each other's lives and the lives of the kids. So they can see that they have more than one woman to look to and say 'What can I learn here?'" Alicia said.
JENNIFER HUDSON
Jennifer became a mother in August 2009 when she gave birth to her son, David Daniel Otunga Jr. Since then, Jennifer views life through the perspective of a parent.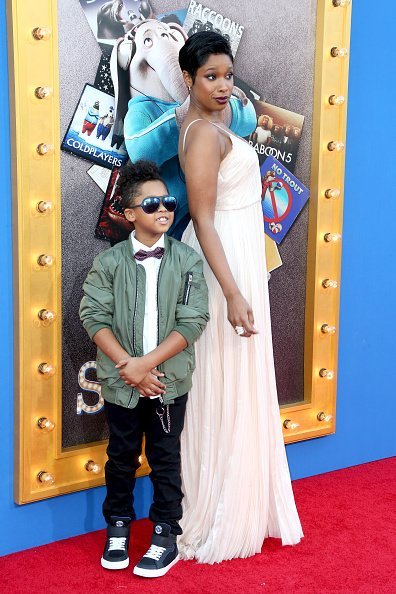 Jennifer Hudson (R) and David Daniel Otunga Jr. attend the premiere Of Universal Pictures' "Sing" on December 3, 2016, in Los Angeles, California. | Source: Getty Images.
"Everything I see, I now see through a mother's eyes. I always say you never know how much your parents loved you until you have a child to love. I have now learned what it takes to raise a child, and all of the things parents do to raise a child," the singer/actress said in 2012.
So far, the hardest part of parenting for Jennifer lies in his growing independence as he gets older. "When he was tiny, I was his world, and now he has his own schedule and the things he wants to do. 'Mommy, I want to play with kids.' Or, 'Mommy, I want to go to so-and-so's house.' Or he will just go off and play by himself. I'm always left standing saying, 'What about mommy?' It is going way too fast for me," Jennifer explained.
KELLY CLARKSON
While Kelly and her husband, Brandon Blackstock have two children, River and Remington, she first became stepmom to Brandon's two children, Seth and Savannah, from his previous marriage. It's so different, but it's perfect. They're awesome, and I actually really dig the mom thing," Kelly told Ryan Seacrest.
Since having her own children, Kelly encourages them to be their own person and to feel empowered even though she and Brandon "screw it up" sometimes.
"I love that [River] is very bold, and she's progressive for 3. She's just very grown up and very boss. I don't want my daughter to be a pushover when she's older. So that's an awesome thing, it's an awesome aspect of her character," Kelly said. "At the same time, you also want to have an adult that doesn't think they're right all the time. But toddlers are just so egocentric, and it's just a stage that some people don't grow out of, let's be real. But mine will."
JOHN LEGEND
John Legend and his wife, Chrissy Teigen share two beautiful young children, Luna and Miles. The couple loves being parents and credits having a "good partner" for helping juggle the demands of being a parent with that of their careers.
"It a new challenge. It takes a little bit more logistical planning, and we kind of split off where I take Luna and Chrissy takes Miles," John told ET. "But I think when you have a good partner, it makes it easier to do it."
Relatedly, with the start of season 17 of "The Voice" just around the corner, fans can expect little change in the coaching line-up as a brand new batch of hopeful contestants ready themselves for the challenge ahead.
Please fill in your e-mail so we can share with you our top stories!