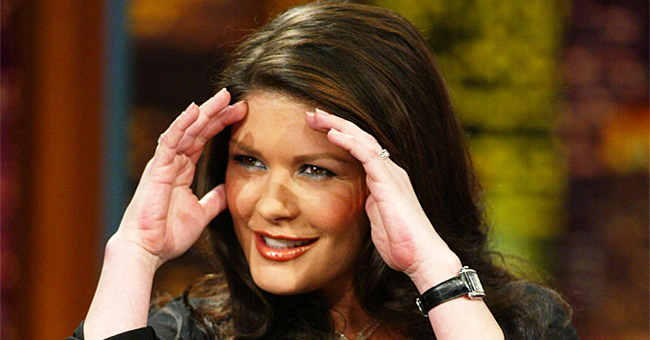 Getty Images
Michael Douglas & Catherine Zeta-Jones' Son Dylan Makes Parachute Jump in New Video

19-year-old Dylan Douglas, who happens to be the first child of Hollywood's famous stars Michael Douglas and Catherine Zeta-Jones doesn't want his mother to know about his adventure.
Dylan recently updated his Instagram with a video of himself in an aircraft as he showed off his mastery of the parachute.
Before he made the jump out of the plane, the young chap seemed excited to flaunt his moves with his fans and followers but intended keeping it away from his mother.
Catherine would probably not want her son that high no matter what because Dylan's caption on the video reads:
"Don't tell mom."
But his mama replied on the video, acknowledging that she is very much aware of the big secret. Whether or not the young Douglas wants mom in on his business, she stops at nothing to shower her boy with love and affectionate words.
Recently when he turned 19, his parents took to their social media to celebrate their son. On Michael's page, an image featured the ather and son donning different suit colors.
The pair each had a subtle smile on their faces, and the seasoned actor had a hand on Dylan's shoulder. Michael expressed his love for his son, and his caption centered on how confident he and Catherine are. He wrote:
"Happy 19th birthday Dylan!!! Mom and I are so proud of you, and we cannot wait to celebrate! Love, Dad."
Catherine uploaded a series of images depicting growth on her Instagram, and her caption exhumed genuine love for her son. This is not the first time she will be sharing with her Instagram fans details about her family. When the 19-year-old was leaving for Brown University, his mama posted more than enough photos of her young prince.
On Dylan's 17th and 18th birthday, the "Feud" star made sure she serenaded him with sweet words and throwback pictures on her timeline. The family has learned the art of supporting each other. It came as no surprise when the "Chicago" star posted pictures of her beau and son who followed her to receive recognition, at a ceremony.
When the younger Douglas was graduating high school, his parents did justice by attending, and mama posted about how proud they were to attend his Prom.
Dylan is not only close to his mom, but also his teen sister. They hang out often and stop at nothing to let their fans in on the fun.
.
The 19-year-old has an eye for music and supports the political views of Bill Clinton, while he's opposed to that of Trump. However, letting mom know what he is up to is not a big deal.
Obviously Catherine thinks her kids are "mature for their tender years," so they can make their decisions appropriately.
Please fill in your e-mail so we can share with you our top stories!