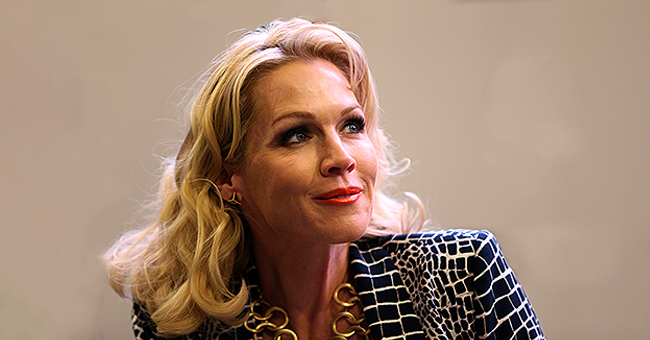 Getty Images
BH90210 Star Jennie Garth Says 10-Month Split from Husband Dave Abrams Saved Their Marriage
Jennie Garth finally revealed what saved her marriage to Dave Abrams. It's not the conventional couple therapy, but a period of separation that lasted for ten months.
Jennie Garth, 47, faced one of her greatest fears when her marriage to Dave Adams, 38, almost ended before they could celebrate their third anniversary. Thankfully, the couple worked things out, and Garth recently revealed how they did it.
ALL IT TOOK WAS A 10-MONTH SEPARATION
In an interview with People, the "BH90210" star said she and Abrams had to stay apart for ten months before giving their marriage a second chance. In her words,
"We definitely had to part ways; we needed that time to grow."
The couple had a whirlwind romance after meeting on a blind date in 2014 and got married before they could fully understand each other. The actress told the news outlet it affected their marriage, as Abrams could not handle things after the "Honeymoon phase," ended.
THE 10-MONTH SEPARATION PAID OFF
Garth added that during that time, Abrams filed for divorce, and she found out about it from TMZ. The actress said she felt devastated and blindsided, and was angry for months.
But after the anger and embarrassment passed, the actress accepted things the way they were, stopped seeing the actor as an option, and began to heal.
After that, the "BH90210" co-creator and her husband started spending time together again and soon got back together. Speaking on their reconciliation, she said,
"We both had separate learning to do, and then coming back and sharing that growth was kind of the fiber that connected us back together. Like, I see you differently now."
ABRAMS IS GARTH'S THIRD HUSBAND
It's been six months since Garth and Abrams got back together, and she told US Weekly that he is the most caring husband, and she's so lucky. The actress feels so much gratitude for the man in her life that she admitted to getting plastic surgery to look younger for him.
However, she didn't need to go under the knife for her first two marriages. Her first walk down the aisle was in '94 when she said "I do" to musician, Daniel Clark. The union ended in '96, and by 2001, the actress got married again to Peter Facinelli.
Garth and Facinelli met while shooting "An Unfinished Affair," and stayed together until 2013. They share three daughters, Luca, Bella, and Fiona. With three marriages to her name, the actress does not want any more divorces, which is why it's a good thing she worked things out with Abrams.
Hopefully, the two will get to live happily ever after.
Please fill in your e-mail so we can share with you our top stories!