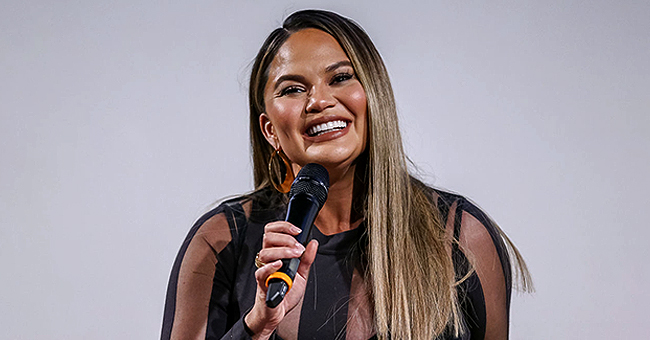 Getty Images
'Lip Sync Battle' Host Chrissy Teigen Jokes That Daughter Could Be Future SI Swimsuit Model
"Lip Sync Battle" host and former swimsuit model, Chrissy Teigen jokes about the possibility of her daughter following her footsteps to become a future SI swimsuit model.
Teigen recently captured a snap of her daughter, Luna, posing on a beach in Thailand. The reality host then took to Instagram to share the picture captioning it, "oh dear," and tagging MJ Day, Sports Illustrated Swimsuit Editor.
In the snap, the 3-year-old gives a striking pose, sporting a cute pink swimsuit with multicolor string cutouts.
Teigen, herself, was an SI swimsuit model back in the day. The reality show host made a name for herself as the rookie of the year for her first appearance in SI's prestigious swim special back in 2010.
She then went on to be featured in Sports Illustrated issues from 2010 to 2017, garnering a huge social media following along the way.
Now, looks like Luna has inherited her mother's skill of becoming a picturesque swimsuit model. Even the editor of SI swimsuit seems to agree.
In response to Tigen's tag, MJ Day commented:
"Effortless beauty ✔️Chic suit ✔️ Owns that rock✔️ TOE POINT ✔️✔️✔️✔️✔️ #callmeLuna ??????"
Luna is the elder one of Teigen's two children. Her other child Miles is a baby boy who is just one year old. She has been there for both her children.
The reality show host has been open about her parenting philosophy. She mentions how she learned to overlook smaller things while raising her son. "It's okay if the diaper is on backwards," she told Good Housekeeping.
"You can stop fretting over that. When you're changing that diaper in the middle of the night, you're like, 'Ugh, the straps are on the wrong side!' It's all fine," she added.
"The biggest difference between one kid and two is finding that balance in between giving that special quiet time to your baby, and then having that rambunctious playtime where you really have to be on your toes," says the experienced parent.
She also went on to share that there was a sense of security after your second child, you know "they'll survive."
However, she does acknowledge dismissing little things do not mean that parenting is easy.
Please fill in your e-mail so we can share with you our top stories!