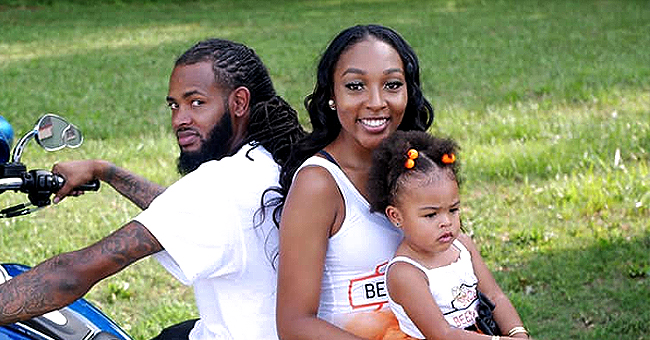 facebook.com/devante.bennettdotson
Father & Daughter Dress like Mechanics in Matching Outfits Chosen for Cute Birthday Photoshoot

Devante Bennett-Dotson and his daughter, Londyn, attracted a lot of attention with their cute birthday photoshoot for which both of them wore mechanics outfits.
The father-and-daughter duo has their birthdays just one day apart – Londyn on August 9 and Devante on August 10 – so Ashleigh Sheppard, the girl's mother, came up with the idea of the photoshoot.
According to the family, Londyn loves to see her father, who works as a mechanic in his free time, doing his thing under the cars. She even imitates him frequently.
"[The experience] made my day."
Getting ready for the photos
Two days before the girl's birthday, both of them wore mechanics outfits and were ready for the pics. Apart from the overall, Londyn wore a fuchsia belt and pink shoes that made her look beautiful.
The photos show that the toolbox the girl used was pink, too, just like the toy truck she was fixing while her proud father was looking and supervising her moves.
Enjoying the experience together
"She was enjoying it as much as we was [sic]. I believe once the car was lifted up, she got up under it looking at it first. Then I handed her a wrench and, before you knew, I had to keep passing her wrenches like it was really that many bolts under there!" Devante said.
The proud father pointed out that she often tries to help him with everything she can and that she didn't even notice that Ashleigh was taking photos.
"[The experience] made my day, especially seeing my little girl actually doing it and [being] into something that she watches me do," he added.
Even though Devante and his partner shared the photos on Facebook, they never expected to attract as much attention as they did. Since the post went viral, it has over 16,000 reactions and has been shared more than 31,000 times.
Londyn is not the only girl who went viral. Christian Moore, a young boy who studies at Minneha Core Knowledge Elementary in Kansas, has been praised by netizens when a photo showing him helping a fellow student with autism hit the internet.
Please fill in your e-mail so we can share with you our top stories!