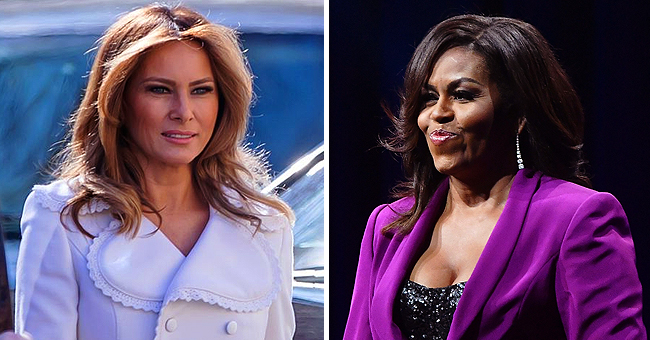 Getty Images
First Lady Melania Trump vs. Michelle Obama's Style Choices and Fashion Preferences

Focusing on individual unique styles, here's an insight into Melania and Michelle's style choices and fashion preferences.
Without a doubt, current and former FLOTUS Melania Trump and Michelle Obama respectively, are some of the most influential women in the world. Thus, making their actions to be under severe scrutiny even when it comes to matters of 'fashion.'
Melania and Michelle have dealt with this in their unique ways which have been lauded as well as criticized.
So, let's take a closer look at both women's style choices and Fashion choices:
Michelle Obama: Fan of local American designers
"I wanted to draw attention to and celebrate American designers, especially those who were less established, even if it sometimes frustrated the old guard." Michelle wrote this in her memoir, "Becoming."
The former first lady has been hailed for helping to bring several traditional American designers to the spotlight. Of which some include Tanya Tailor and Jason Wu.
Michelle would occasionally mix designs from "big-wigs" with popular ones from The Gap and Target, and favorite Jimmy Choo when it came to footwear.
However, since her exit from the Whitehouse, she has been much more diverse and experimental. An example is her headline-making "Balenciaga boots" which she rocked at her memoir book tour last year.
Surely, there's a lot more to look out for when it comes to Michelle and fans await that.
Melania Trump: Lover of Europe's biggest names
Unlike her predecessor, Melania prefers to stick with the big brands. In fact, her time at the White House has witnessed her remain loyal to Christian Louboutin's So Kate and Manolo Blahnik's BB pump for her footwear.
For outfits, the current FLOTUS's favorites include Dolce & Gabbana, Dior, and Calvin Klein. She also maintains a common interest with the previous FLOTUS with her affinity for Michael Kors.
Like Michelle, Melania has been seen rocking low-cost designs from time to time. However, hers is less common as compared to the former first lady.
WHO SPENDS MORE ON THEIR CLOTHING
From details mentioned earlier, it's quite easy to point at who is more luxurious when it comes to fashion.
Michelle, who is well known for championing local designers, often has less to spend on her outfits while Melania's case isn't always the same.
A typical instance is the 2016 Republican and Democratic National Conventions, where both women were present with respect to their party affiliations.
Michelle was spotted rocking a $995 Christian Siriano dress while Melania had on a much more expensive Roksanda outfit which goes for a stunning $2,190.
It is, however, essential to note that the government does not fund outfits worn by the first ladies. Often, they work with their favorite designers and are gifted the outfits. Also, the wears are sometimes personally funded.
Please fill in your e-mail so we can share with you our top stories!