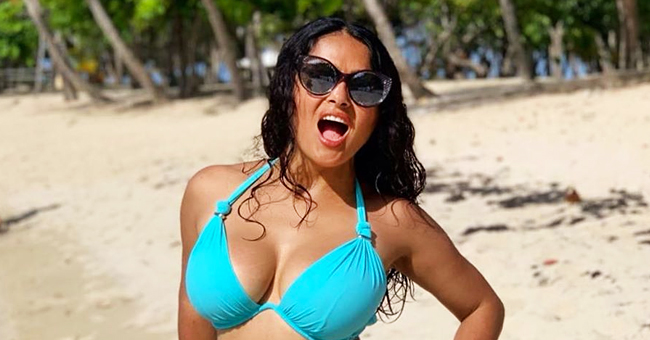 instagram.com/salmahayek
'From Dusk till Dawn' Actress Salma Hayek Marks Upcoming 53rd Birthday with Sultry Beach Photo
Famous "From Dusk Till Dawn" star, Salma Hayek took to social media to celebrate herself as she rings in the big Five-Three! The post is fast going viral thanks to Hayek's admirable physique.
Hayek is one woman that knows what she's got and how to flaunt it. Her Instagram page is littered with numerous sultry snaps be it a glossy red carpet photo or one taken by the beachside. However, it seems that this particular photo of her beats them all.
On September 1, the day before her 53rd birthday, Hayek took to Instagram to share a very sexy snap of herself. The stunning actress showed off her curvaceous physique in a two-piece swimsuit that left very little to the imagination.
The top of the swimwear is of a halter neck design and the bottom, low swung. The bright blue colour of the ensemble is a beautiful contrast to Hayek's tanned complexion. Her curly black hair, already wet from the sea, tumbled down her back and the only accessory visible is a pair of dark sunglasses.
Hayek, who had her breakthrough role in 2002 playing the titular role of Frida. Now, the mother of one is regarded as one of the most popular actresses in Hollywood. Hayek proved herself to be every bit the diva as she made a sultry pose for the picture.
She kept her hands rooted on her hips, drawing attention to her womanly physique and made a fierce expression with her mouth open.
"Yes, tomorrow I'm 53. So!? Si, mañana cumplo 53. Y!?" Hayek wrote to caption the snap as if retorting anyone who may disapprove.
Surprisingly, the snap has become a popular one on the internet as netizens expressed awe at Hayek's youthfulness. Just hours old, the image has amassed well over 1.5 million likes and more than 36,000 comments!
While many of the comments were birthday wishes for the gorgeous star, the majority of them were compliments for Hayek's youthful body.
"I can't believe you are 53 you look perfect," one fan wrote.
"Jesus Christ that's those Latina genes that keep that youthful beauty and sexiness, but this only applies to certain lucky few...... and it skipped me whyyyyyyyy?!?!? She's every-expletive-thinggggg."
Many other fans just expressed wonder at how Hayek has managed to remain so flawless despite being a mother and hitting menopause. In the weeks leading up to her September 2 birthday, Hayek has been busy enjoying time out with Pinault in the sun. That gave way to several outstandingly stunning pictures of her surfacing online.
The veteran star took to her Instagram to share snaps of herself, but perhaps the most gorgeous are those of her half immersed in the ocean. There are a high number of such pictures on Hayek's Instagram feed and they have all set the internet abuzz but no one's complaining!
The "Wild Wild West" actress once discussed this attributing her desire to stay in shape with the fact that she intends to keep her husband, François-Henri Pinault.
"I will sometimes say, 'I am 50 years old! Why do I have to look good? I already got my guy!' But then, I don't want to lose the guy, either," she said in 2017.
Just how much more admirable can she get!
Please fill in your e-mail so we can share with you our top stories!