Late 'Fast & the Furious' Star Paul Walker's Daughter Embraces Vin Diesel's Girl Hanina in New Pic
Meadow Walker shares photo of herself with Vin Diesel's daughter. When her father, Paul Walker was still alive, the two stars of the 'Fast and the Furious' shared a close relationship.
Paul Walker's memory still lives on through his daughter, Meadow Walker. Recently, the aspiring model shared picture of herself with Vin Diesel's daughter, Hania Riley. In a simple caption she writes:
"With my angel."
Sharing a sweet embrace, Hania gives a beaming smile as she looks directly into the camera. 
Fans are enjoying see the two together and it is bringing up a lot of memories of the "Fast and the Furious" franchise.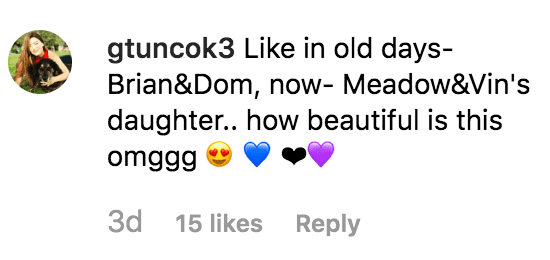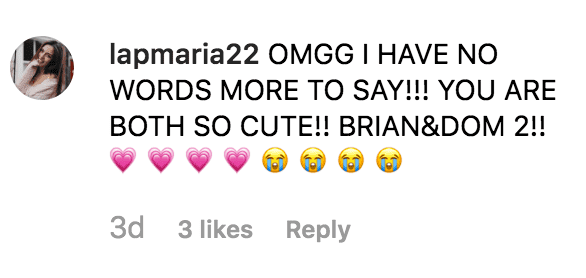 Paul tragically died on November 30, 2013 in a traffic collision. The star was driving a Porsche at a high speed when is suddenly burst into flames. 
In honor of his late co-star, Vin named one of his daughter's Pauline after him. During an interview with Today, an emotional Vin, shares a little about his close relationship with Paul saying:
"There are so many memories. First of all, you have to understand that I have a lot of best friends and I have a lot of brothers." 
Referring to Paul as family, he goes on to say:
"And I have a really big family. But I only had one Paul Walker. The whole cast and crew will tell you beautiful stories about who he is and share great tales of his philanthropic heart."
In a photoshoped picture of the same image posted by Meadow, Vin adds a throwback picture of Paul holding Hania. He capions the moment:
"Happy Creative Sunday! It is remarkable to be a part of something that lives on and off screen, generation to generation...Your creativity inspires...Blessed and Grateful... Always."
In the photo, a younger Hania is sitting on Pauls lap while, looking at a phone as he gently rests his hand on her head. Meadow has reacted to photo with several heart emoji's in Vin comment section.