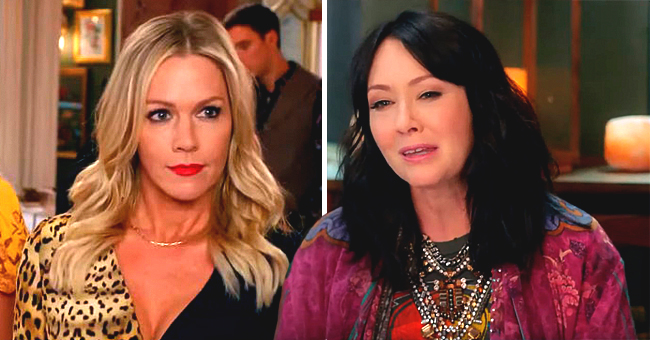 Youtube.com/TV Promos
BH90210: Shannen Doherty Reveals Jennie Garth Yanked Her Hair out on 'Beverly Hills, 90210' Set

"BH90210" is finally out and there is so much heat already thanks to what transpired in the latest episode of the show. Co-stars, Shannen Doherty, and Jennie Garth were involved in an argument that led to several revelations.
The wait is over! "BH90210," the spin-off of the famous television series, "Beverly Hills, 90210" is now airing on Fox and is already serving up heated arguments and spicy revelations. Fans of the series are in for a rollercoaster ride this season judging by what happened in the show's latest episode.
CO-STARS SQUARE UP IN "TABLE READ" EPISODE
"BH90210's" fourth episode is titled "The Table Read," and it saw the co-stars attempt to rewrite the first episode of the show.
In this episode, stars Tori Spelling, Gabrielle Carteris, Ian Ziering, Jason Priestley, and Brian Austin Green were working on the rewrite, before a revelation about Shannen threw a spanner in the works.
Christine Elise, a co-star on the show, revealed that Shannen had held out her negotiation until the very last minute, thus securing a paycheck that was twice as much those of the other cast members.
This revelation irked her co-stars, who confronted her about it when she showed up. Shannen was defiant, however, and began to reel out everything that her co-stars had done that she was okay with when the original series was still running back in the 90s.
This lead to her bringing up her infamous catfight with Jennie.
The argument then became a Shannen vs Jennie show as the pair recalled some of the bad blood they had from the original series. Shannen told her co-star, Jennie Garth, that she never held it against her when she didn't get any bad press following the fight.
Jennie rebuffed at that insinuation by reminding Shannen that she (Shannen) threw a script at her, but Shannen replied by also telling Jennie that she (Jennie) had also yanked a clump of her hair out by the root.
At this point, the pair's co-stars, Tori recalling the fight, said that the boys had to break it all up, to which Gabrielle admitted she couldn't remember.
Tori then went on to explain that she had watched the whole fight while hiding in the dressing rooms, making her fellow stars to burst out in laughter.
CO-STARS DECIDE TO PUT THE PAST BEHIND THEM
The co-stars finally stopped arguing and agreed that they were young and naïve in those past years and thus had to let bygones be bygones.
They thus settled to make the Beverly Hills reboot be the best this time, and most importantly, free from drama. New episodes of "BH90210" air on Wednesdays, live on Fox at 9 p.m ET.
Please fill in your e-mail so we can share with you our top stories!