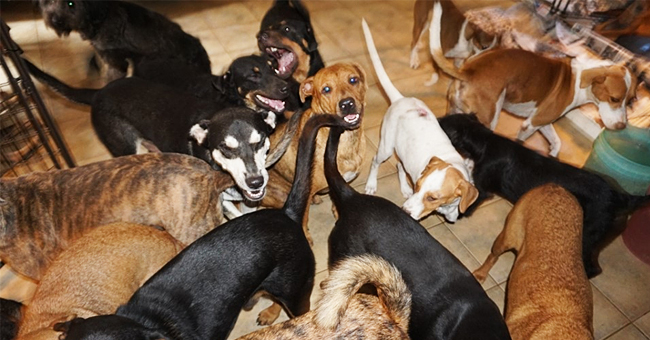 facebook.com/chella.melnechuk
Bahamas Resident Chella Phillips Gave Shelter to 97 Dogs in Her Home during Hurricane Dorian
A Bahamas resident took action on Sunday to protect homeless dogs from Hurricane Dorian. Her Facebook post revealed that she'd sheltered almost 100 dogs in her own home!
Chella Phillips is a Nassau, Bahamas resident who manages the organization called The Voiceless Dogs of Nassau. The organization works to connect local dogs with US-based rescue and adoption organizations.
Over the weekend, Phillips took to Facebook to reveal that she'd taken in 97 dogs into her own home to shelter them from Hurricane Dorian. She shared how she was coping with the canines.
Phillips wrote:
"We have barricaded the refuge and nobody is outside, the music is playing in all directions of the house and the AC is blowing for them."
She thanked people who had donated crates for the sick and scared dogs. The shelter's manager also noted how other islands would "take a long time to recover" from the hurricane.
She shared her sadness for all the "homeless dogs" that didn't have anywhere to go to hide from the Category 5 hurricane and prayed for their protection. Phillips noted how Sunday also happened to be the "Fourth anniversary since the refuge opened its doors to homeless and abandoned dogs."
She revealed that they'd taken care of "nearly 1,000" canines who eventually found homes. The Good Samaritan wrapped up her post by asking for prayers for "the Bahamas."
She concluded by asking for any donations to be done through Paypal via the pawtcake.refuge.inc@gmail.com email address. Phillips also added a number of photos showing the animals sheltered inside her home.
The following day she updated people on how they'd managed after the post went viral. She wrote: "We are alright after a stressful night were we flooded bad inside the refuge, not even 3 pumps could contain the rain from washing us inside and after an hour all 3 pumps reheated and burned down and we have been outside with buckets fighting a losing battle."
The shelter's manager shared how they had no services and that their televisions were burnt out from the lightning. She added how the sick dogs wouldn't be able to watch cartoons until new televisions are bought.
The kind-hearted woman noted how her brother had only slept an hour in an effort to take care of all the dogs. Phillips revealed that she hadn't slept and had been on her feet "drying the house and looking after my terrified dogs."
Her post ended with her sending well wishes for any animal or person who was stuck outside during the storm.
Hurricane Dorian caused havoc on the islands with 200mph wind speeds. According to reports, five people died and around 13,000 homes were destroyed by raging winds.
Florida will be hit by the hurricane on Tuesday. The Humane Society of the Treasure Coast began taking pets whose owners have been forced to evacuate and leave them behind.
Other donations to Phillips' organization can be made here, while other charities that are helping anyone affected by Hurricane Dorian can be given financial assistance here.
Please fill in your e-mail so we can share with you our top stories!