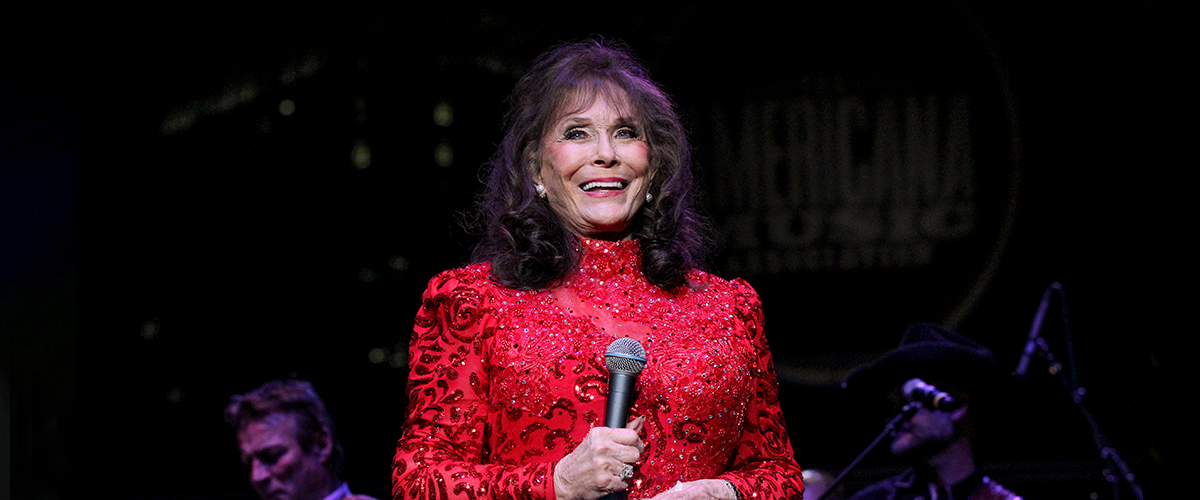 GettyImages
Loretta Lynn's Grown-Up Granddaughter Inherited Her Beautiful Voice
Loretta Lynn's career spans over 60 years, and although she hasn't retired yet, she can count on her granddaughter to keep her legacy alive once she does. The gorgeous girl, Emmy Rose Russell, inherited Lynn's passion and talent for music.
Emmy Rose Russel is one of the many grandchildren of singer and songwriter Loretta Lynn, also known as the "First Lady of Country Music."
Loretta Lynn performs during the 16th Annual Americana Music Festival & Conference at Ascend Amphitheater on September 19, 2015. | Photo: GettyImages
Lynn has been part of the music industry for almost six decades, and at 87, she's still releasing music, performing and touring around the country.
The country veteran has shared the stage with her children and grandchildren countless times, and Emmy Rose, in particular, has captured hearts with her sweet voice and effortless showmanship.
Here's all you need to know about this young, beautiful and talented singer.
HER FAMILY BACKGROUND
Loretta Lynn had six children with her late husband, Oliver Vanetta "Doolittle" Lynn, between 1948 and 1964.
Twin sisters Peggy Jean and Patsy Eileen Lynn, are the youngest of the bunch, and they were named after Lynn's sister, Peggy Sue Wright, and her friend, late country superstar Patsy Cline.
Being named after two talented singers, and being the daughters of another star, Peggy and Patsy naturally inherited the love for music and formed the singing duo The Lynns in 1997.
They released only one self-titled album in 1998, which charted two singles on Hot Country Songs, and later split when the material didn't receive the response they were hoping for.
That same year, Patsy married her third husband, Phillip Russell, with whom she went on to have two kids: daughter Emmy Rose, 20, and son David, 18. (Patsy had three more children from previous relationships).
Both kids have dipped their feet into the music pool. David released an EP titled "It's All for Her," while his sister has taken the stage in several music festivals and special performances with their grandmother.
EMMY'S GRAMMY EXPERIENCE
Although Emmy hasn't released any official material yet, the girl has already made an impression on country music fans with her original songs.
In particular, a track she wrote for her grandmother titled "Memaw's Guitar."
She has performed the song countless times sitting next to Loretta on stage, and it's clear that Emmy's love and admiration for her iconic grandma was her inspiration to start creating music.
In 2014, Emmy uploaded to YouTube her original song "That Girl's Me" as her entry for the Grammy Camp audition. Unsurprisingly, she made it in.
The Grammy Camp is, according to its site, "a 5-day nonresidential summer music industry program for high school students interested in having a career in music."
Talking to Grammy in the School's blog after the experience, Emmy explained that she comes from a family of musicians.
Not only her grandma is "a country music queen," that "was actually the first female to get a country entertainer award," but both of her parents and her siblings are also talented musicians.
Despite her experience singing in front of big crowds with her grandma, Emmy admitted she still gets stage fright.
"I go up on stage in the middle of the show, and I sing a couple of songs," she said. "I always get nervous, especially here at GRAMMY Camp...Everyone here is so talented, and I want to get better."
When asked about the Grammy Camp experience and how it helped her, Emmy said: "I've really enjoyed it. Meeting other musicians, collaborating with other people, I'm looking forward to the rest of it."
A GIRL OF FAITH
Emmy recently graduated high school and spent three months living in Kona, Hawaii, as part of the Youth With a Mission program.
YWAM is a global Christian movement dedicated "to presenting Jesus personally to this generation, to mobilizing as many as possible to help in this task, and to the training and equipping of believers for their part in fulfilling the Great Commission."
She also visited Brazil as part of the mission and seems to be a very devoted Christian who uses her music and her Instagram account to encourage others to find solace in God.
LOVE FOR HER MEMAW
Emmy's love for her grandmother is palpable through the photos she has shared with the lady on Instagram.
On one snap from 2015, the pair is posing side to side while embracing each other, and Emmy referred to Lynn as her "bestest best friend."
A most recent shot of the pair, shows Lynn donning a gorgeous dress and sitting on a chair on the side of the stage. Emmy, wearing a white outfit, is seen kneeling beside her grandma as they enjoy a conversation.
"My mentor, my angel on earth, my grandmother. I love you," Emmy captioned the lovely picture.
Although it doesn't seem like Emmy has plans to get more serious with her music at the moment, she certainly has what it takes to succeed in the industry.
Hopefully, she will share her talent with the world in the future.
Please fill in your e-mail so we can share with you our top stories!