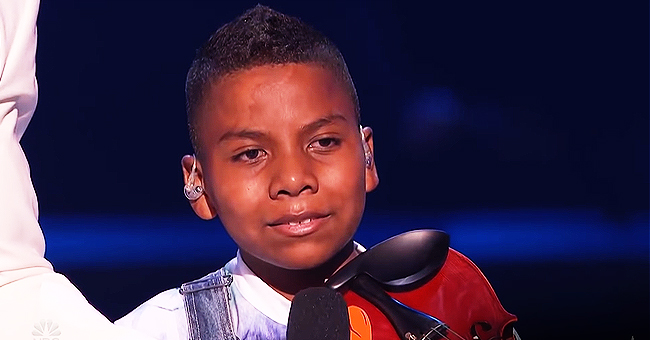 YouTube/Talent Recap
11-Year-Old Cancer Survivor and 'Agt' Fan-Favorite Violinist Says He Wants to Inspire Other Kids
"America's Got Talent" featured a teenage cancer survivor who seems to be having the time of his life as he intends to serve as an inspiration to other kids.
Young and talented violinist, Tyler Butler Figueroa, always delivers a heartwarming, ground-breaking, eye-catching performance on the NBC show. It is a few days till the end of the talent show, and the 11-year-old's steadfastness has earned him the respect of the crowd and the judges.
Courageous Tyler made it to the semifinals, and his performance on a recent episode of the show has successfully gotten him a spot in the finals. The grand prize includes headlining gigs in Las Vegas and a cash prize of $1,000,000.
In an interview with People, the cancer survivor expressed he desires to be an inspiration to other kids. Regardless of the tragedies he's had to face in life at a tender age, he mustered the courage to pursue his dreams.
"I hope to be an inspiration to other kids."
Whether or not he gets crowned the winner, the African American has ingrained a print on the hearts of the audience and judges of the show. The 11-year-old got a cancer diagnosis when he was a toddler.
As a 4-year-old, he had to go through bullying from his peers for looking a bit different, since his hair started to fall off his head in the course of chemotherapy.
His firmness in the game as a brave chap made him become the judges favorite. He even got the golden buzzer as a result of his uniqueness. His competitors include other golden buzzer winners, singer Kodi Lee, and a dance group, Lighthouse Kids.
Other finalists are magician Eric Chien, singers Benicio Bryant, Ansley Burns, and Robert Finley, comedians, Jackie Fabulous Greg Morton. Apart from the love from the judges, Tyler's support system also includes other cancer survivors who attended the show during his rendition of Ariana Grande's "Break free."
During the quarter-finals, the young violinist succeeded in pulling everyone to his side, as he vibed to The Swedish House Mafia song, "Don't You Worry Child."
After the swirling show and applause from everyone, it is safe to say that Tyler should cast all his worries behind because he might soon have the biggest names in the entertainment industry working with him.
The show's producer and judge, Simon Cowell lauded the performer for the tune he played. He tagged him as being "current." The fan-favorite violinist is undoubtedly an inspiration to the other kids for his display of confidence and style!
Please fill in your e-mail so we can share with you our top stories!