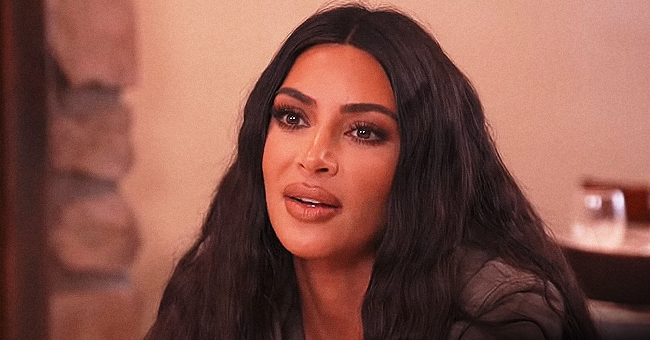 YouTube/Keeping Up With The Kardashians
For Vogue Arabia, Kanye West Interviewed Kim Kardashian West about Their 4 Kids' Personalities

The on-screen diva, Kim Kardashian West, shared details concerning her children's personalities with her husband, in a one on one Vogue Arabia interview.
The African American artist and designer, Kanye West, inquired from his beau some information concerning her lifestyle, personality, beliefs, and family. The KKW beauty owner felt more than comfortable and chit-chatted fluently with her man.
The pair is nothing but a match made in heaven. They exchanged their marital vows five years ago in Italy and have succeeded in sticking together through the good times and the bad.
Kim and Kanye are parents to 6-year-old North, 3½-year-old Saint, 19-month-old Chicago, and 3-month-old Psalm. The duo has contributed to constructing their family life, and the mother of four believes her children will make her proud.
She also revealed to her man the personalities that each one of them has. Although, she hopes they have a character of their own even though they will possess intricacies of their parents' nature.
"North is your twin, she is so creative, expressive and has so much of your personality. Saint, I think, has more of my personality...Chi, it's too early to say. She has a temper that we don't have, but then, she's so calm which is just like us too. For Psalm, it's too early to tell. Hopefully, they will have a little bit of us and lots of themselves."
The question and answer episode also addressed the 38-year-old's interests and successes. Kanye's heartthrob pinpointed that her man has been very instrumental to her evolution and her achievements.
The entrepreneur shared how her husband had been her drive and confidant. Although she explained that her strive to reach full potential was born out of the hunger to live a successful life.
Kim stated that she doesn't live to be perfect, but live as a human who makes a conscious effort to be better. She deconstructed the myth of being a "role model," and genuinely expressed that she lives to influence the world around her, but to err is human.
The newest addition on her to-do list is to advance the course of mistreated inmates. She maintains that she will go through the necessary rigors of becoming a lawyer just like her deceased lawyer father, Robert Kardashian.
Apart from focusing on her career, the mother of four is doing good with her parenting skills. She knows just how much fun is required to loosen up. Recently, she shared images of herself and her kids on a Bahamas beach. The family was beautifully adorned, all thanks to their stylish mother!
A trip to Asia is also one of the ways Mrs. West is spending quality time with her kids. She intends to be close to her children and influence them positively. This doesn't come as a surprise as she told Kanye during the interview that her closure to all her sisters depends on what they share at the moment.
So Kim isn't just for her nuclear family but stops at nothing to connect with the Kardashian/Jenner girls.
Please fill in your e-mail so we can share with you our top stories!