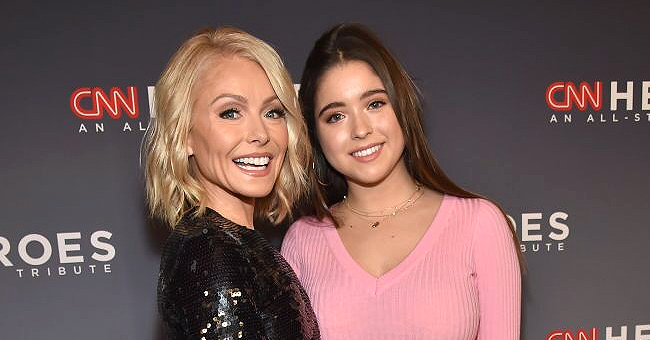 Getty Images
Kelly Ripa Addressed Her 'Main Concern' about Daughter Lola Going to New York University via 'On Air with Ryan Seacrest'
American Actress, Kelly Ripa, made an appearance on, 'On Air with Ryan Seacrest' and talked about her biggest concern about her daughter going to college. Apparently, she wanted at least one of her kids to go to school on the west coast.
Kelly Ripa and her husband, Mark Consuelos', daughter, Lola, is off to New York University for her first year of college. The parents are looking forward to their daughter gaining all sorts of experiences, but they have their concerns as well.
Ripa says that being so close to home but studying in college might dilute the college experience.
KELLY'S CONCERNS ABOUT LOLA'S COLLEGE EXPERIENCE
Ripa, 48, appeared on "On Air with Ryan Seacrest," on Wednesday and talked about helping her daughter move into the dorms. Ryan, the co-host on Kelly's show, "Live with Kelly and Ryan," asked about her concerns regarding Lola's college experience.
"I was so desperate for any of my kids to go to school on the west coast."
After the family's emotional goodbyes were past them, the mother of three admitted that she was concerned about one thing: getting homesick.
LOLA CAN'T COME HOME FREQUENTLY
"Like your friends go, 'Oh at least she's nearby,' and I go, 'yeah, but that's not good.'" Ripa said of Lola's close proximity.
Ripa made it clear that despite the University being close to their residence, her daughter wasn't going to be allowed to make frequent visits. Apparently, Ripa is serious about walking around the house naked like she said of her plans after the kids go to college.
Ripa mentioned that college is where one learned to establish themselves as an individual, and it's the time to learn how to be an adult. She wants her daughter to figure things out for herself. She also mentioned that she treated her son in the same manner.
BEING CLOSE TO HOME IS A BAD THING
Ripa is most concerned about how Lola is going to handle being on her own when the home is so close.
"My main concern was: I don't know if you should be this close to home, because I don't want you using your home like your home. I want you to use this like an experience."
Talking about a challenge Lola would have to face while she's on her own, Ripa mentioned that it would be sharing a bathroom with her roommates.
The mother of three mentioned how Lola was used to a small space, but sharing a bathroom would be the most difficult.
Ripa joked about how she wanted one of her kids to study on the west coast because she's always wanted to visit and celebrate thanksgiving there.
RIPA WANTS A WEST COAST THANKSGIVING
Ripa, during her appearance on the podcast, talked about why she wanted one of her kids to study in San Diego.
"I was desperate for any of her kids to go to school on the west coast because I just want to visit the west coast. I wanna have thanksgiving on the west coast."
Regardless of her desire to visit the west coast, Ripa wants her daughter to emerge an adult when she finishes college. Best of luck, Lola.
Please fill in your e-mail so we can share with you our top stories!