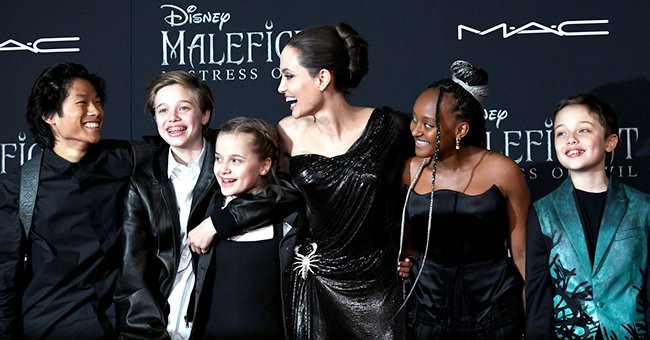 Getty images
Sia, Lionel Richie, Angelina Jolie and Other Stars Who Adopted Kids

Celebrities may be on another level from us regular folks in many ways, but when it comes to family, their words and feelings about their kids are all too familiar.
This is the case whether or not it's their biological kids or their adopted ones. Some stars even have both despite their hectic traveling schedules.
JAMIE LEE CURTIS
Jamie Lee Curtis is unique among most of her peers because she adopted for a common reason — infertility. Her and husband Christopher Guest welcomed their first daughter, Annie, in 1986.
Nine years later, the pair adopted their son, Thomas. In the past, Curtis made it clear that the circumstances around the adoptions were very different.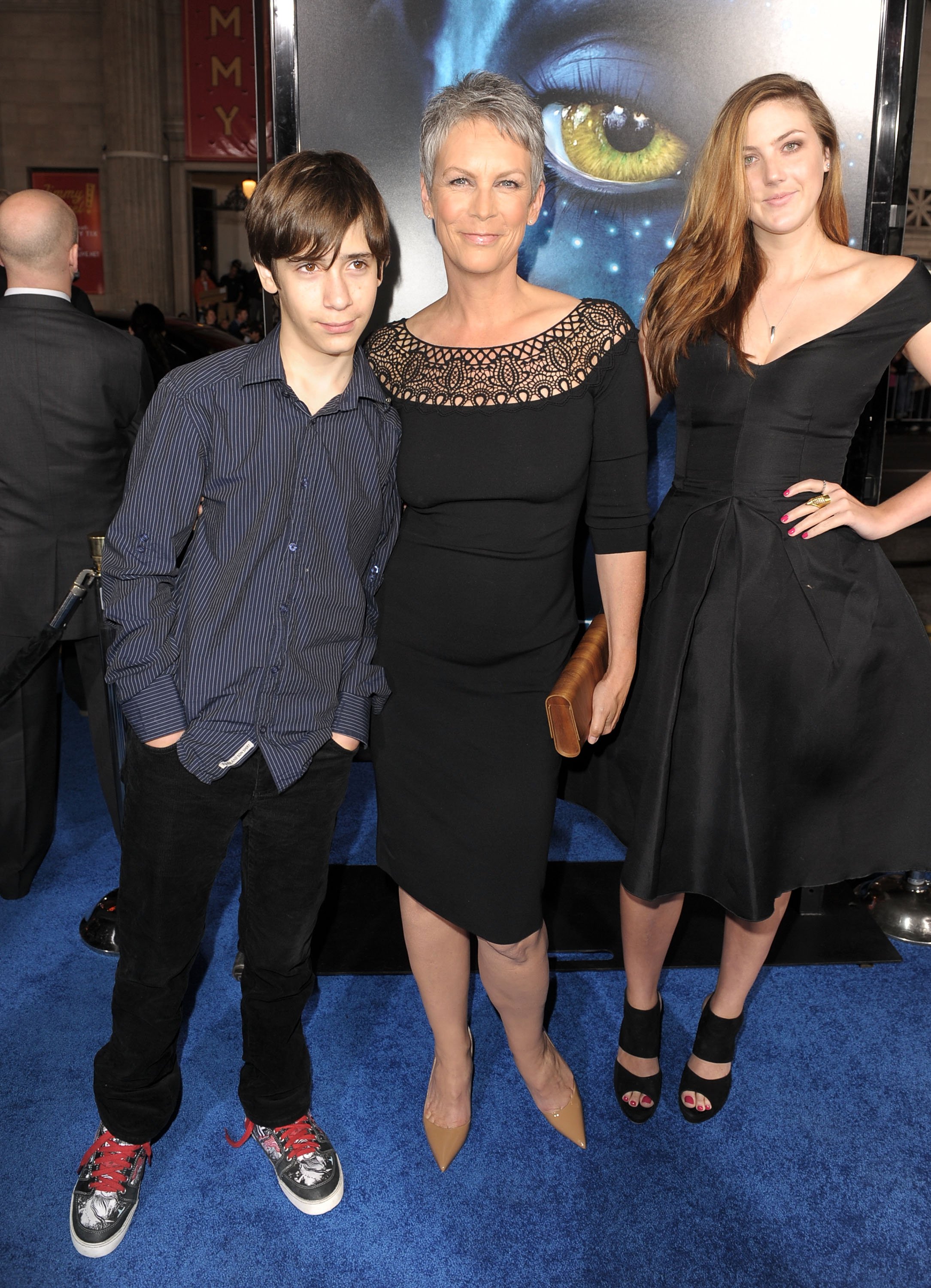 Jamie Lee Curtis with her daughter Annie and son Thomas at the premiere of "Avatar" in Hollywood, California on December 16, 2009 | Photo: Getty Images
In Annie's case, the couple actively sought out the girl, while Thomas was a more unexpected family addition. In 1996, Curtis wrote a book for adopted children called "Tell Me Again About the Night I Was Born."
LIONEL RICHIE
Lionel Richie adopted daughter Nicole because of her biological parent's financial and personal struggles. Lionel was a friend of the couple, so he already knew the little girl well.
The musician once said that after a year, he fell in love with the young tot, and it was easy to consider her part of the family. The singer also has kids, Sofia and Miles Brockman.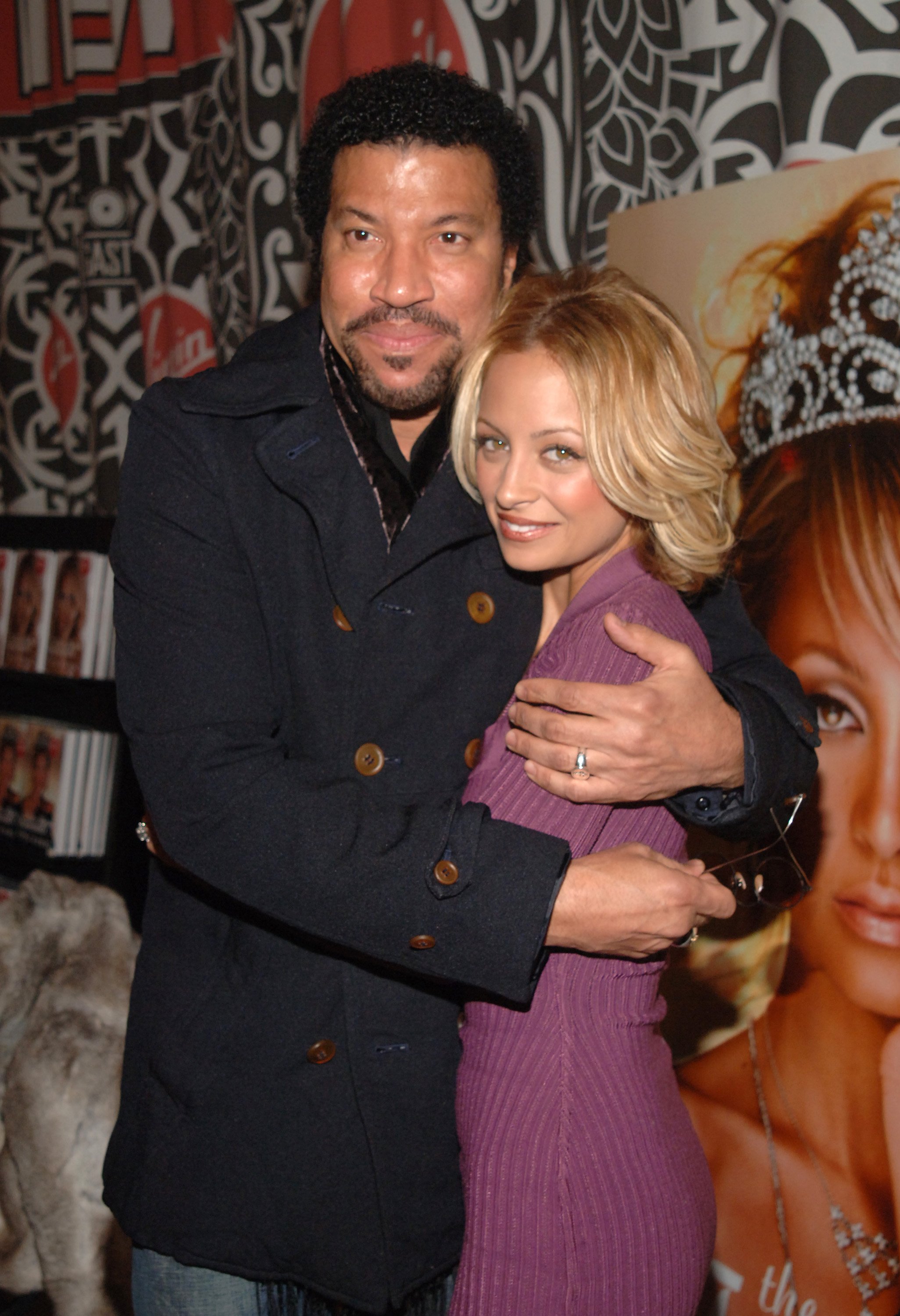 LIonel Richie and Nicole Richie attends "The Truth About Diamonds" book signing event in New York City on November 10, 2005 | Photo: Getty Images
ROSIE O'DONNELL
Rosie O'Donnell has many adopted children after marriages to Michelle Rounds and Kelli Carpenter. In 1995, she and Carpenter brought in Parker, who would later convince his mom to let him go to military school.
In 1997, O'Donnell adopted Chelsea as a baby girl. In the coming years, the pair went on to have much discord, with Chelsea getting kicked out of the house at one point. They have since made up.
O'Donnell adopted her third child, Blake Christopher, in 1999. The young man reportedly attends Marist College in New York. In 2002, Carpenter gave birth to Vivienne through the use of artificial insemination.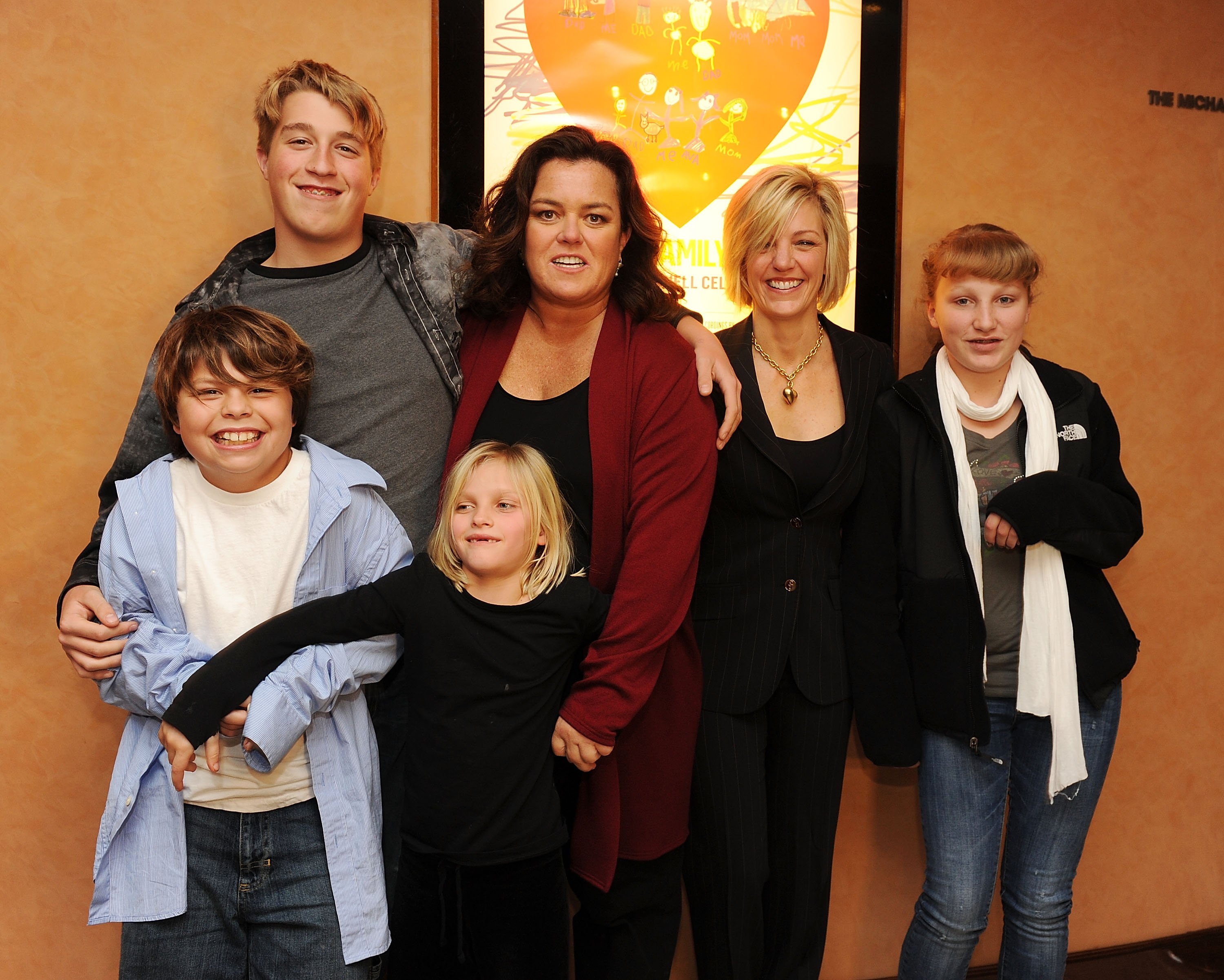 Rosie O'Donnell with her five children at the screening of "A Family is a Family" in New York City on January 19, 2010 | Photo: Getty Images
After their split in 2004, O'Donnell moved onto Rounds. The pair adopted Dakota in 2013. Sadly, one of the girl's moms, Rounds, died by suicide in 2017.
MADONNA
Close behind O'Donnell for number of adopted kids is the legendary Madonna. The "Like A Virgin" singer first started growing her family in 2006, when she adopted son, David.
In 2009, she welcomed daughter Mercy. In 2017, Madonna adopted twin girls Stella and Estere. All of her children were born in Malawi, Africa. Madonna also has biological daughter Lourdes and son Rocco.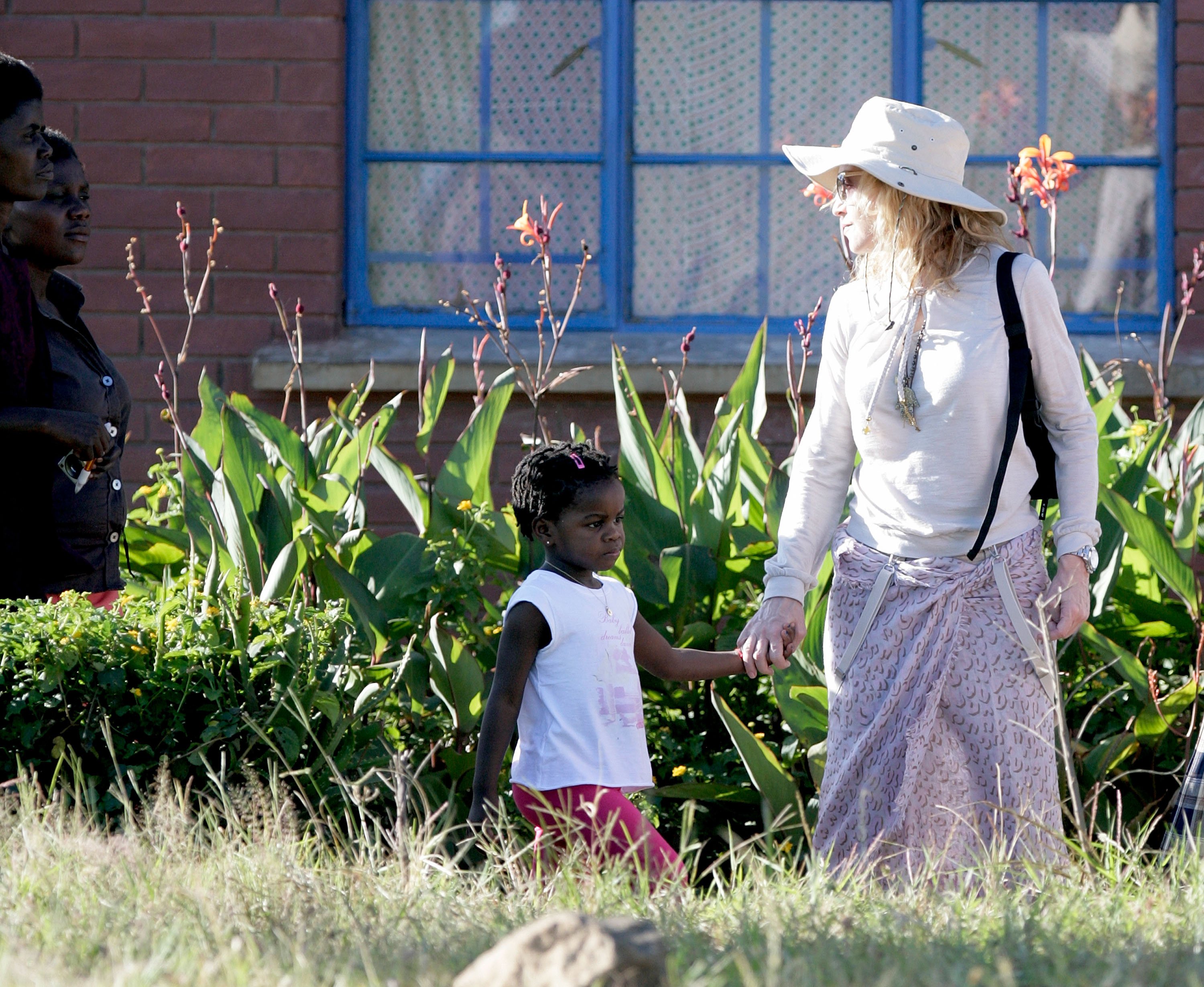 Madonna with daughter Mercy James at a Raising Malawai initiative in Lilongwe, Malawi on April 8, 2010 | Photo: Getty Images
CONNIE BRITTON
Actress Connie Britton was influenced by her father's death to adopt her first son. Eyob Britton hails from Ethiopia. Britton met him while working within the African Children's Choir and Worldwide Orphans.
HUGH JACKMAN
Hugh Jackman and his wife Deborra-Lee Furness were plagued by miscarriages throughout the relationship. Furthermore, they had no luck when they attempted to use IVF.
In 2000, they adopted son Oscar Maximillion, a child of mixed race who they chose because of the needs within the minority population. In 2005, they adopted a daughter named Ava.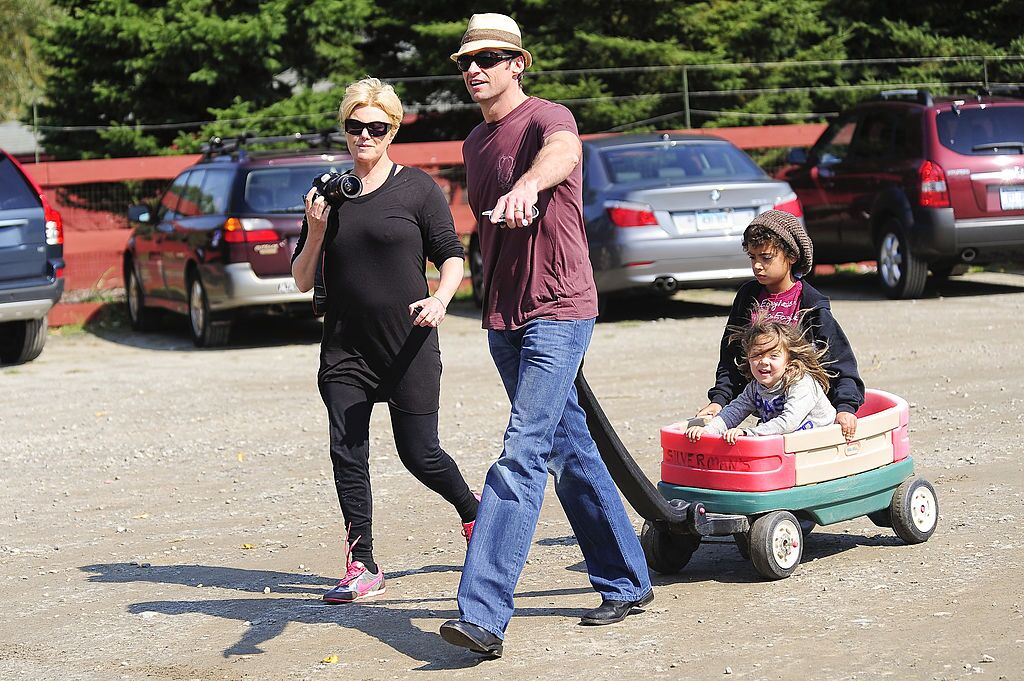 Deborra-Lee Furness, Hugh Jackman and their children Ava Jackman, and Oscar Jackman visit the Silverman Farm. | Source: Getty Images
SIA
Singer Sia took a very untraditional route when it comes to adoption. Rather than adopting young, the songstress welcomed two young men into her life in 2019.
The teenage boys were 18 when they were adopted by the celebrity. They were just about to live the foster care system. Sia doted on her boys in a May 2020 interview.
Brad Pitt and Angelina Jolie
The "Mr. and Mrs. Smith" stars' huge family have a spotlight of their own. Prior to their messy divorce, Pitt and Jolie were apparently in agreement on having lots of kids.
They adopted their first son Maddox Chivan in 2002 during a visit to a Cambodian orphanage. Three years later, they adopted six-month-old Zahara Marley from an Ethiopian orphanage.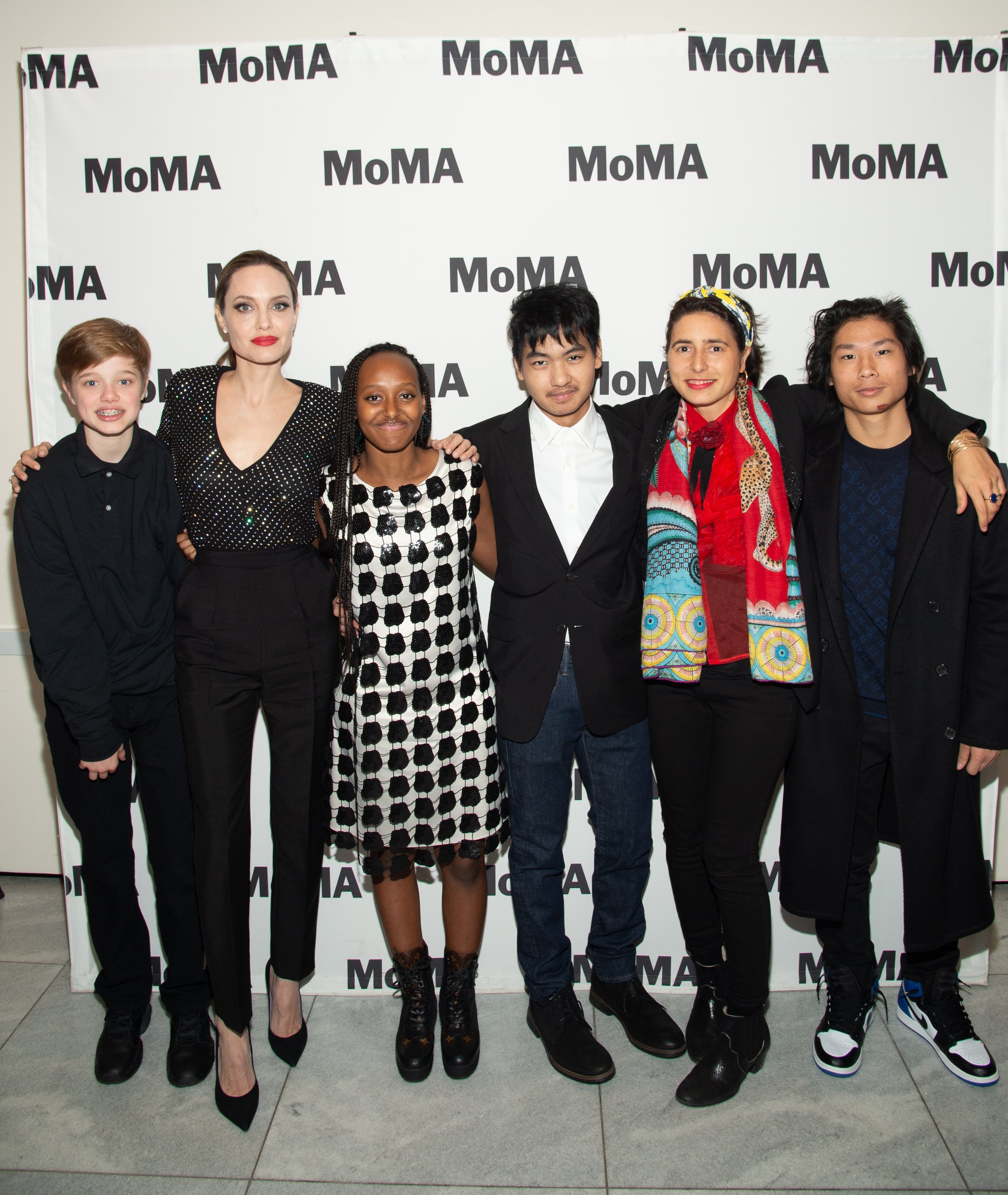 Shiloh Nouvel Jolie-Pitt, Angelina Jolie, Zahara Marley Jolie-Pitt, Maddox Chivan Jolie-Pitt, Prune Nourry and Pax Thien Jolie-Pitt attend the premiere of "Serendipity" in New Yorik City on February 21, 2019 | Photo: Getty Images
A year later, Jolie had her first biological child Shiloh Nouvel while in Namibia. This year, reports came in that Shiloh — now John — identifies as a male despite being born a girl.
In 2007, the couple adopted again when they visited Vietnam. Pax Thien joined the family at just three years old. Months later, the pair welcomed twins Knox Leon and Vivienne Marcheline.
Sandra Bullock
In 2010, "Bird Box" actress Sandra Bullock discovered her purpose in life as per her own words. She enjoyed years of success in film, but it was her kids who gave her true happiness.
Bullock, 55, was recently divorced from Jesse James when Louis entered her life. Three years later, she adopted a daughter named Laila as well. In an interview with Today, she said they were her top priority.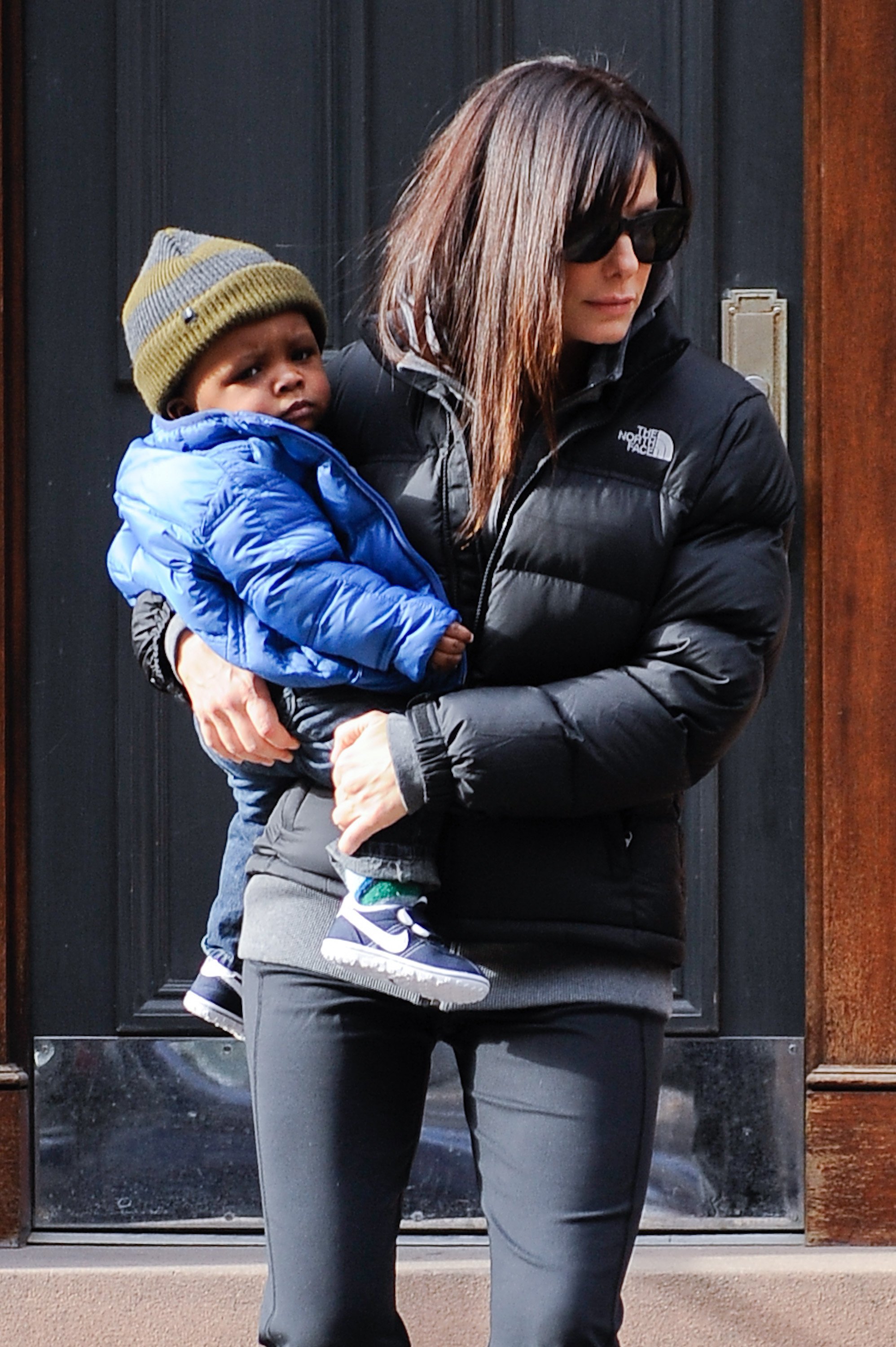 Sandra Bullock and her son Louis Bullock leaving their home in Soho, New York City on January 20, 2011 | Photo: Getty Images
The "Ocean's 8" star said it was harder for her to leave her kids than it is for them when she does leave. When she first saw her son, there was an instant realization. "Oh, there you are," Bullock described.
Bullock reminisced on what was said to her before ever meeting her kids. "The perfect child will find you. You will find your child." She found two of them before concluding "this is my purpose."
Hoda Kotb
Hoda Kotb, who interviewed Bullock, perfectly related to the actress' concerns about it being too late for her to have a child as she also shared those feelings in the past.
Kotb, 55, just adopted her second child, a two-year-old named Hope Katherine Kotb back in April. Kotb's partner Joel Schiffman is also thrilled with their growing family.
Kotb was left infertile after a breast cancer battle in 2007, and she believed at the time she would never become a mother. In 2016, she mentioned adoption to Schiffman who got on board right away.
She first adopted a girl named Haley in 2016, only waiting a few months to get the call about the newborn. In an interview with People, she said she knows who she is now, and that's being "Haley's mom." Now, she Hope's mom, too.
Sharon Stone
Blonde bombshell Sharon Stone, 61, is another celebrity who struggled with having kids of her own. However, she was interested in adopting long before she tried to get pregnant.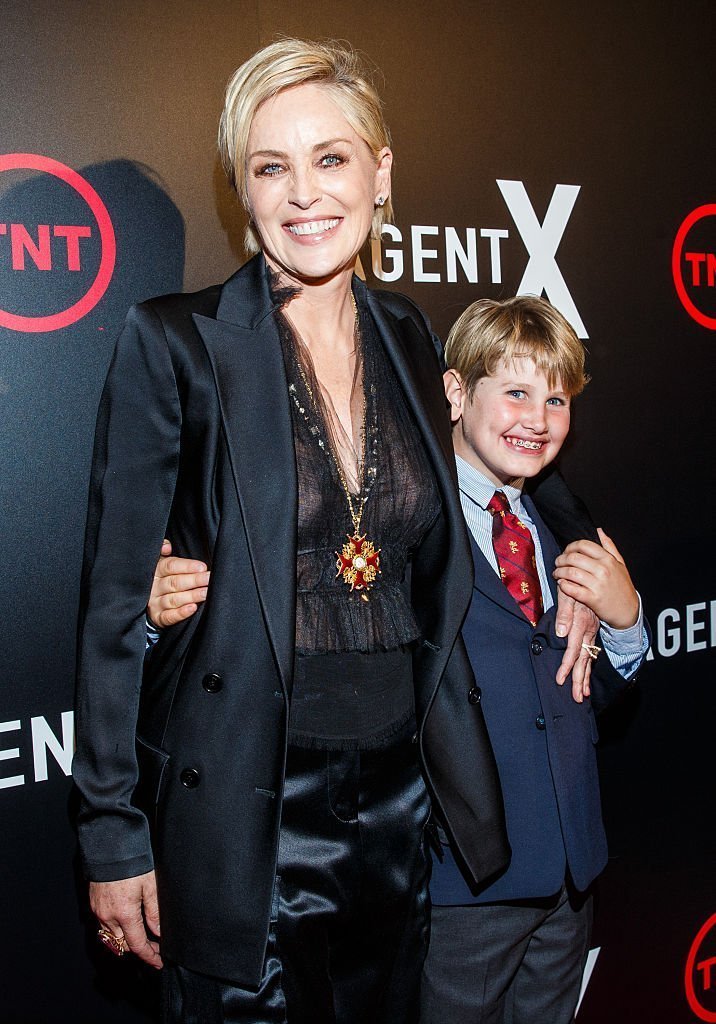 Sharon Stone and son Laird Vonne Stone attend the premiere of "Agent X" in West Hollywood, California on October 20, 2015 | Photo: Getty Images
In 2012, Stone revealed that she "used to look up how to adopt" when she was younger much. However, Stone suffered through two miscarriages that both lasted five months before she took the plunge.
She was married to Phil Bronstein (they divorced in 2004) when she adopted her first son Roan. The two would later have a custody battle over the boy. In 2005, Stone also adopted Laird and then Quinn in 2006.
Nicole Kidman and Tom Cruise
While Stone's boys have managed to stay away from the spotlight, another former celebrity couple was not so lucky. Nicole Kidman and Tom Cruise had just over a ten-year marriage before their 2001 split.
In that time, Kidman had one miscarriage before the pair adopted son Connor and daughter Isabella Cruise. Both are now adults who belong to the Church of Scientology just like their father.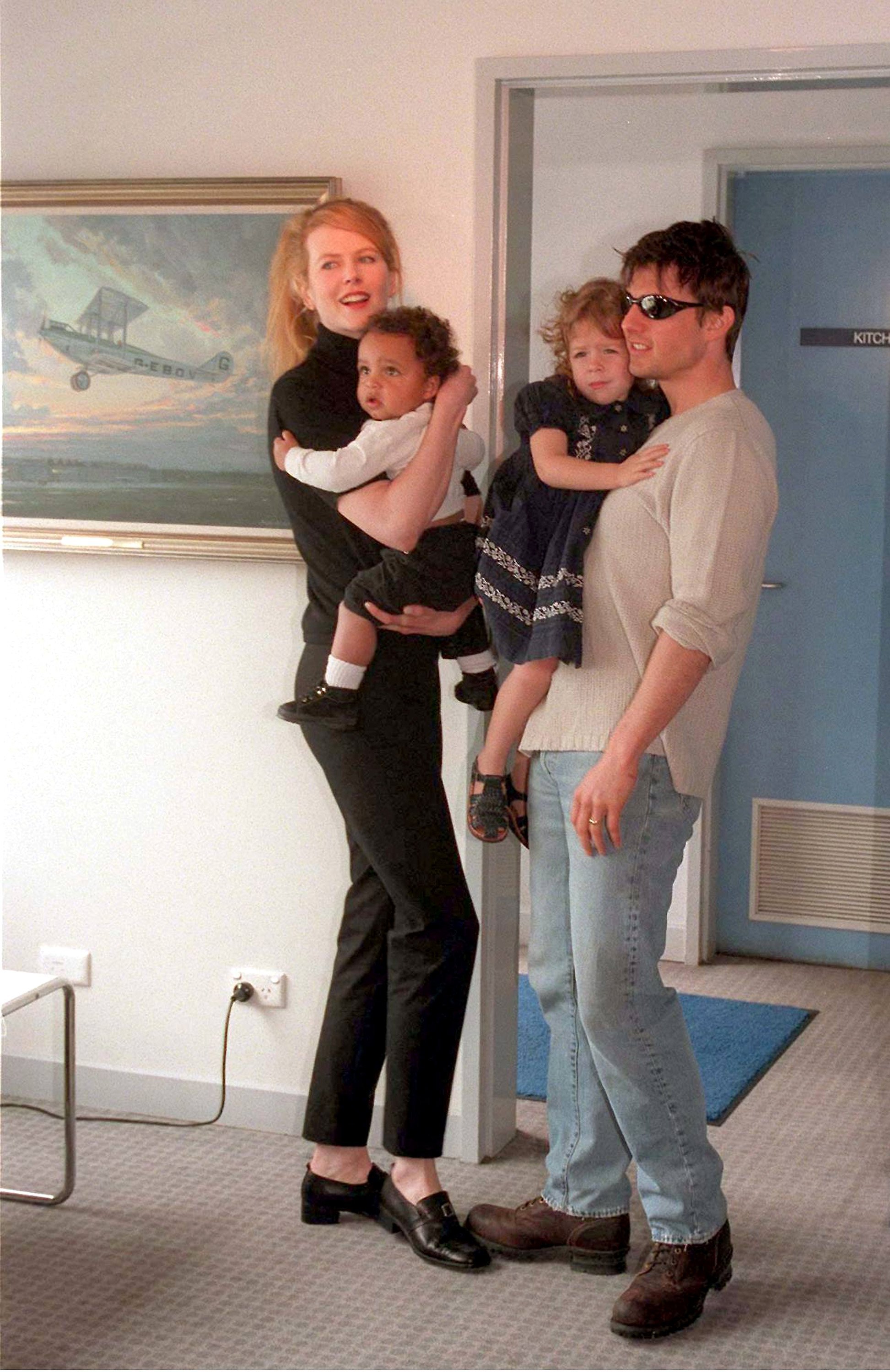 Nicole Kidman and Tom Cruise arrive at Sydney Kingsford Smith airport in Australia with kids Connor and Isabella on January 24, 1996 | Photo: Getty Images
In a rare interview on the topic, Kidman made it clear: "I know 150 percent that I would give up my life for my children because it's what my purpose is." She also called it her "job to love them."
Mariska Hargitay
Our favorite NYPD sergeant Mariska Hargitay is just as much a hero in real life as she is on the small screen during "Law & Order: SVU." The actress has two adopted children with husband Peter Hermann.
Hargitay, 55, had her first biological son August at 42, so she and Hermann were naturally concerned about conceiving again. Fortunately, their minds were in sync and adoption was always on the table.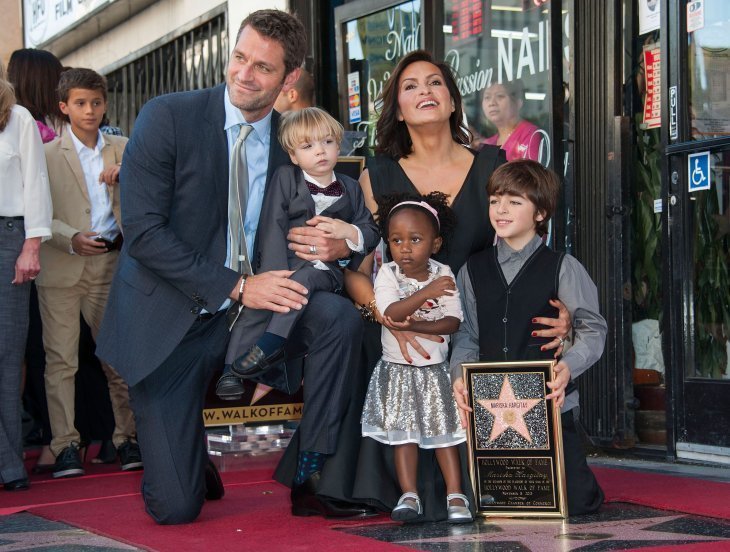 Mariska Hargitay and her family attend the Hollywood Walk of Fame Star celebration in Hollywood, California on November 8, 2013 | Photo: Getty Images
It took them two years to find their daughter, and there was heartbreak when the child's birth mother said goodbye. At the end of it, Hargitay was a proud mother of baby Amaya.
She told People of the experience:
"It was nothing short of devastating. But … it was probably the greatest, happiest ending. I mean, it was so painful for us, but it was deeply joyful and deeply right for her."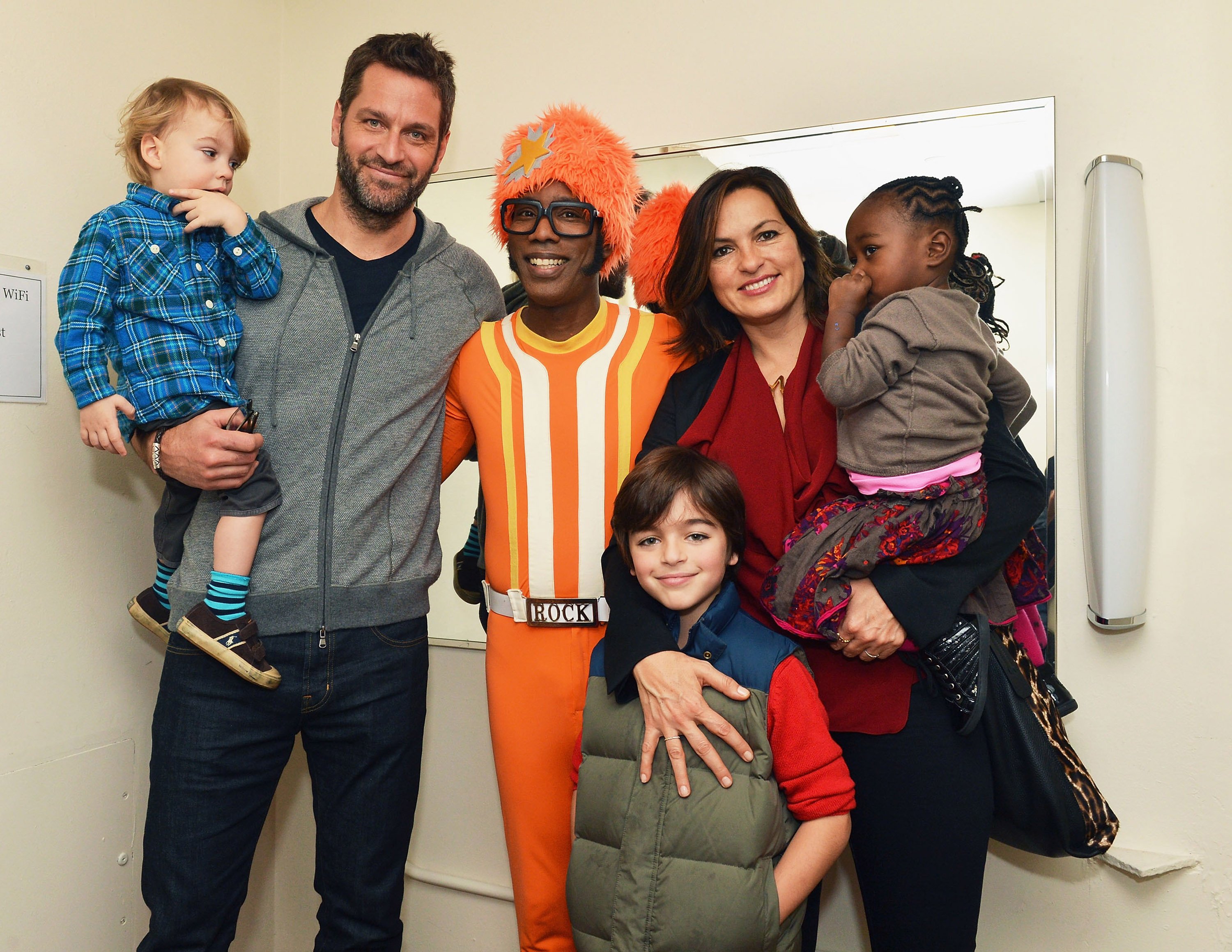 Andrew Hermann, Peter Hermann, DJ Lance Rock, August Hermann, Mariska Hargitay and Amaya Josephine Hermann attend "Yo Gabba Gabba! Live!" in New York City on December 21, 2013 | Photo: Getty Images
Hargitay and Hermann, 52, held their baby right after she was born. The same thing couldn't happen for their next child, Andrew, because he was born prematurely.
Hargitay said the decision to adopt Andrew just half a year later was the quickest choice she ever made, calling it "a miracle." The couple got a private nurse to care for the boy who they named after a late friend.
Charlize Theron
Charlize Theron, 44, adopted two kids, also a boy and a girl, despite her younger age. However, Theron's act of love took a controversial twist when her son was spotted wearing girls' clothing.
The "Atomic Blonde" actor's story of adoption is not nearly as positive as the others. Over the years, the public has witnessed a number of temper tantrums from Jackson and how Theron attempted to handle them.
Theron has had an adopted son since 2012 and a daughter August since 2015. At just three, Jackson said he wanted to be a girl as well, and Theron promptly granted his wish.
Speaking to the Daily Mail, Theron revealed that, "Yes, I thought she was a boy, too. Until she looked at me when she was three years old and said, 'I am not a boy!' "
She now has "two beautiful daughters" who she says "were born exactly who they are and exactly where in the world both of them get to find themselves as they grow up, and who they want to be, is not for me to decide."
Please fill in your e-mail so we can share with you our top stories!