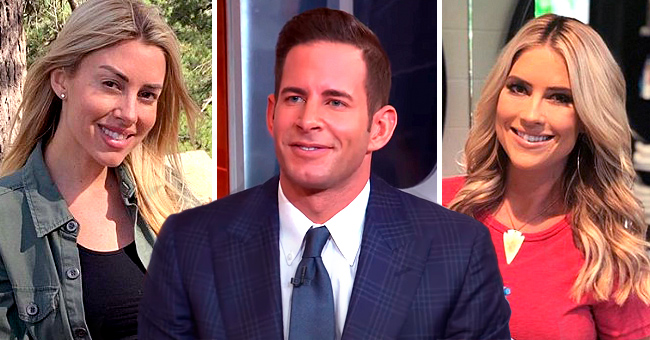 instagram.com/christinaanstead // instagram.com/heatherraeyoung // Youtube.com/Strahan Sara and Keke
Tarek El Moussa Shared How Girlfriend Heather Rae Young Finally Met His Ex-Wife Christina Anstead
Flip or Flop co-anchor, Tarek El Moussa, shares how he introduced his 31-year-old model beau, Heather Rae Young, to his former wife, Christina Anstead.
The meeting was set up in his former wife's home, and he told her over the phone that he was bringing his new love. Conversely, Heather's discovery of the meeting was in the course of the drive to Mrs. Anstead's residence.
When the model's heartthrob dropped the bombshell, she acted a bit hesitant. The onscreen personality explained that the whole introduction went well.
"That's how it literally went down… I was like, 'Well, we're going to see my kids, and my ex-wife is there'....She's like, Right now. Right now? I was like, Right now. Right now. And that's how they met."
Furthermore, the Flip or Flop co-host said that both women bonded well. The exes who were married for seven years, divorced on the grounds of irreconcilable differences. They both share a pair of kids, 8-year-old Taylor and 3-year-old Brayden.
Tarek's fellow host on the Flip or Flop latched onto another lover, Ant Anstead, who is a British host, soon after she parted with the father of her two kids. Christina and her man will soon welcome their first child together.
The ex-lovers are having a friendly relationship and chose to put aside any grudge for their children's sake. Tarek also opened up about how he welcomed the idea of having another woman in his life.
The cancer survivor stated that following his battle with cancer and divorce, he didn't think he had a shot at love again as he felt "completely broken." The former Playboy model redefined his whole existence, and he referred to her as "an amazing and supportive" individual.
Although just like the introduction between his ex and current lover, the HGTV star decided to keep his relationship with Heather a secret. The disclosure came after the paparazzi captured the duo lip-locking.
Tarek was proud and happy to flaunt his new partner; he even went as far as posting an image on his Instagram with a lengthy caption. The words detailed how alone he felt. He continued by commending Heather's influence in his life, and maintained that their relationship is "official."
Apart from meeting with his ex and kids, the model has also met with his mom, sister, and stepdad. The duo is doing fine, and Heather revealed via Instagram that she is happy with her man.
She even talked about moving to Orange County to be closer to her man. It is a good thing Tarek found love again, and even better that there is a healthy environment for the whole family to flow!
Please fill in your e-mail so we can share with you our top stories!