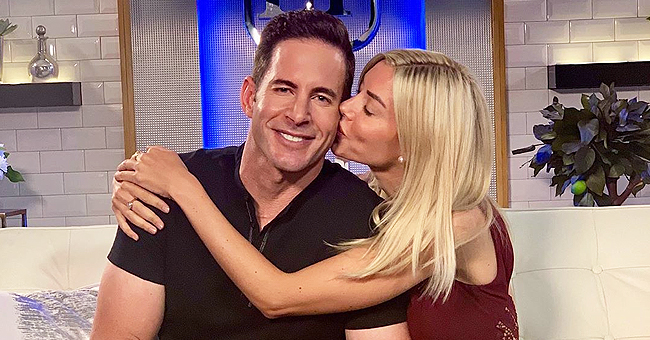 instagram.com/therealtarekelmoussa
Christina Anstead's Ex Tarek El Moussa Reveals He Was 'Broken' before Meeting His New Girlfriend Heather Young
Tarek El Moussa, Christina Anstead's ex, revealed in a recent interview, how broken and lost he was after going through a high profile divorce, and two cancers. It all happened before he met his new girlfriend.
In life, there's always a silver lining even when things look dark and bleak. For Christina Anstead's ex, Tarek El Moussa, his silver lining came as girlfriend, Heather Rae Young.
In a recent interview with People Now, the "Flip or Flop" star said before his life became sunshine and rainbows, he was "Broken spiritually, mentally, and physically."
Having gone through a very public divorce with Anstead, El Moussa spent the last three years trying to fix his mind, and body and all it took was a smile from Young to make his world right again.
Describing the first time he saw his "Girlfriend," the dad-of-two said his world turned upside down, and his insides lit up at the "Selling Sunset" host's smile. The TV star added he had not felt that way in years, not even with his ex, and he wanted to treasure it and keep it away from the public.
Things went out of his control after paparazzi photographed the lovebirds sharing PDA on board El Moussa's yacht. Left with no choice, the HGTV star confirmed the relationship with an Instagram post.
He later told E! News Daily Pop that being with Young has been amazing. They have a lot in common, and she continually supports and makes his life better.
During their first interview with People TV's "Reality Check," the happy couple admitted they've been spending time in each other's company. The former Playboy model already met El Moussa's kids, Taylor and Branden.
Young said she and the Orange County resident are enjoying doing what she called, "normal fun things," and described the two-times cancer survivor as romantic, and their relationship as, "all happiness and smiles."
El Moussa could use those two words in his life. Following his separation from Anstead, their divorce was made public because of their reality show. They finalized the details in 2018, and share joint physical custody of their children.
The ex-couple still work on "Flip and Flop" together; they are currently airing a new season. When asked if it was awkward by People, the reality star answered in the negative.
He explained that they put aside their feelings to have a cordial and respectful relationship for their children, and he joked that the best part is, he doesn't have to be a "yes man" to Anstead anymore.
It's lovely that El Moussa is in a great place. After the difficulties he's faced, he deserves to be in love and excited about life and the future again.
Please fill in your e-mail so we can share with you our top stories!