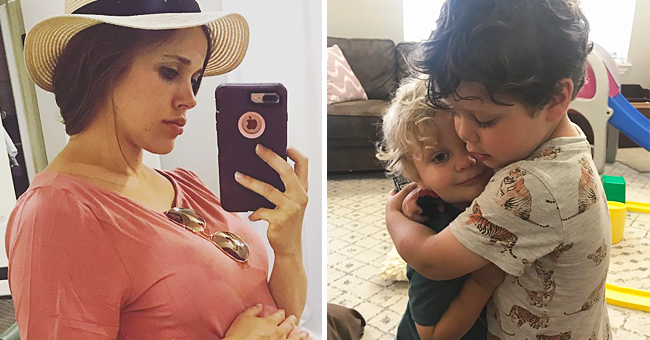 instagram.com/jessaseewald
'Counting On's Jessa Duggar's Sons Spurgeon, Henry Are Already Learning about Christian Faith
Jessa Duggar is proud that her young sons are already learning about their faith, picking it up "so fast."
The Duggars have always been known for their strong Christian values, and it comes with no surprise that Jessa Duggar is teaching her sons about the same faith as early as now.
While most of the Duggar children do whatever it is they want once they get out of their family home, it seems they made sure to bring their strong belief in God wherever they went. Their religious beliefs have always remained the same, and they want their kids to grow up the same way, too.
Jessa Duggar shares three young children with Ben Seewald: Spurgeon, 4, Henry, 2, and Ivy, 4 months. As early as now, Jessa is proud to have Spurgeon and Henry learning about the Christian faith, sharing a video of both of them singing a hymn.
A Family Affair
In the caption of her video, she describes how she's been trying to make her family have regular devotions.
"For the past few months we have been trying to do better about having regular family devotions. Sometimes we block out time for it in the morning, and sometimes we do it at night, just before bed."
She continues, saying that while it was her desire to have her children learn about faith, they have been glad to learn new songs.
"The boys have loved learning new songs! We sing the same hymn (first verse & chorus) several times a day for a week straight, before moving on to a new song. They pick it up so fast! Usually by the third day, they have it down. It's been so sweet to hear their little voices singing these song around the house during the day. And when we go to church, Spurgeon has asked 'Are we going to sing our song today?'"
Learning Made Fun
It's not just songs that they love learning, though, but scriptures as well. To make learning more fun, Jessa teaches them hand motions to use in learning the verses.
"We have also been doing some scripture memory for a few minutes each day, adding in a new verse every week or so. We add hand motions to the verse, and that helps us all remember. Sometimes we also recite a bit from the Baptist catechism for kids."
Duggar has been doing a great job raising her young kids, teaching them the importance not just of faith, but responsibility.
The Importance of Responsibility
Before showing off her sons' new learnings, she shared a video of Spurgeon using the vacuum. Jessa added parenting advice for her followers, saying it's important and interesting for a family to do chores together.
"There's a window of time in the toddler years where little ones become eager to help. It's so sweet to watch their excitement as they are allowed to take part in meaningful tasks - not pretend "helping," but really doing something that helps out the whole family. Playing together is fun, but even the cleanup can be fun if we do it together. There's a sense of importance and belonging and being needed."
Parenting done right!
Please fill in your e-mail so we can share with you our top stories!