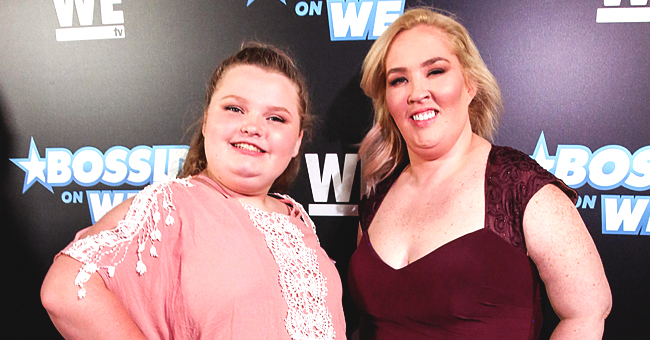 Getty Images
Alana 'Honey Boo Boo' Thompson Gets Encouraging Words of Support from Fans after Sharing Pic Writing: 'Ok Not to Be Ok'
Alana "Honey Boo Boo" Thompson posted a picture on her Instagram amidst the family drama, and her fans showed her tremendous support and love.
Thompson took to Instagram on September 3 and posted a picture hinting at the drama with mama June. "It's ok not to be ok sometimes it's hard to follow your heart doesn't mean you losing everybody bruising," she wrote.
The shot featured Thompson's head in the bottom of the frame with her tongue sticking out.
HONEY BOO BOO IS NOT MAMA JUNE'S PRIORITY
A lot of family drama has followed the Thompsons after Mama June's arrest in March for the possession of paraphernalia. Thompson has been living with her sister, Lauryn "Pumpkin" Shannon since then.
Mama June, currently living with her controversial boyfriend, Geno Doak, has abandoned her responsibilities as a mother. The family recently tried to come to a middle ground, and they gave June a condition, according to "TMZ."
She could get her youngest daughter back, but she had to leave her boyfriend and seek professional help about her drug habits. Apparently, June's answer to both of those conditions was, "Hell no."
THOMPSON'S FANS SHOW HER THEIR SUPPORT
After Thompson posted the picture on Instagram, her fans came swarming to her rescue and expressed their love and concern for the highschooler.
"Last night I binged watched Mama June From Not To Hot. It made me cry thinking what your family has been going thru with the whole world watching. It must be very hard. I hope you are doing well," wrote one fan.
Other users also came to the comments with their support. One user expressed how she would get through this storm and would be happy ten years from now.

Fan's comment on Alana Thompson's post | Source: Instagram/honeybooboo

Fan's comment on Alana Thompson's post | Source: Instagram/honeybooboo

Fan's comment on Alana Thompson's post | Source: Instagram/honeybooboo
THOMPSON GOING STRONG ... TO SCHOOL
Thompson has had her share of ups and downs in life with the scenario going on with June, but the young girl is keeping her own. She started high school in March.
On her first day of school, Lauryn posted a picture of Thompson on her Instagram. She mentioned that her little sister would be a high schooler by tomorrow, and she was excited to be with her on the journey.
Please fill in your e-mail so we can share with you our top stories!