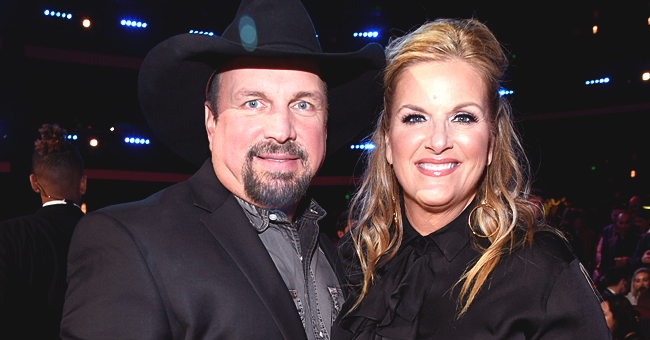 Getty Images
Inspiring Story behind Country Music Couple Garth Brooks and Trisha Yearwood's Fairytale Marriage
Garth Brooks and Trisha Yearwood have been together for more than three decades now, and to them, it was love at first sight.
In 1987, neither Harth Brooks nor Trisha Yearwood was music superstars. None of them were even signed to record labels at the time. However, they met in a recording studio while recording a demo for songwriter Kent Blazy in his humble Nashville studio. He shared more of the experience, saying:
"Kent Blazy introduced me and Ms. Yearwood, and he goes, 'I knew you were gonna like her.'"
Meeting For The First Time
When asked how he felt after meeting her for the first time, he revealed during an interview with Ellen DeGeneres that he knew he met his wife.
"When she left, he goes, 'What do you think?' I said, 'Well, it's strange because I felt that feeling like when you just met your wife.'"
While he felt that way, it would first seem impossible because both of them were legally wed to other people at the time.
In Their Own Relationships
Brooks married college sweetheart, Sandy Mahl, while Yearwood married musician, Chris Latham.
However, during an interview in 2016, the couple shared that they both knew they were "meant to be" from the very beginning, despite it being out of the cards.
The two of them ended up building a professional friendship instead of a relationship, with Brooks helping Yearwood get a record contract if his career took off. Indeed, the two of their careers took off together.
Getting Divorced
While Yearwood's marriage ended in divorce in 1991, Brooks was trying hard to make his marriage work. Yearwood would go on to marry her bassist Bobby Reynolds, but that ended up in divorce by the year 1999 as well.
By 2000, Brooks announced his retirement from music to spend time with his three daughters, Taylor Mayne Pearl, August Anna, and Allie Colleen. In 2001, he released one last album called "Scarecrow," which had a duet of him with Yearwood. That same year, his separation was announced.
By 2002, Yearwood and Brooks went public with their relationship. In May 2005, they got engaged when the singer proposed to his girlfriend in a crowd of 7,000. They got married on December 13, 2005.
Keeping Their Relationship Strong
Since then, they've committed to doing whatever it takes to keep their relationship alive, and it's been that way since.
As to how they keep their marriage alive? They go on date nights and spend time with each other as much as possible.
"We really have made a conscious effort since getting married to not be apart, so we've toured together. If I'm doing something, he'll be with me, even if you don't see him, he'll be in the hotel or around."
Controversies in their Relationship
While their relationship is something one might admire, it's not a secret that Garth was caught cheating on his first wife. When she threatened to get a divorce, he had a breakdown while performing in Missouri. His display ended up working, and Mahl gave him a second chance.
To add to this, while he was married, he somewhat already knew that Yearwood would end up being his wife.
In the end, though, that all came true and the two live happily ever after together.
Please fill in your e-mail so we can share with you our top stories!