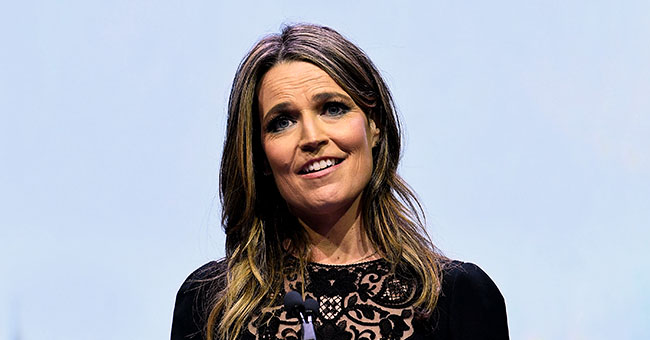 Getty Images
Savannah Guthrie of 'Today' Shared Cute Photos of Daughter Vale on Her First Day of Kindergarten
The delectable talk show host and proud mother, Savannah Guthrie shows off her little princess's first day of kindergarten.
Savannah does not intend to slow down on her mother duties as she reveals on her social media how progressive her daughter's growth is.
Feeling somewhat optimistic that her 5-year-old is going to school, the "Today" co-anchor shared images revealing that Vale is nothing but happy in this new stage of her life.
The first photo showed the toddler posing with one arm on her waist, and the other on a stone wall. The new kindergartener had an infectious smile on her face. That was not all, as her hair neatly packed and her poise in the dark and light-coloured uniform showed how much she anticipates school.
Her mother's caption read:
"And just like that, we have a kindergartener."
Savannah's excitement continued as she shares more school pictures of her child. Another image showing both mother and daughter walking hand in hand received a lot of heartwarming comments on the on-air personality's page.
The upload featured Savannah in a peach summer dress and blue jacket, while her daughter was in her uniform paired with white shoes. The mother of two detailed her unrelenting gratitude to God and maintained that her kids are simply the best in the world.
"Kindergarten is a milestone! And milestones are a time to reflect and count your blessings. Well, I am thanking God for today for my beautiful charming, loving and kind children. And thanking Him for the gift of motherhood. I will never stop being so grateful and amazed to be so blessed."
Celebrating the incredible experiences in her life is something the talk show co-host often does. When Vale turned five, the mother of two updated her timeline with a hearty photo of the young chap.
The kindergartener wasn't always thrilled to go to preschool, no wonder the joy of her enjoying the new phase brings smiles to the onscreen star's face. Savannah is not the only mother who proudly shares her motherhood moments online.
Fellow co-host, Jenna Bush Hager presented the world of social media with photos of her adorable girls, 6-year-old Poppy Louise and 4-year-old Margaret "Mila" Laura in their matching uniforms and flags declaring their new grades.
The former First Daughter, who also newly had an infant son, makes an effort to show the world how her family is faring with the new addition. She admitted that her daughters act like big sisters to their little brother, Henry "Hal" Hager.
It appears to be a mother-child season for the hosts on the "Today" show. Jenna, who recently began her maternity leave, wished her colleague Hoda Kotb well.
55-year-old Hoda resumed recently on the show after welcoming second child, Hope Catherine, a few months ago. Thumbs up to all the mothers for their dedication and celebration of motherhood.
Please fill in your e-mail so we can share with you our top stories!