Getty Images
Meet Syd Butler, 'Blue Bloods' Amy Carlson's Long-Time Partner and Father of Her Two Kids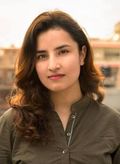 Former "Blue Bloods" star Amy Carlson and her husband, Syd Butler, have been married for over a decade now. They are doting parents to their two kids, Lyla and Nigel.
Amy Carlson and Syd Butler have been happily married since 2004. Their relationship has survived the test of time, and they are living in harmony with their kids.
While Carlson is a successful Holywood actress, her husband Butler is a bass guitarist for the 8G band. The couple leads a private life, keeping their kids away from the spotlight.
Whiles fans know Carlson for the memorable roles she has portrayed on screen for years, they might not know a lot about Butler. Read on to find out all about the talented musician and his career.
HOW SYD STARTED IN THE 8G BAND
Butler is the founding member and the bassist of the indie rock band "Les Savy Fav." A few years later after the band was created, he founded his own record label called "Frenchkiss" in 1999.
The bassist is currently a member of the 8G Band from the "Late Night with Seth Meyers." In an interview with Northern Transmission, Butler revealed how he went on to be a part of it.
According to him, Fred Armisen called him up while he was in Los Angeles and asked him who they should get to be in the new band for "Late Night with Seth Meyers" show. at the time, Butler thought he got the call because of his connections at "Frenchkiss," but that wasn't the case.
BUTLER DIDN'T SEE IT COMING
A couple of days later, he got another call from the show's producer and what he said came as a surprise to Butler.
"Then I got a call a couple days later, from one of the show's producers, and he was like, 'Great, we'll see you on Tuesday,'" he recalled. And I was like, "First of all, I have a job. I run a company called Frenchkiss, and I live in Los Angeles." And he was like, "I don't care. I'll see you on Tuesday."
Butler could not believe it, but he considered giving it a go. Everything worked out well in the end and Butler became a part of the 8G Band.
SOME PEOPLE WERE MAD THAT HE GOT THE CALL
However, people got furious after seeing a picture of him as a member of the band out of the blues.
"I had 30 messages on my phone. People were furious that I didn't tell them about it or bring them in to the band," he shared. And other people were like "Oh my god, this is amazing." But yeah, some of those people haven't even talked to me since. It was pretty defining. People were like, "Why'd they pick you?!"
Butler said it was amazing to be a part of the 8G band and that it was an "amazing gift" to have an opportunity to work with friends who truly understand him.
Please fill in your e-mail so we can share with you our top stories!