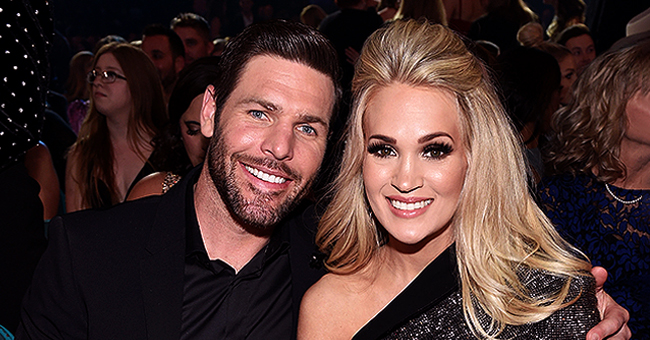 Getty Images
Inside Country Superstar Carrie Underwood and Mike Fisher's Fairy-Tale Love Story
Country singer and American Idol Alum, Carrie Underwood, has a fairy tale love life. Contrary to her songs about cheaters and heartbreaks, the country star's is happily in love.
The singer topped "People's" list of 100 Reasons to Love America and talked about the top 5 cities she loves to visit. She talked about how meeting her husband, Mike Fisher, was a dream come true.
"I feel like he is the person I was meant to be with," she said after they met at one of her concerts.
UNDERWOOD'S FRIEND SET HER UP WITH FISHER
While Underwood was in the dating game at the time, she wasn't looking for a long-distance relationship. Underwood's bassist, Mark Childers, wanted to introduce her to his friend, Mike Fisher.
When Underwood found out about Fisher's Canadian origins, one thought crossed her mind, "I mean, can I make dating more difficult? Let's get a hockey guy who lives in another country. Awesome." The singer recalled her experience on "VH1's Behind The Music."
UNDERWOOD KNEW RIGHT OFF THE BAT THAT FISHER WAS SPECIAL
Underwood and Fisher met backstage on one of her concerts. The casual meet-and-greet created sparks that turned into a blaze of fire. The physical chemistry between the two was off the charts.
Underwood immediately texted Childers after the mini date was over. "Hot hot hot," she said in her text. The feeling was mutual, Fisher, revealed that he found Underwood more beautiful in person than on TV.
THE FIRST OFFICIAL DATE ON A GREAT OCCASION
After their first encounter, the couple didn't meet for another three months. Their careers and the distance between them was the culprit. The now-married couple had their first date on new year's eve.
Their first kiss was when the "ball dropped," Underwood told "Glamor magazine." "We were in front of people, and he's not a big PDA guy," she noted. "I figured, I'll go in for it because he can't leave me hanging, right? So I made him kiss me in public."
That's one way to do it!
SMOOTH SAILING AHEAD OF UNDERWOOD AND FISHER
After their kiss on the stroke of midnight, the relationship between Underwood and Fisher flourished. 2009 was an excellent year for the couple. On December 20, the same year, Fisher popped the question to Underwood.
Of course, the singer said yes, and the newly engaged couple called up their friends and family to deliver the good news.
UNDERWOOD AND FISHER ELOPE
After their engagement, the couple got married on July 10, 2010, in the Ritz Carlton resort on Lake Oconee, Georgia. Underwood's father walked her down the aisle.
The couple honeymooned in Tahiti and have been happily married for almost a decade now. They recently celebrated their 9th anniversary together and shared pictures of them horseriding on their social media.
The couple shares two bundles of joy. Isaiah Michael Fisher and Jacob Bryan Fisher. Isaiah was born on February 27, 2015, and Jacob followed on January 23, 2019.
When Jacob was born, Underwood took to Instagram to give an update on the delivery. "His mom, dad and big brother couldn't be happier for God to trust them with taking care of this little miracle! Our hearts are full, our eyes are tired and our lives are forever changed. Life is good..." she wrote.
Please fill in your e-mail so we can share with you our top stories!