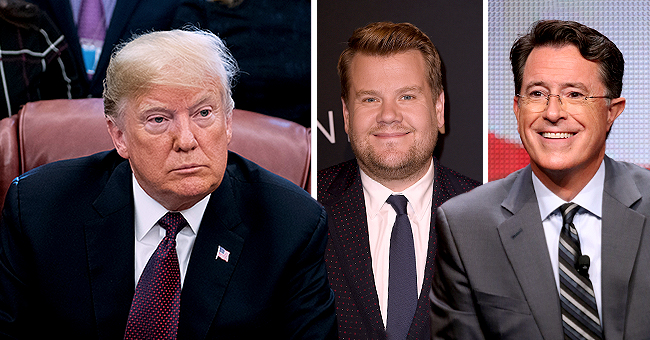 Getty Images.
Late-Night Hosts Stephen Colbert, Jimmy Fallon, James Corden on Trump v Teigen & Legend Twitter War
It's a joke, carnival! TV Hosts did not spare President Trump as they joked about his Twitter feud with John Legend and Chrissy Teigen. They went all out against the President.
After President Trump came for John Legend and Chrissy Teigen, calling the former "A boring musician," and the later, "A filthy-mouthed wife," after the singer failed to mention him during an MSNBC program on prison reform, TV hosts' decided to turn the spotlight on the billionaire president.
Stephen Colbert of "The Late Night Show" joked that rather than make his scheduled peace talks with the Taliban, the President is taking on "America's true enemies."
Next, he mockingly read President Trump's tweets calling out Legend, and Teigen, before adding in mock seriousness,
"That is enough, sir! I have watched you denigrate [many] American institutions, but I draw the line at John Legend and Chrissy Teigen."
"He is an EGOT, and she is the only reason anyone tunes in to 'Lip Sync Battle."
Jimmy Fallon took a different approach. He incorporated the New York Fashion Week, and the release of new clothing lines, saying,
"President Trump released new lines of insults."
The TV personality added,
"You know it's strange times when the President attacks John Legend and Chrissy Teigen and invites the Taliban to Camp David."
James Cordon, also took up the Taliban narrative, saying he hopes the President does not damage America's relationship with the Taliban. The "Carpool Karaoke" host joked,
"I'm guessing there's no camp David for [Legend and Teigen],"
"In other news, Melania's campaign on cyberbullying is still going strong," he added.
"The Daily Show," Trevor Noah said President Trump has a "Passion for beefing," while Jimmy Kimmel, opined that the Republican hates women "Talking dirty," unless they are "Spanking him with a Forbes newspaper."
Twitter feuds are nothing new to the President, and between him and Teigen, there has been a lot since he declared his intention to run for office. The mum-of-two has tweeted a lot of insults aimed at the leader of the United States and criticized his government countless times.
President Trump has equally feuded with other celebrities, talking and using unsavory words in describing them. In 2016, he told Jimmy Fallon to,
"Be a man."
While in 2018, the leader of the free world called Robert De Niro,
"A very low IQ individual."
With no change in the President's unpopularity among Americans in sight, there will continue to be Twitter feuds, which will give TV hosts' more contents to entertain their audience with.
Please fill in your e-mail so we can share with you our top stories!